It was the summer of 1988.

A hot, humid, Baltimore summer.

I had just finished 7th grade and had the poofiest of bangs on this side of the Mississippi that I created with an insane amount of White Rain aerosol hairspray, a gunked up curling iron, and a soft bristled brush.

Spray. Curl. Sizzle. Tease. Repeat until desired level of poofiness is achieved.

Because the poofier, the cooler, man. Amen.

My sister and I were twiddling our thumbs at home one day that summer when we got a phone call from one of my Mom's friends.

"I'm coming to get you two. They're filming a movie not far from here and we should check it out. Get ready."

It was time to get my bang on. Because white Keds, layered pink and white socks, and an off the shoulder black and white striped fake Forenza top would be ruined without my signature bangs.

Spray. Check.
Curl. Check.
Sizzle. Check.
Tease. Check.

Out the door.

We rode a short distance, parked, and stood behind a rope and waited, and waited, and waited.

And, then.

He came around the corner: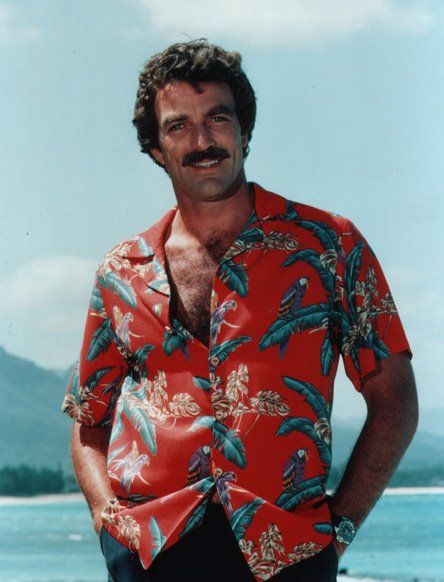 That's right.

Magnum.

Magnum, P.I.

In all of his chest-haired glory.

Now, you must understand, I grew up in a small town in West Virginia and thought that the university football kicker was a celeb. So, Tom Selleck? This was big time, people.

We stood there, watching him mill about. For hours.

And then, a 7th graders dream: Tom Selleck and his chest hair walked right up to me.

"What are you doing here today? Shouldn't you be home swimming in your pool, enjoying the day?"

Mouth gaping open.

Total shock.

Magnum, P.I. was actually speaking to me and I was going to be rich and famous.

"Uh, um, uh...I came to see you. Can I p-p-p-lease have your autograph?"

He muttered something about how he was filming and that if he signed one for me, that he'd have to spend the rest of the day signing autographs, but if I wanted a signed picture, I could write to an address I scribbled down and get a signed photo.

And then he walked away. In slow motion. With sappy music playing in the background.

I always wondered why Tom Selleck came over and talked to me that day. But, now that I'm older and wiser and have become best friends with my flat iron, I've figured it out:

I was the only person in the crowd with bangs as poofy as his chest hair.