We LOVE our grill. And, one of our favorite things to grill in the summer is pizza.

That's right. PIZZA!

Not only does it turn out delicious every. single. time., but the process is a blast. So, when we invited our good friends Adam and Erika to our house for a date night on Friday night, we knew we could only have one thing for dinner...

Grilled Pizza.

So, I'm gonna share how we grill 'em up here at our house, and let you run with your own imagination. Try it sometime, y'all. Even the kids will love it!

I know this is a bit Martha Stewart-ish sounding, but I usually make my own dough. I really enjoy making it. I use the recipe found here, but it's certainly not necessary to make your own dough to have a great pizza.

*I have heard that most local pizza shops will sell you balls of their pizza dough for a couple of dollars. So, if you have a favorite pizza place, you can ask them if they'll sell you their dough to bring home. Otherwise, you can purchase it at the grocery store. I recommend the frozen dough you find near the frozen rolls vs. the refrigerated kind in a tube. It just tastes so much better.

Directions:

Heat grill to the lowest setting.

Roll pizza dough out into approximately 8 inch rounds. Brush with olive oil. Place dough directly onto grill and cook for approximately 8-10 minutes, or until slightly golden on underside. Flip over dough to begin grilling other side.

The grilled side is now ready for toppings. Top with sauce, cheese, and whatever toppings you choose.

Here are the toppings we used on Friday night:
*We have used many, many different toppings over the years, and your pizza is really only limited by your creativity and liking, but here are some of our favorite toppings:

mozzarella cheese
ricotta cheese (for white pizza)
parmesan cheese
red onion
grilled chicken
marinara sauce
alfredo sauce
artichokes
green pepper
pepperoni
sausage
mushroom
roasted garlic
basil
oregano
crushed red pepper
Italian Seasoning
sesame seeds (for crust)

Here are two of our pizzas from Friday night, after we had finished topping them. We each did a half/half pizza. I did a barbeque chicken type pizza on one side, and an alfredo on the other. Erika used artichokes, tomatoes, pepperoni and alfredo and created one amazing pizza.
Mine.
Erika's.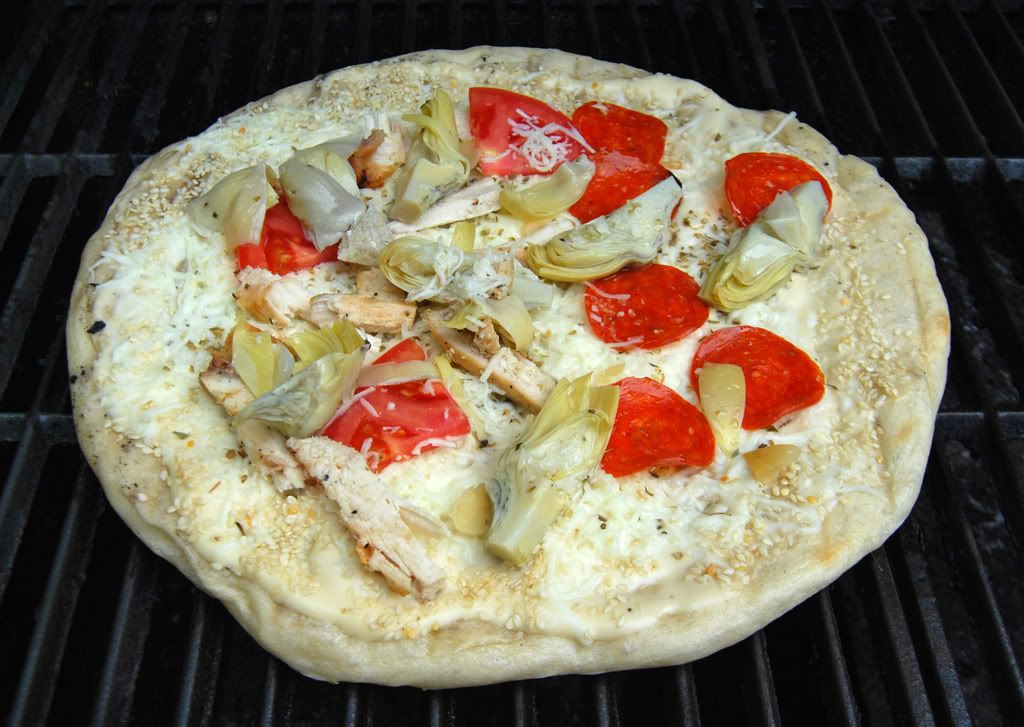 After all of the toppings are on the pizza, close the grill cover and cook for approximately 15 minutes, or until cheese is melted and the bottom crust is golden.


Here are our finished pizzas: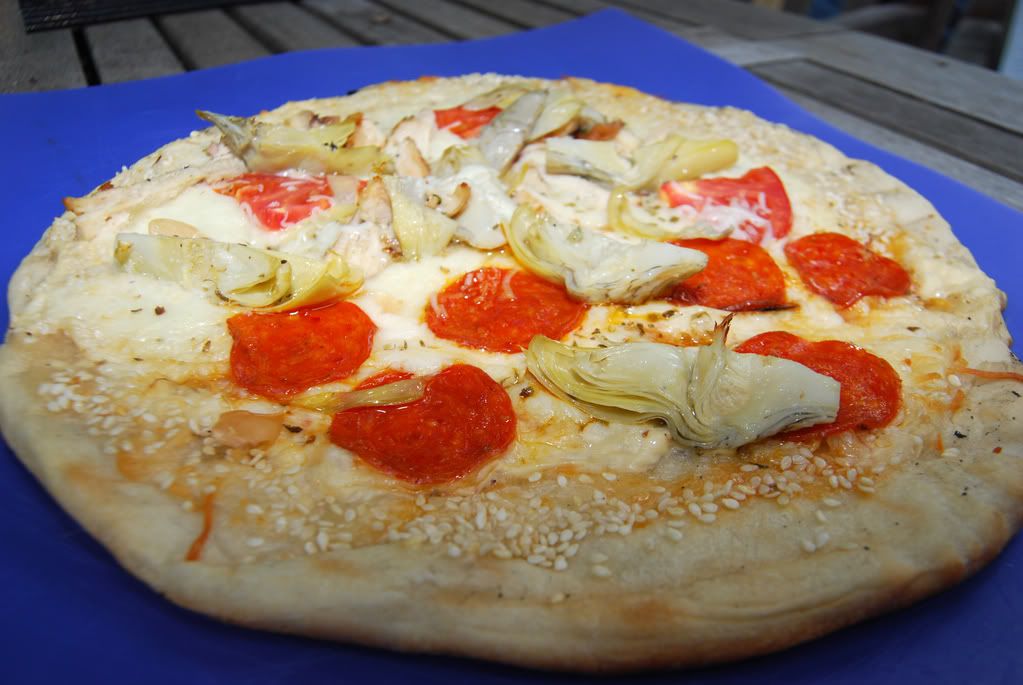 They were delicious! And, Jason and Adam made equally delicious ones. Well, maybe ours were better, but we'd never tell them that.

We finished off the night with ice cream sandwiches made with vanilla ice cream and Mom's Chocolate Chip Cookies.

I hope you'll try these sometime. It's so much fun, and such a great way to spend time with friends and family.