Hobby Lobby.

It just gets me all excited about glue guns and craft paint.

To those of you that don't have Hobby Lobby, it's like Jo-Ann Fabrics and Michaels all in one. Just more organized, and it's owned by Christians. So, I love supporting it.

Thanks to my latest "Jack is in preschool for 2 hours and we have to go somewhere" trip to Hobby Lobby, I got inspired, and decided to attempt this super cute craft I saw in my new Taste of Home Celebrations cookbook. However, I'm not the craftiest person around. Playdoh - the store bought kind - is about as crafty as we get around here. But, I have little ones that are always up for crafts, so I'm learning.

First, we made these Black Cat Cookies: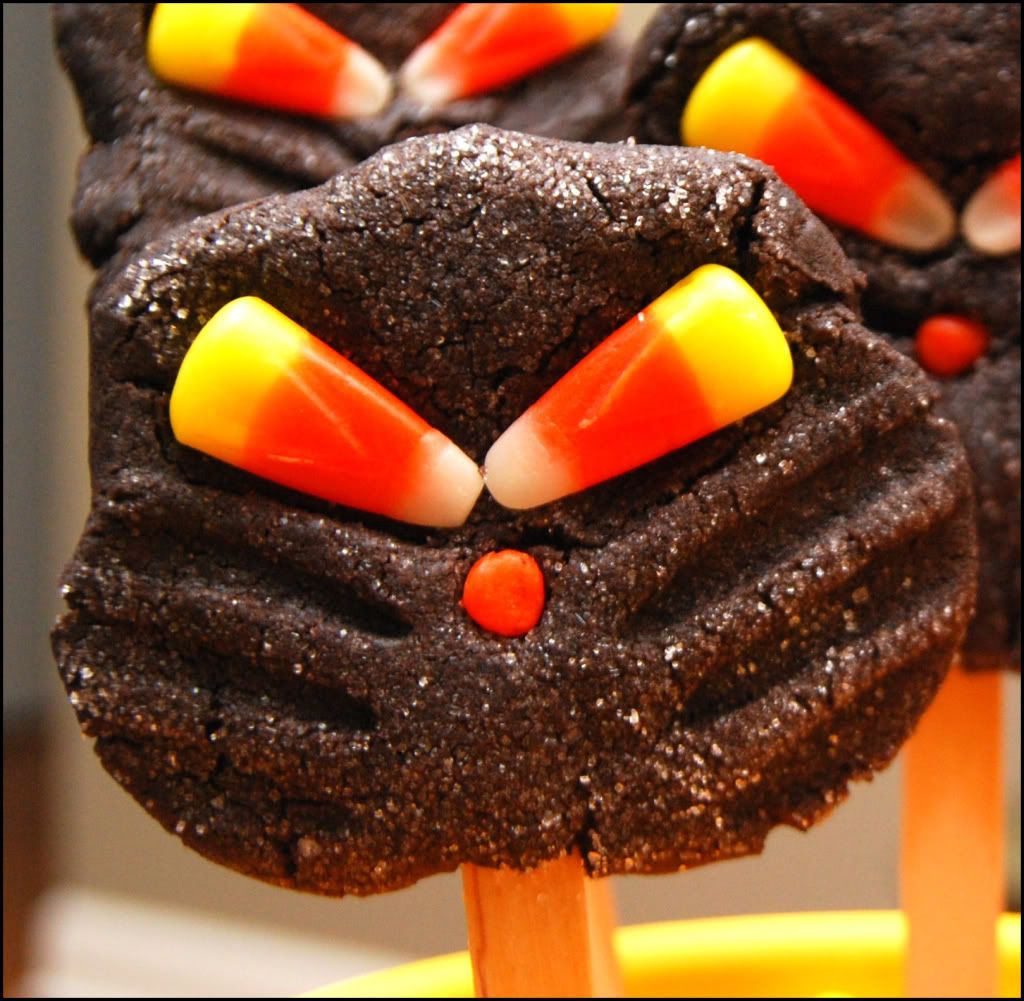 The boys helped me make the dough, and we made a royal mess of the kitchen. But, they loved making them. And, they've been eating them every day. As I've mentioned before, they need the sugar.

Here are the directions for making the cookies!

Black Cat Cookies

You Will Need:
1 cup butter (no substitutes), softened
2 cups sugar
2 eggs
3 teaspoons vanilla extract
3 cups all-purpose flour
1 cup baking cocoa
1/2 teaspoon baking powder
1/2 teaspoon baking soda
1/2 teaspoon salt
24 wooden craft or Popsicle sticks
48 candy corn candies
24 red-hot candies (I forgot to buy these, so I just used bits of candy corn)

1. In a mixing bowl, cream butter and sugar. Beat in eggs and vanilla. Combine the flour, cocoa, baking powder, baking soda and salt; gradually add to the creamed mixture. Roll dough into 1 1/2-inch balls. Place 3 inches apart on lightly greased baking sheets.

2. Insert a wooden stick into each cookie. Flatten with a glass dipped in sugar. Pinch top of cookie to form ears. For whiskers, press a fork twice into each cookie. Bake at 350°F for 10-12 minutes or until cookies are set. Remove from the oven; immediately press on candy corn for eyes and red-hots for noses. Remove to wire racks to cool.

Then, we made these cute little "Candy Corn Pots". The directions are for the large pot, but I also bought two smaller pots so the boys could each make their own.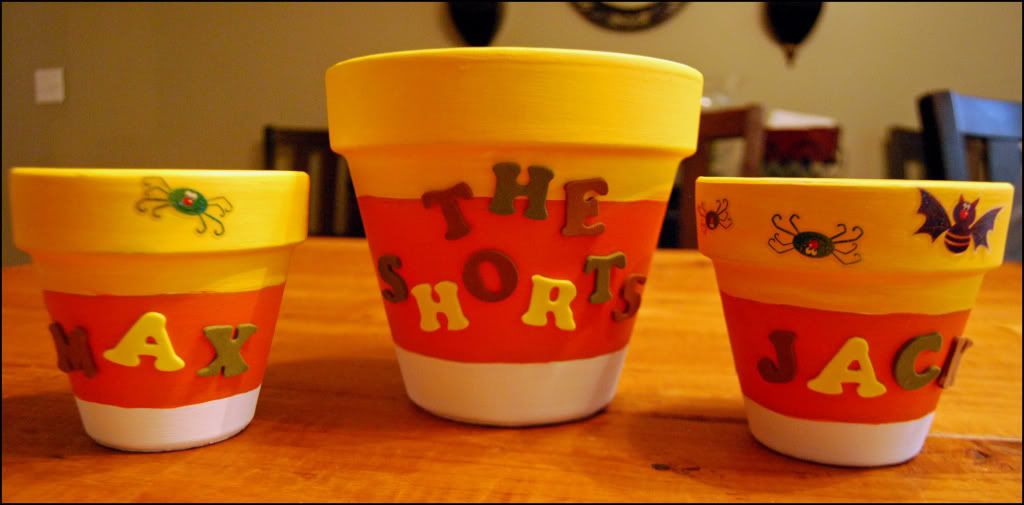 According to the directions, you're supposed to wrap rubber bands in between the layers to make sure that your lines are straight. I couldn't find a rubber band in this house to save my life, so I just winged it.

Here are the official directions.

Candy Corn Clay Pots

You Will Need:
Ruler and pencil
New 6-inch clay pot
Sponge brush
Acrylic craft paints -- white, yellow and orange
Craft knife
Candy corn
Black Cat Cookies

1. Use ruler and pencil to measure and lightly mark a line around clay pot 2 inches from the top rim of the pot and 1 1/2 inches from the bottom of the pot. Center a rubber band over each marked line.

2. With sponger brush and white paint, basecoat bottom and top sections of clay pot, taking care not to allow paint to puddle along edges of rubber bands. Also basecoat inside of rim. Let dry. Paint outside top section and inside of rim yellow. Let dry.

3. When pain is thoroughly dry, use craft knife to score paint along painted edges of the rubber bands to break any paint seal that might have formed.

4. Position edge of bottom rubber band along the white painted edge and top rubber band along the yellow painted edge for painting guides. Paint center section orange. Let dry. Carefully remove rubber bands as before.

I painted the pots; then, the boys picked out Halloween stickers and letter stickers for their names. Jack knows how to spell his name, so he scoured through the letters to find his J-A-C-K.
Max - well - did you know that a racecar is the perfect transporter for a candy corn clay pot? He finally started decorating his, but it went right back onto the racecar. That boy - he just does things his own way.
We filled our pots with candy corn, and put our Black Cat Cookies into our family pot. A great centerpiece, huh?
I bought some cellophane bags and some candy corn ribbon and made up some cookie gifts that the boys can give to some of their friends. I think they look fab in Max's pot!
Happy (early) Halloween - from our learning-to-be-crafty house to yours!