A couple of weekends ago, we went back to the apple orchard/pumpkin farm that we visited this same time last year. Because, well - it happens to be the best one around these parts.

And, going to an apple orchard really is the quintessential fall activity.

We picked four bags of Gala apples while we were there. The boys just ate them right off of the tree. Just like they did last year. Jason kept saying, "Wipe the dirt off of 'em first."

Classy, I tell you.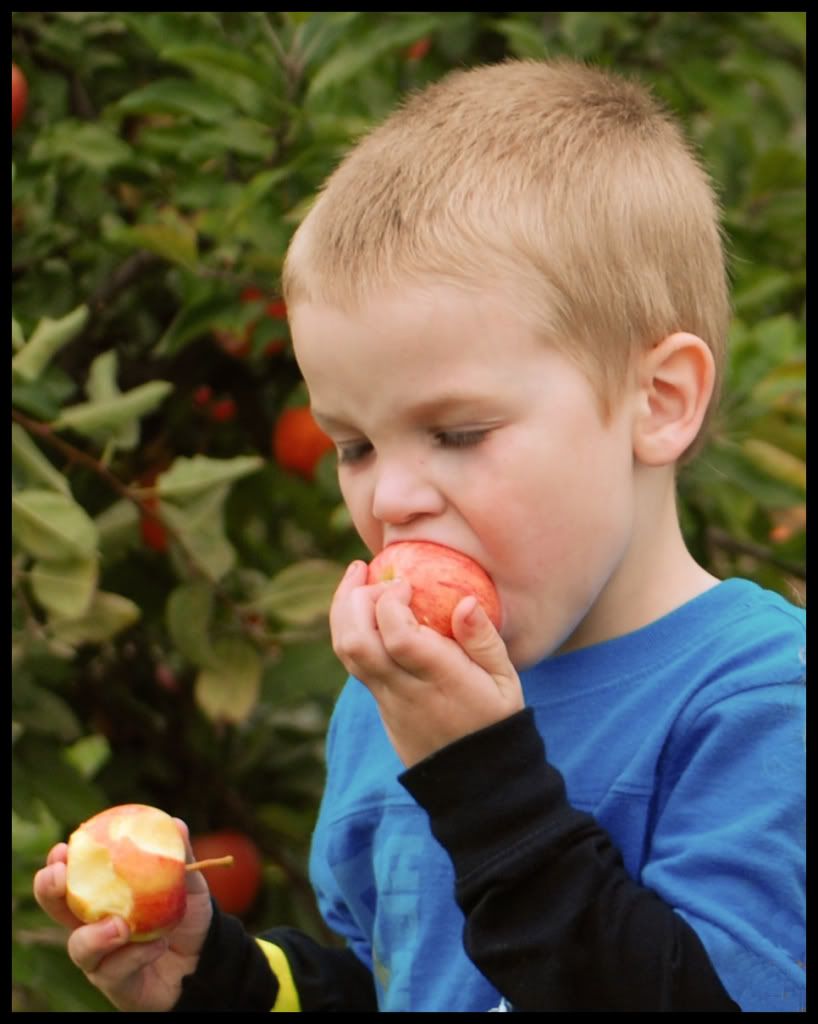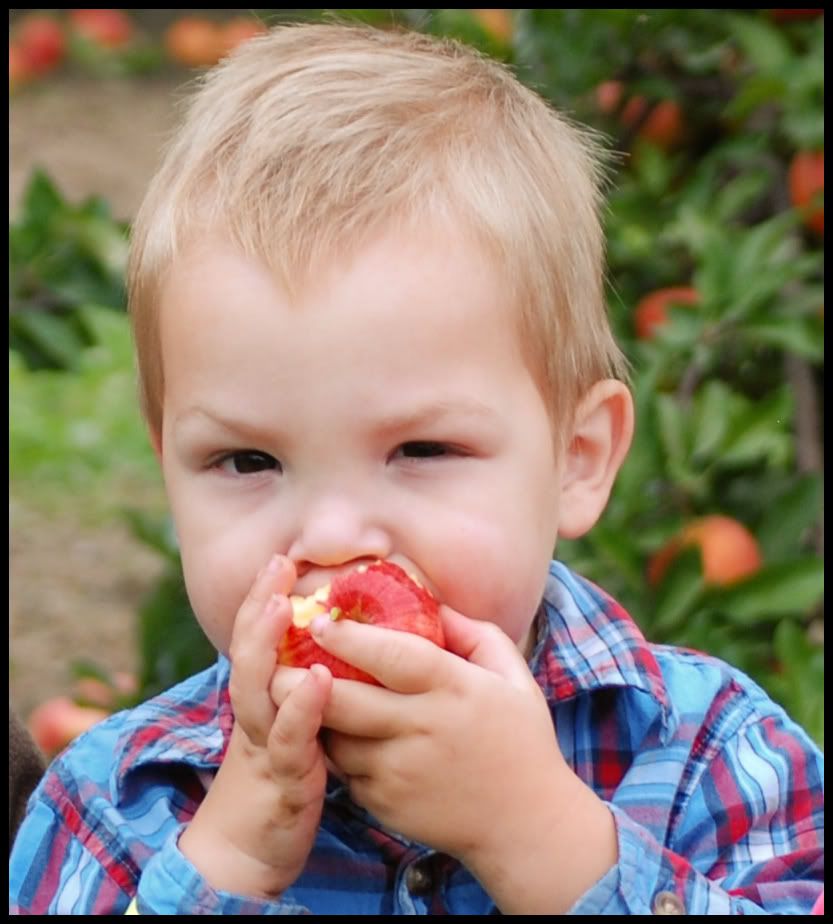 Speaking of last year, this was a pregnant and quite serious me and Lincoln (aka TBFKABB. Translation: The Baby Formerly Known As "Baby Bean")
One year later, I am still all too serious about my apple picking.
But, instead of carrying Lincoln in my belly like I was circa October 2007, Daddy got to carry him in the Baby Bjorn. Can I just tell you how happy Lincoln was as we walked around? And me, well - I was just as happy NOT to be pregnant with him, but have him enjoying the day with us! I loved smooching on this sweet baby all day long.
SO, what did we do with all of those apples?

First, we made caramel apples.

The smart folks at Kraft came out with a bag of unwrapped caramels this year. It made making them SO much easier.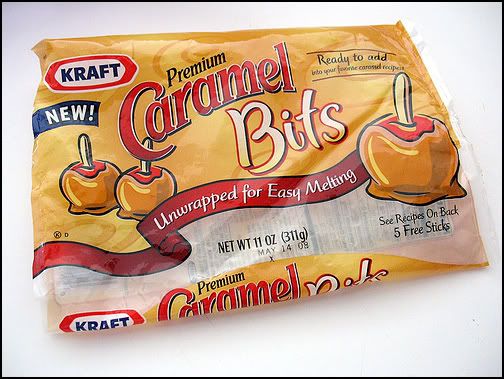 The bag contains easy to melt bits of caramel, and 5 popsicle sticks for making caramel apples. Kudos, Kraft. We appreciated not having to unwrap an entire bag of caramels!

Here is our happy little caramel apple family. Jason and I are Granny and Grampy Smith - 'cause the tartness of a Granny Smith makes for the best caramel apple. And, if we 30-somethings are gonna eat sugar coated apples, they're gonna be the good ones. The boys used our fresh picked ones. Sans dirt.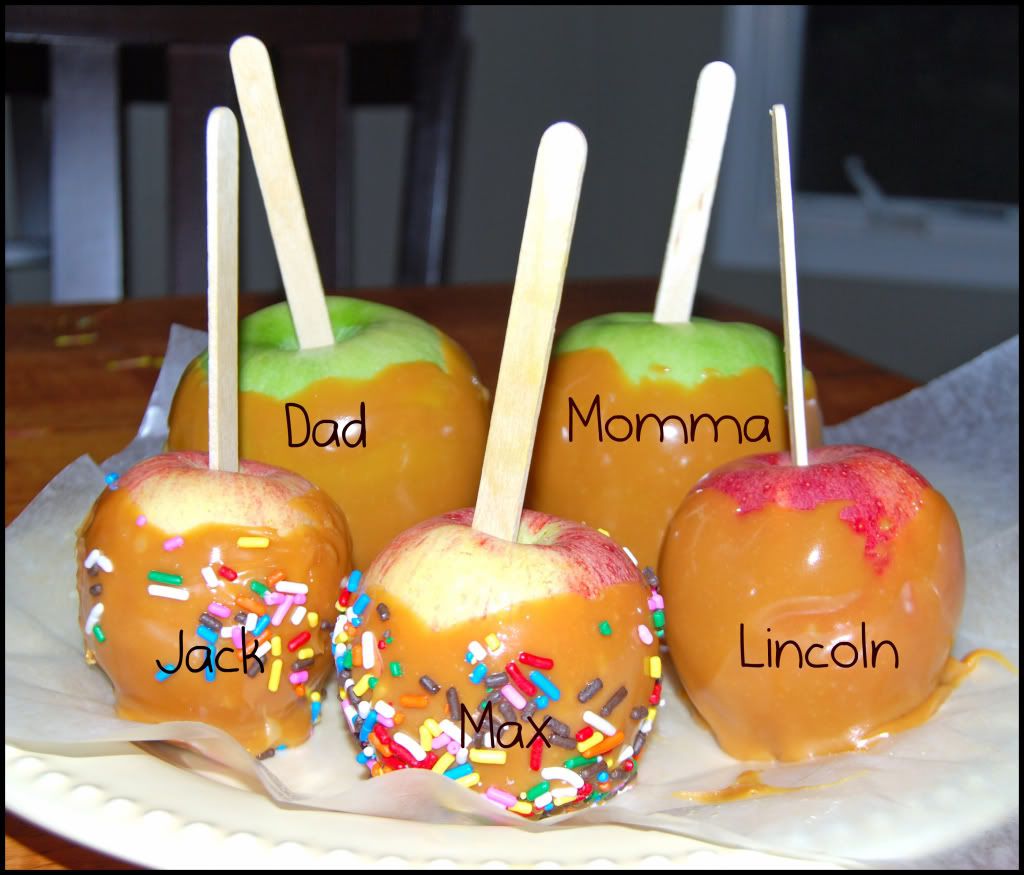 The boys rolled their apples in sprinkles. 'Cause they just "roll" like that.

And, we like to fill them up with sugar - ESPECIALLY right before bedtime.

Responsible parenting as its finest.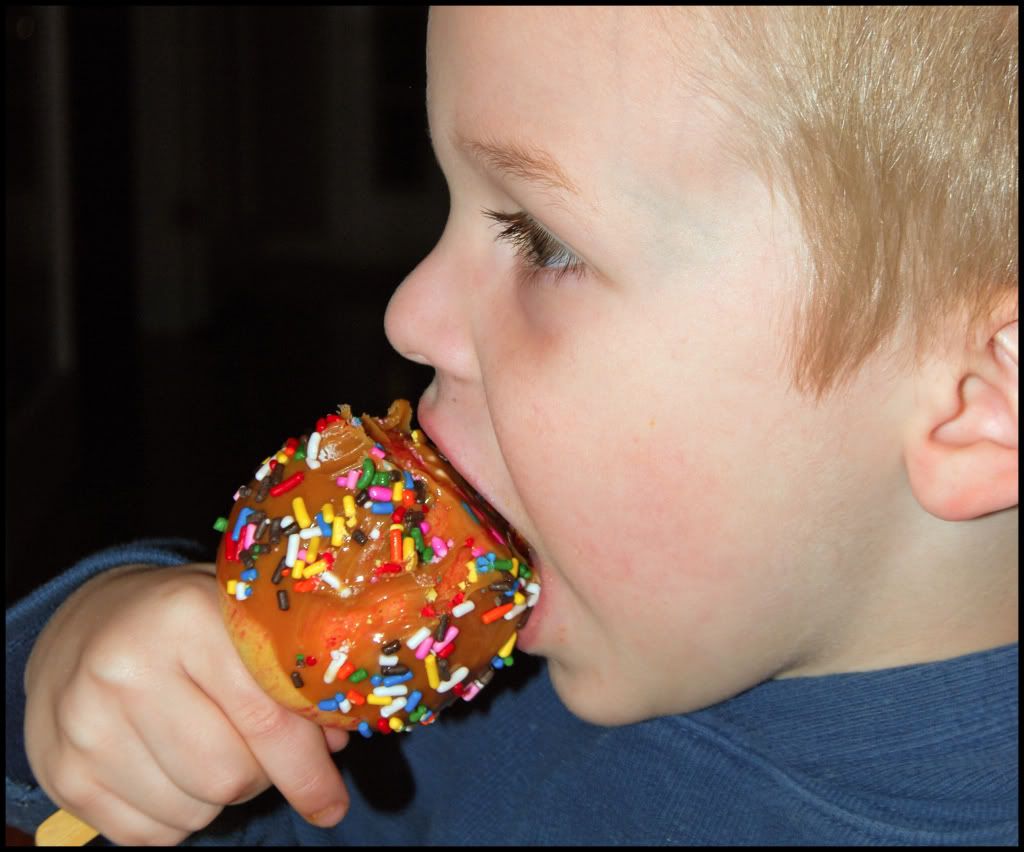 I made homemade applesauce with the remaining apples. This was the first time I've ever made it. I scoured the internet for recipes, and then just came up with the simplest version I could based on several I'd seen. It was delicious, and the boys (including Lincoln) devoured it. I'm gonna make applesauce all fall long - and then freeze away so we have it all year.

Here is the recipe I used...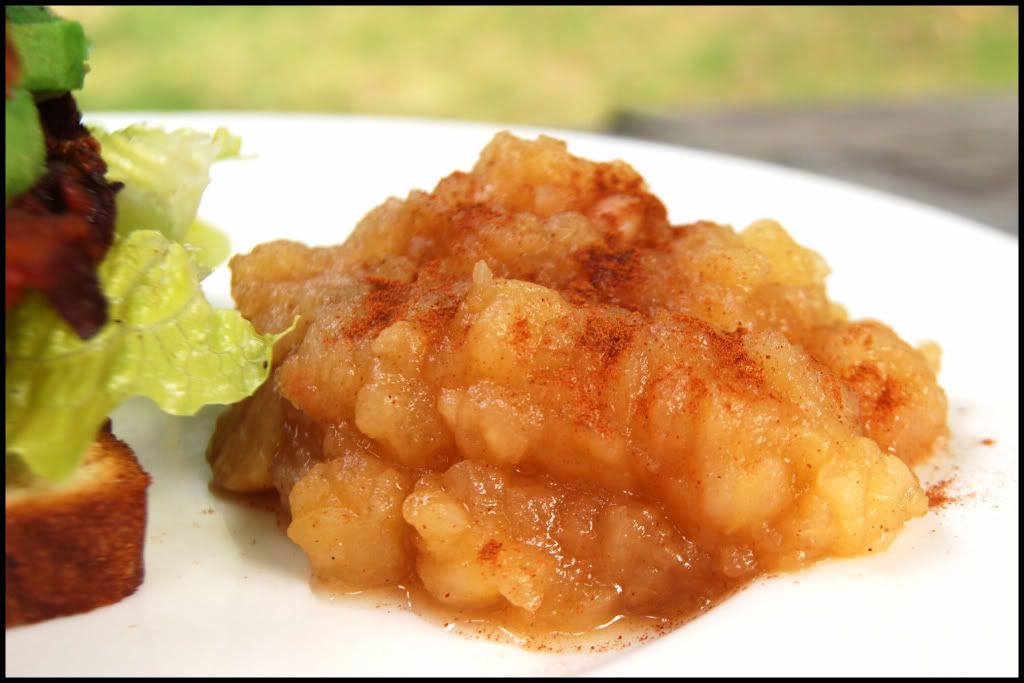 Homemade Applesauce

3 pounds apples, peeled, cored, and chopped
4 slices lemon peel
2/3 cups sugar
1 cup water
1 tablespoon cinnamon
pinch salt

Wash, peel, core and chop apples. Place in a medium stockpot.

Using a potato peeler, remove four sections of peel from a lemon. Add lemon peel to stockpot. Add sugar, water, cinnamon, and salt to pot and bring to a boil. Simmer for 20 minutes, stirring occasionally, until apples are soft and have broken down. Remove lemon peel and discard.

Using a potato masher or whisk, bring applesauce to desired consistency. For smooth applesauce, place applesauce into a food processor or blender and process until smooth. For chunky applesauce, leave applesauce as is.

Serve warm or cold. Sprinkle with additional cinnamon when serving, if desired.

Voila! Homemade applesauce. SO easy, and SO good!