When we moved out here to the Midwest, away from all of our friends and family, we moved in early November. It was fifty degrees the day we moved, and then snowed the next day and for the following ninety or so days straight.

We looked at each other one day that winter and both said, "What were we thinking?"

Then summer came. And, we now know why people live here - and why they tolerate the cold, snowy winters.

The beach.

We live less than an hour away from incredibly gorgeous beaches on Lake Michigan. We spend most of our summer weekends playing in the sand, watching the boys chase the waves, and eating peanut butter and jelly sandwiches and little bags of Doritos in our beach chairs.

Each time we go to the beach, we walk from the parking lot and down onto the beach via a long boardwalk-type thing. Along either side of the boardwalk are older couples who set up party tents and beach chairs and just sit and people watch all day long.

And, they set up pinwheels. Lots and lots of pinwheels. My boys are fascinated by them every time we go to the beach - the colors, the spinning motion, everything about them is magical to the boys.

So, today - as we made our Strawberry Pinwheels - and stared at 12 or so inches of snow outside the window, we talked and laughed about all of the things we love about the beach. And, how thankful we are that we get to live so close to the beach.

This is another recipe that uses ingredients that you probably already have in the house. The cream cheese in this cookie dough is what makes them so delicious. And, the pinwheel shape is adorable.

Gift idea: Use different types of preserves to make a beautifully colorful platter of cookies.

Our lesson: We are so thankful for our beach days.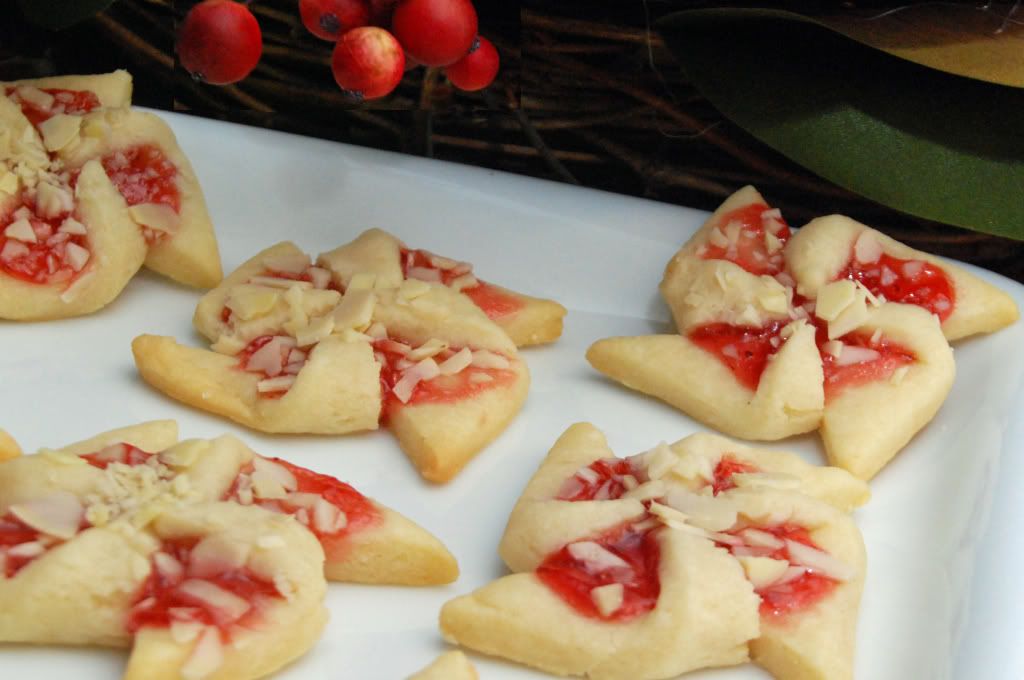 Strawberry Pinwheels
recipe adapted from several others...

3 ounces cream cheese, softened
1 cup butter, softened
1/4 cup sugar
1 teaspoon vanilla
2 1/4 cups all-purpose flour
1/4 teaspoon salt
1/4 cup strawberry jam or preserves
1/2 chopped almonds, optional

In a large bowl, beat cream cheese, butter, sugar and vanilla. Gradually add flour and salt and beat on low speed until combined. Wrap dough in plastic wrap and refrigerate for 30 minutes.

Preheat oven to 350 degrees. Lightly grease cookie sheets. On a generously floured surface, roll dough to 1/4 inch thickness to make a large rectangle. Trim off edges to make perfect rectangular shape. Cut into 2-inch squares with pizza cutter, making as many rows as the rectangle will allow. (I made 6 rows across, 5 rows down).

On each square, cut from each corner to 1/4 inch from center. Spread with 1/4 teaspoon jam. Bring every other point to center and press together to form pinwheel. Sprinkle with almonds, if desired.

Bake 8-10 minutes or until edges are lightly browned. Remove from cookie sheet and place on cooling racks. Cool completely.