There's something about little boys that I simply adore.

They love to get dirty.

They jump in every mud puddle they can find. They run into the lake and get totally soaked then run out and immediately roll around in the sand until they're completely covered with it. And, the snow - oh how they love to romp in the snow.

They are blissfully carefree. I just love it.

As we made these chocolate truffles today, rolling our chocolate in powdered sugar and almonds and cocoa, I relived countless memories of them rolling around in - well - anything and everything. They loved getting their hands "dirty" - just like they love getting their entire bodies dirty.

They are boys. My boys. And, I'm so very thankful for them.

This recipe is very easy and such a great one to make with kids. You're limited only by your creativity in terms of what to roll the chocolate in - sprinkles, sugars, nuts - anything you'd like.

Gift idea: Place various truffles in small boxes and tie with a ribbon. Give as a homemade gift to teachers, grandparents, aunts, etc..

Our lesson: We are thankful that God made sand and dirt and snow that we can roll around in.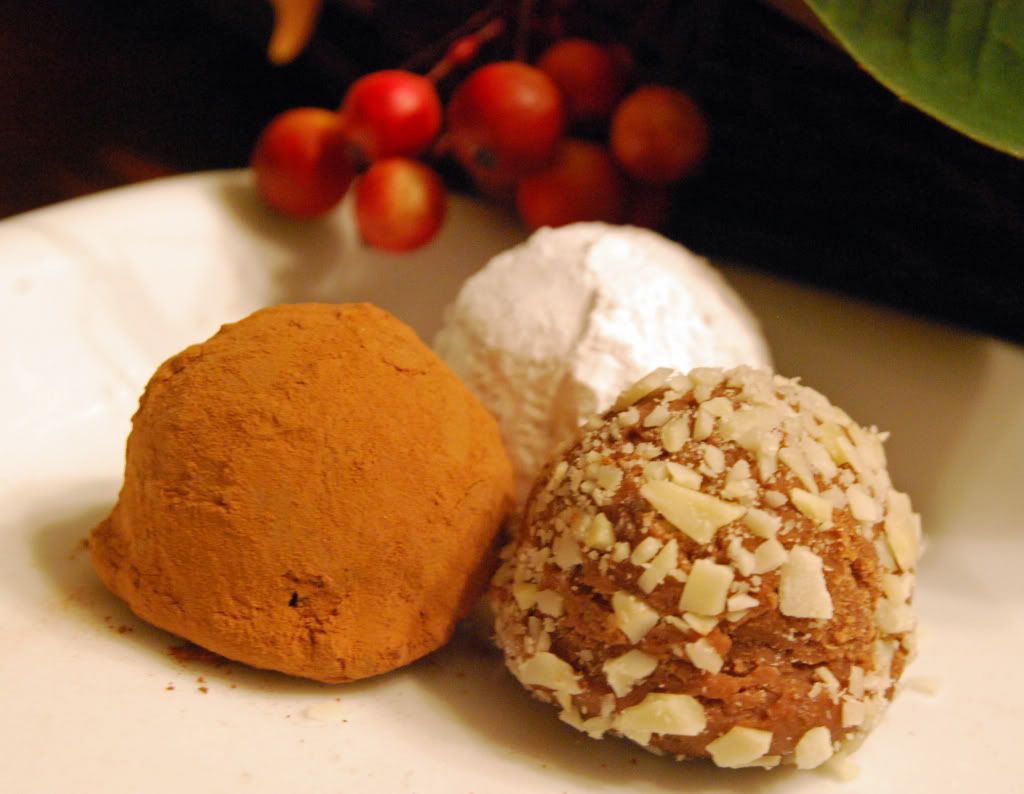 Chocolate Truffles
my own recipe...

8 ounces milk chocolate, chopped
4 ounces bittersweet chocolate, chopped
1/3 cup plus 2 tablespoons heavy cream
1 teaspoon butter
powdered sugar
cocoa powder
crushed almonds

Pour chocolate into medium glass bowl. Set aside.

Heat heavy cream and butter in small saucepan just until it boils. Pour over chocolate and let sit for 2 minutes. Stir chocolate and cream until smooth. If chocolate has not completely melted, place glass bowl over pot of boiling water and stir until completely melted.

Pour chocolate into 8x8 baking dish and refrigerate for at least 2 hours.

Pour powdered sugar, cocoa powder, and crushed almonds into three separate bowls. Using a melon baller or small cookie scoop, scrape out rounds of chocolate from baking dish and place on waxed paper. Roll balls of chocolate in powdered sugar, cocoa, or almonds.

Store in airtight container and refrigerate until ready to serve.