I've never made Baklava. It is one of my favorite desserts, but I've heard it takes a lot of patience because there are many steps involved - and finicky ingredients. Jason's Aunt Ella makes the most delicious Baklava I've ever tasted - but, even she (who is amazing in the kitchen) tells me it's a bit complicated. She gave me the recipe - I'm determined to try it this winter.

This cookie/bar recipe was born out of my love for Baklava - you only need one small piece to satisfy a sweet hankering. However, I always eat too many, and then feel sick afterwards. These are incredibly rich, and remind me of a cross between a chocolate croissant and pecan pie. But, they're very easy to make, and cut into triangles, made a cute display on a platter.

Our lesson: Even when we really love something, sometimes the best way to enjoy it is to just have a little of it. (Oh, if they can learn this now...)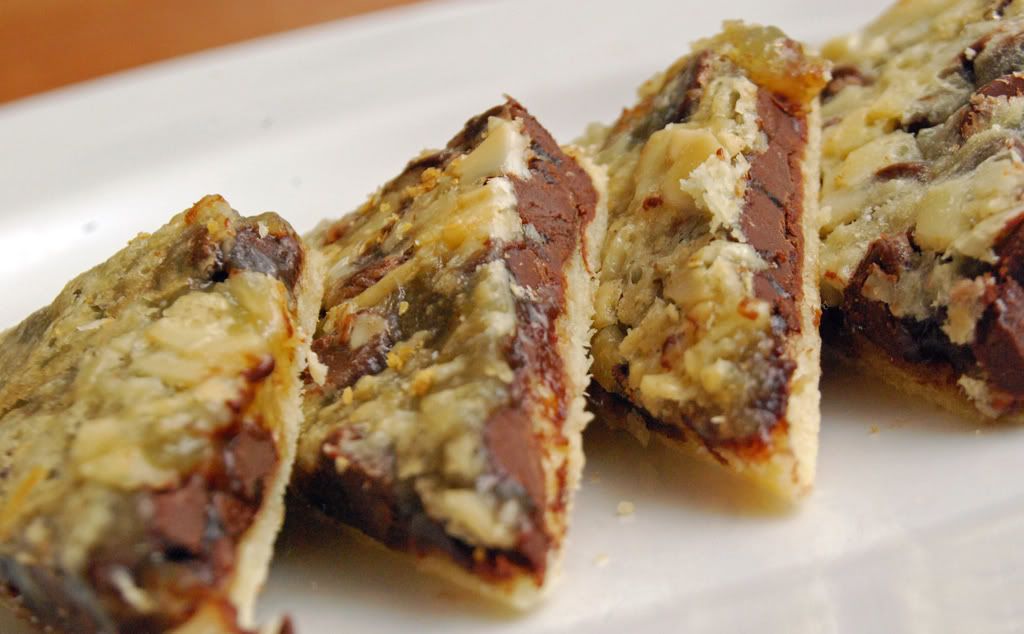 Chocolate Almond Crescent Bars
my own recipe...

1 8-ounce tube crescent dough
1/2 cup almonds, chopped
1/2 cup corn syrup
1/2 cup sugar
1 tablespoon butter, melted
1 egg
1/2 teaspoon vanilla
1/4 teaspoon almond extract

Preheat oven to 350 degrees.

Spread crescent dough into bottom and partially up sides of ungreased 9x13 pan. (Dough will be spread very thin.) Bake at 350 degrees for 8 minutes. Remove from oven.

Sprinkle partially baked dough with chocolate chips. Combine all remaining ingredients in small bowl, and pour over chocolate chips, spreading lightly as not to spread melting chips underneath.

Bake at 350 degrees for additional 15 minutes. Allow to completely cool before cutting into triangles.