A couple of weeks ago, it was our turn to bring in the weekly treat for Jack's preschool class. They were studying the letter "F" - specifically "F is for Flag" that week, and so Jack and I made these flag cookies together.

They had to be part of our Christmas Cookie Countdown because they were such a labor of love for Jack - he wanted these cookies to be "dery, dery, dery special". This is a traditional made-from-scratch sugar cookie recipe - perfect for turning into whatever shapes you want for the holidays. I love the taste of these cookies, and I used store-bought cake decorator's icing in white and colored some red and blue to decorate our flag shaped cookies.

These patriotic themed cookies were a perfect compliment to our recent trip back home. Here we are - my oldest little baker and me - in Colonial Williamsburg, VA during our Thanksgiving vacation back East.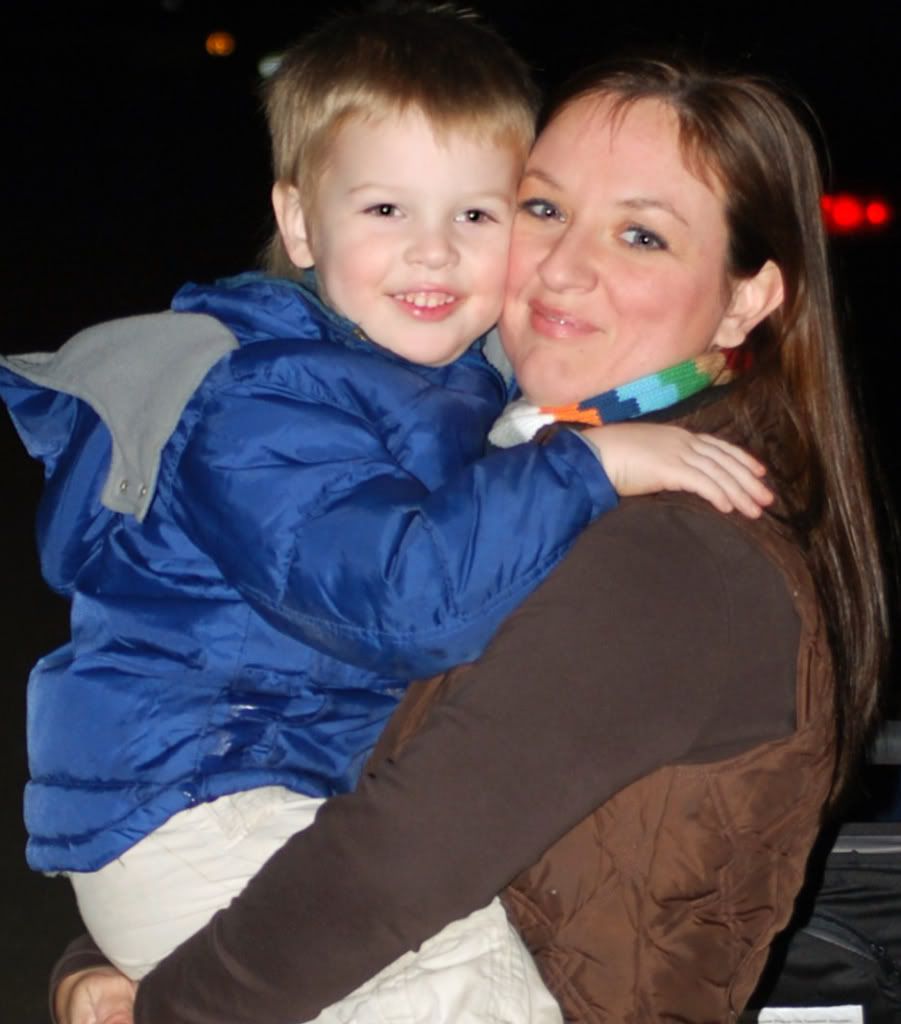 Our lesson: We are so thankful that we live in America, where we can freely celebrate the true meaning of Christmas - the birth of baby Jesus.
Decorated Sugar Cookies
cookie recipe from Paula Deen...

2 1/3 cup plus 2 tablespoons all-purpose flour
1 teaspoon salt
1 teaspoon baking powder
3/4 cup (1 1/2 sticks) unsalted butter
1/2 cup plus 2 tablespoons sugar
1 large egg
1 teaspoon vanilla extract

In a medium bowl, sift together the flour, salt, and baking powder. Set aside.

In the bowl of a standing mixer fitted with a paddle attachment, combine the butter, and sugar and beat on medium speed until light and fluffy. Add the egg and vanilla and beat until combined.

Add the flour mixture in 2 batches, scraping down the bowl after each addition. Beat until the dough just comes together, being careful not to over mix.

Turn out the dough onto a lightly floured surface. Form the dough into a ball, wrap it in plastic, and refrigerate for 30 minutes.

Place the ball of dough between two pieces of parchment paper and roll out to 1/4 inch think. Keeping the dough in the parchment, transfer to a cookie sheet and place in the refrigerator for at least 1 hour.

Preheat the oven to 350 F.

Cut out the cookies in the desired shapes and places on a half-sheet pan lined with parchment paper or an ungreased nonstick cookie sheet, at least 1 inch apart. Transfer to the freezer and chill for at least 15 minutes or until they are stiff.

Bake until the cookies are light golden brown, about 10 minutes.

Let cookies cool completely on the sheets before decorating.

Note: These cookies freeze really well. Just stack them in a plastic Rubbermaid container and stick them in the freezer. Pull them out to defrost about an hour before you're ready to serve them.