I get more requests for this cookie recipe than any other cookie I have ever made. And, I am so proud of this recipe because it is the very first cookie recipe that I developed on my own.

It's hard to explain what's so good about them - they're just buttery and soft and a little bit sweet and a little bit tart and well - you're just gonna have to try them to know what I mean.
They are incredibly simple to make, but 100% homemade - and with ingredients that you always have in the fridge and pantry. You can give them an upscale touch by using specialty preserves (I used peach preserves and crushed strawberry preserves in these), or you can keep them really easy and simple by using plain ol' jelly.

These cookies are so much fun to make with kids because they can help make the "thumbprint" with their precious little fingers.

Our lesson: Just like each one of our cookies is a little bit different, no one else in the whole world has my same "thumbprint". God made me special in my very own and unique ways.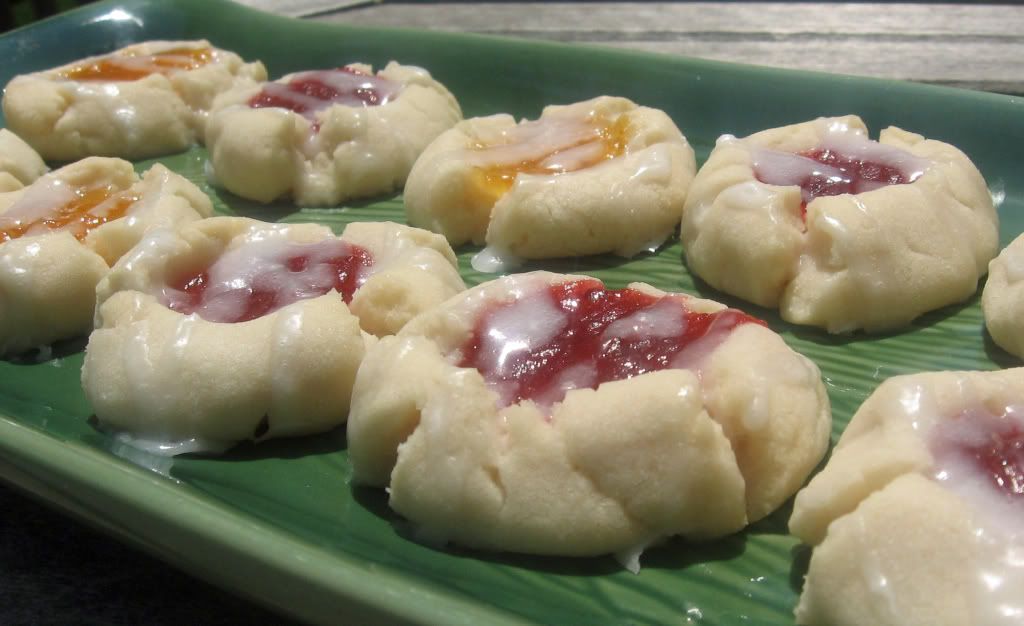 Iced Shortbread Thumbprints
my own recipe...

1 cup butter, softened
2/3 cup sugar
1 teaspoon vanilla
2 cups flour
1/2 cup preserves

1/2 cup confectioners sugar
1 tablespoon milk
1/2 teaspoon vanilla

Preheat oven to 350 degrees.

Cream butter and sugar together using handheld or stand mixer. Add vanilla. Gradually add flour until soft dough forms.

Roll dough into 1 1/2 inch balls and place on ungreased cookie sheet. Using your thumb, make an indentation in the center of each cookie. Fill with 1/2 teaspoon preserves.

Bake for 15 minutes or until lightly browned. Allow cookies to rest on cookie sheet for 2-3 minutes before removing to cooling racks or waxed paper.

In a small bowl, mix together confectioners sugar, milk and vanilla. Drizzle over warm cookies.