I. love. these. cookies.

I first made these the Christmas that Jack was born for a cookie exchange with my husband's family. I wanted something easy (since I had a new baby), but something that was different and not your run-of-the-mill Christmas cookie.

Well, I fell in love with these cookies. They are SO unique - a little bit sweet, but kind of like a cracker/biscuit cookie. The fresh rosemary gives them a wonderful aroma and flavor. They are absolutely delicious with a cup of hot tea.

These cookies have a very "upscale, downtown" feel. I imagine you'd find one of these sitting atop a martini glass filled with ice cream in a fancy schmancy restaurant.

Looking for a favor/gift idea? Make stacks of these in Christmas shapes or the first letter of your (or a friend's) last name and place them in a cellophane bag. Tie with a ribbon and VOILA - a beautiful, personalized, homemade gift.

We had a ton of fun with these this year. Each person in our family picked out a cookie cutter of one of our favorite things. We picked out a teddy bear for baby Lincoln - since he loves his squishy, soft, cuddly toys.

Our lesson: We are thankful for our favorite things that bring us so much joy!

Jack: Trains
Max: Cars
Lincoln: Toys
Daddy: Football
Momma: Music
I absolutely love this platter with all of our cookies on it. I will always cherish this photo as it perfectly captures our family in 2008.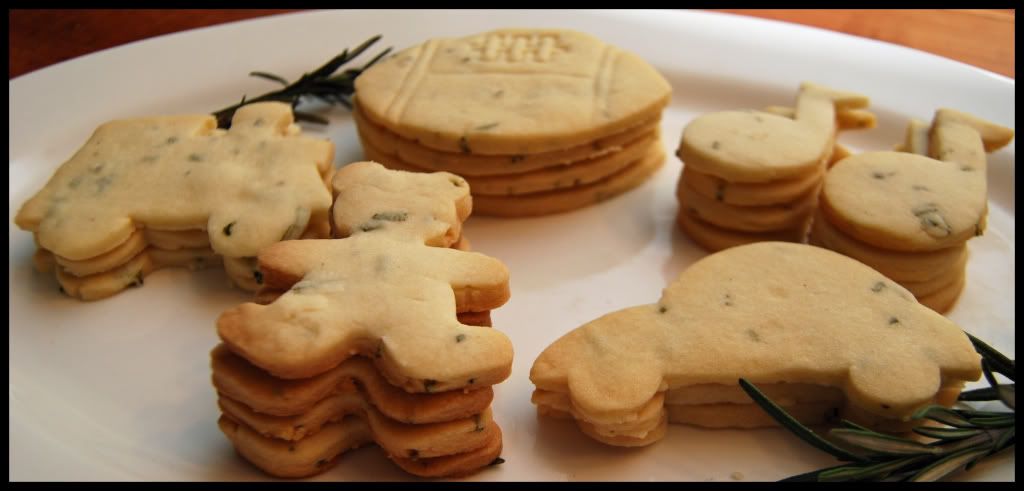 Rosemary Shortbread Cookies
recipe adapted from Southern Living Incredible Cookies...

3/4 cup (1 1/2 sticks) butter, softened
2/3 cup sifted powdered sugar
1 1/2 cups flour
2 tablespoons fresh rosemary, chopped

Preheat oven to 325 degrees.

Beat butter at medium speed with an electric mixer until creamy; gradually add sugar, beating well. Gradually add flour to butter mixture, beating at low speed until blended. Gently stir in rosemary.

Use your hands to mold dough into a ball. Roll dough to ¼-inch thickness on a lightly floured surface. Cut with a 2-inch cookie cutter into desired shapes; place cutouts on lightly greased baking sheets (or parchment-lined).

Bake for 16 to 18 minutes or until edges are lightly browned. Remove cookies to wire racks to cool completely.