We love Mexican food at our house.

We're spicy. What can I say?

I came up with this recipe for Chicken Empanadas after nearly having a heart attack when I saw the nutritional information of the Chicken Empanadas at On the Border. Now, if you know anything about me at all, surely it's that I don't cook lowfat or calorie-cutting food. I like the good stuff. And, under the category of "good stuff", you will find Chicken Empanadas.

BUT, wanna take a guess at how many calories/grams of fat are in ONE order of Chicken Empanadas at On the Border?

Nope. Higher...


Still not high enough...


Are you ready?

1090 calories.
74 grams of fat.

HOLY COW and OH MY STARS and WHOA, MOMMA!

So, besides the fact that I prefer to eat at home, and love to come up with my own takes on things, I figured there must be a delicious way to have Chicken Empanadas without packing on another butt.

"Yes, I believe you have an extra butt on your menu? I'll have that. Thankyouverymuch."

Chicken Empanadas are chicken and cheese filled pastries that are usually deep-fried and are often made with a cornmeal-type "crust". Sometimes they're made with puff pastry or even flour tortilla dough. This recipe uses pie crust. My favorite kind of pastry dough. And, instead of deep frying the empanadas, these are baked.

BUT, what you lose in calories and fat, you don't lose in flavor. These pack the same delicious, Mexican punch as the restaurant ones. Trust me, people. Would I lead you astray? In the name of butter and cheese and all things gloriously fattening and tasteful. No.

And, since there is a sweet little story to tell 'bout these here Chicken Empanadas, I brought my camera with me. (full recipe below - minus surplus rambling)

Here we go...

First and foremost, you need one of these. If you're sensing a pattern in my cooking lately, me like spice. But, these empanadas, they need kick. And, a jalapeno is key.
You also need some roasted chicken. I always assume that everyone knows how to roast chicken. But, when I was a newbie cook, I hated it when people/cookbooks/internets "assumed".

So, to perfectly roast chicken breast for this dish, coat chicken breasts in olive oil, sprinkle with liberal amounts of salt and pepper, cover, and bake at 400 degrees for 45 minutes. Perfectly seasoned, perfectly cooked chicken breast. Every. Single. Time.
Once you make the filling (recipe below), you start the process of putting the empanadas together. (I was going to show you pictures of me making the filling. But, since you basically grind a bunch of things together in a food processor (or chop them by hand) and mix them together with some other stuff, I skipped that part. Or maybe the pictures were horrendous. You pick.

Once the filling is made, roll out a single pie crust on a floured surface and using a round cookie cutter (or a beverage glass), and cut into circles.
Brush edges of circles with water, using a pastry brush.
Place one rounded teaspoon of filling onto each circle.
Fold over into a half-moon shape, and gently press the edges closed.
Using a fork, make indentations all the way around the edge to seal. And, to make them look all pretty-like.
Now, I'm pressing the pause button on this little shindig. Because I must show you something.

No, these are not my hands.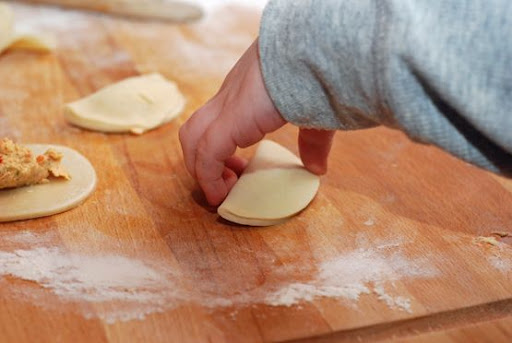 These are the precious, nubby, sweet little fingers of my four year-old - who made these alongside of me.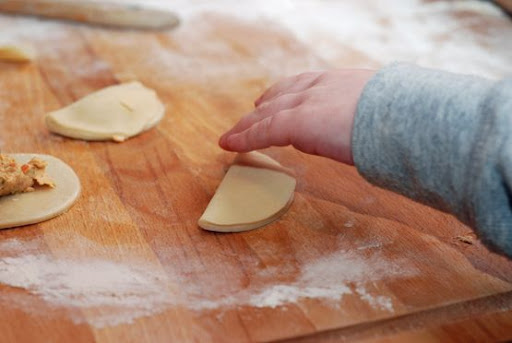 And, I just have to tell you.
There is nothing in the whole wide world more heartwarming to this Momma than cooking alongside my boy. He loves being in the kitchen and cooking and baking and he is learning so much. He is my little kitchen sponge. *giggle*
Is it wrong that this next picture makes me giggle? C'mon. You know you're giggling, too. It can't be helped.
It is so entirely precious that he took his job so seriously and put so much into each one of these. He's got me wrapped around every one of his nubby little fingers. I'm telling you.
Yes, our boys have dirt on their fingers. Permanently. If you would like to come over and try to scrub them clean, c'mon over. The dirt has done me in. I am a slave to the dirt. The dirt has won.
Ok, hitting the start button and returning to the regular programming.

You'll have pieces like this after you make all of your circles. Just wad them up and roll them out, again.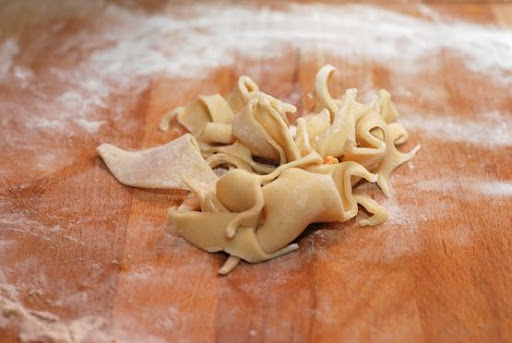 Seriously, I could have cut out one more on there if these three hadn't had On the Border Chicken Empanadas for lunch.
Once all of the empanadas are filled and sealed...
They go onto a greased, foil-lined cookie sheet or jelly roll pan. My jelly roll pan is all shades of overused and sorry lookin'. Poor guy.
Bake at 400 degrees for 15 minutes.
And, out pop hot, steamy, delicious Chicken Empanadas. Man, these things are good. Note: Do not take one off of the pan and bite into it. Learn from me, my friends.
And, don't skimp and put a measly few on a platter. They will be gone before you can say, "On the Border made me fat."
That's more like it.
Chicken Empanadas. Without the extra butt. Olé.

Chicken Empanadas
my own recipe...

2 chicken breasts, roasted
1 jalapeno, seeded (if desired)
1/2 red pepper
1/2 green pepper
1 small onion
8 ounces Mexican blend cheese, shredded
4 ounces cream cheese, softened
2 tablespoons cumin
1/2 teaspoon crushed red pepper flakes
1 teaspoon chili powder
1 teaspoon garlic powder
1/2 teaspoon salt
1 (15 ounce) package of frozen pie crust or homemade pie crust for a double crust pie

Place chicken, jalapeno, red pepper, green pepper, and onion in a food processor and process til blended and chopped. Or finely chop on a cutting board or mat into very small pieces. Remove from food processor and place in a medium bowl. Add Mexican blend cheese, cream cheese, cumin, crushed red pepper flakes, chili powder, garlic powder and salt. Mix together with a wooden spoon until thoroughly combined.

Roll out pie dough and using a biscuit cutter, round cookie cutter, or edge of a drinking glass, cut dough into circles. Using a pastry brush, brush edges with water.

Place one rounded teaspoon of filling into each round, and fold over to form a half-moon shape. Gently press the edges closed to seal. Using a fork, make indentations all the way around the edges to seal completely.

Place the empanadas on a greaased, foil-lined baking sheet and bake for 15 minutes at 400 degrees, or until the crust is golden.

Serve warm with salsa, sour cream, and guacamole, or ranch dressing for dipping.

*Note: These are appetizer-sized Chicken Empanadas. This recipe makes a TON of these. Store remainder in a freezer bag in the freezer for up to 3 months. Reheat in oven or toaster oven until heated through.