My kids are crust-haters.

Gagging sounds are heard 'round the world if I so much as leave one brown shred on the edge of their peanut butter and jelly sandwiches.

But, crust-free, it's their favorite lunch.

So, everyday, I make peanut butter and jelly sandwiches out of our favorite bread. (If you have never tasted this bread - and you like/can eat nuts - it is heavenly. And, I think it's got stuff in it that's good for you and such.)
The problem is this. Sitting at either end (of any loaf of bread) is one of these. Basically crust. All crust.
Gagging sounds don't even begin to describe my boys' response if they spot one of these.

Devil's food. That's what it is to my crust-haters.

So, I was throwing away two pieces of "Devil's food" a couple times a week.

Tangent Alert: I suppose I should be making bread crumbs or finding some other worthy use for them, but that would require organization and forethought. I lack both most days.

But, I throw them away no longer. I have found the perfect use for the end slices.

I gather together what we need for our peanut butter and jelly lunch, and begin making sandwiches. When I open a new loaf, or come to the end of one, I use one end slice and one regular slice.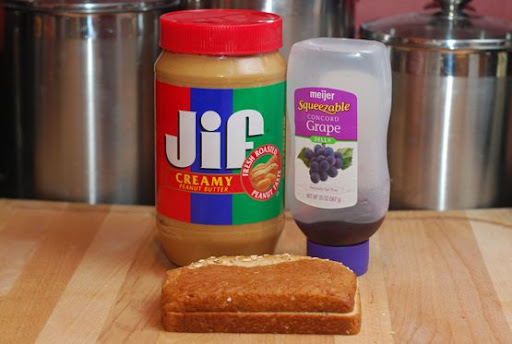 I spread the peanut butter on the "Devil's side" of the end slice.
And, spread jelly on the regular slice.
Then I flip the peanut butter side over and put them together. And, it looks like my boys' normal, everyday peanut butter and jelly sandwich.
Of course, I cut off the crusts - because a good Momma would NEVER feed her crust-hating boys a peanut butter and jelly with crust on it. Nope. Never.
Speaking of my little victims, here are my crust-haters. Lovin' life with Momma's slick version of their favorite sandwich.
And with that response, I continue to "punk" my little sweeties.

Twice a loaf.

*For more WFMW, visit We Are THAT Family.