I have been looking at our Disney pictures for weeks now - wondering how I could possibly narrow down all the photos to just a few to share with you all.

After all, so many of you helped us make this the best vacation we could for our boys. And our family - well, they've been waiting long enough.

So, in the spirit of brevity and pictorial sanity on my part - while hoping to capture in words and pictures what we will remember most about our recent trip to Disney World, I've narrowed it down to our Top Ten Unforgettable Memories.

As we relive and recount our first Disney vacation with Jack and Max, these are the moments that we'll share over and over.

10. Fun at the resort. We stayed at a great resort that could have kept us busy and enjoying ourselves all week long - without ever leaving it. You'll see our favorite part of the resort further up on this list. Oh, believe me, you'll be hearing and seeing more about that.

There was an awesome staff that planned activities for kids throughout the week. When we heard there was cookie decorating going on in the clubhouse on one hot afternoon, we immediately headed over there. The boys HAD A BALL. They each decorated three cookies with icing and sprinkles and sprinkles and more sprinkles.
And, then we took them outside to eat them poolside.
Max. No one has ever accused Max of being a rule-follower.
Later that day, Jason took the boys over to the shuffleboard area. Jack did not want to leave after over an hour. This kid was CRAZY about shuffleboard. His great-grandfather Pappy would be so proud. (I will probably post more pictures of this shuffleboard scene at some later point. I probably won't be able to help myself.)
Look at that face. Pure, hysterical concentration. And, he's playing by his own rules. I don't think you're supposed to run the entire length of the court. But, what do I know?
9. The 3-D Shows. These two little boys are always stealing my sunglasses. And, they were in hog heaven with their 3-D glasses as we waited in line. (This was their first 3-D show, and they were reaching out, trying to grab the things in front of them. I don't know, but the sweet innocence of that is downright precious.)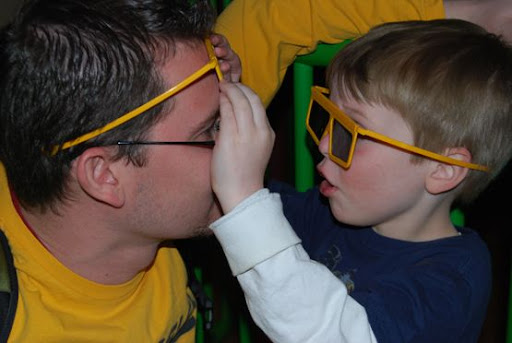 You're not allowed to take pictures during the show. But, Max was so enthralled at the end that he didn't move. He sat there. Completely enamored. I had to capture it. And, in true Max fashion - doing things his own way.
8. Treats. We LOVED spoiling the boys with treats as much as they enjoyed being spoiled by them. We're so cheap we made them share an ice cream cone at Magic Kingdom. But, once they had it, they thought sharing it was the coolest thing about it. I'm trying to figure out how to translate that to their toys.
7. Lines. It's all what you make of them. We knew there would be long lines - especially since we went during the week of Spring Break. But this?
If you can't read that, it says 160 minutes. That translates into 40 days and 40 nights for three and four year-olds. But, we knew we'd be in for some long lines, so we came to the parks armed.

The very first day we were there, we went to Walmart and stocked up on individual bags of crackers, cookies, candy, marshmallows, and juice boxes. We stuffed our backpack completely full of them each day before we left for the parks. When the boys started to get antsy in line, we'd let them pick out a treat from the backpack. (*Thank you, thank you, thank you to those of you who recommended Fast Pass. We used it with great success!)

This was one of their favorite times together - sitting and laughing while eating their snacks in line together.
And, you know what? All day long...
From being uncontainably excited while waiting in line in the morning.
To being utterly exhausted in line at the end of the day.
They did not complain once. Not once. They made the best of it. And, we were and still are SO proud of them for that.
6. Riding the train. We have boys that love trains. They go round and round their train table hundreds of times a day. So, when they got to ride the REAL red train that went around the entire park, they were enamored with everything about it.

Jack just watched.
And, watched.
And, watched with his head out the window. "This is the real James, Momma." Hearing him say that was one of the many moments during the week that required me to hold it together - lest I make a blubbering fool of myself on the Disney railroad.

We will never forget Jack on this train ride. Ever.
They loved using the map to point out all the different places we were gonna go.
And, are still - weeks later - talking about that special red train that went ALL the way around the whole wide Disney World.

I saved the best for last. Top Five. Tomorrow.