It's time for the last of our Top Ten Unforgettable Memories from our Disney trip with Jack and Max.

But, before we get to the last of the pictures, I want to say "Thank you", again - to all of you who took time to give us advice and tips and share your experiences with us. Besides the comments you left here on this blog, we got pages of emails and many Facebook messages and comments. We can't thank you enough - your advice was invaluable to us. I plan to do a post in the future with the tips that we learned during our first visit - with the hope that it will help others on their first trip - as you all helped us.

Thank you! Thank you - again and again.

On to the pictures.

(10-6 can be found here).

5. Max meeting Buzz and Woody. So, I gave you a little sneak peak of this during our trip, but there was more to the story.

We first saw one of the green army men standing outside of the Buzz Lightyear ride at Hollywood Studios. As soon as Max saw him, he ran over to him. I don't know if it's his age, or just that he just loves Toy Story so much, but he was in total awe of meeting these real life characters.
We waited in line to meet Buzz and Woody, and when we rounded the corner to have our turn at meeting them, Max went right up to them. He hugged Buzz first.
Then stood and stared at Woody for a few seconds.
Before holding out his arms and hugging him, too. I was a blubberball. Again.
Here is the picture I posted during our trip. Max asks to look at it about once a week. He always tells me, "That's Max and the *real* Buzz and Woody, Momma." Oh, mercy. Weep. We waited a half hour to meet them. So worth the wait.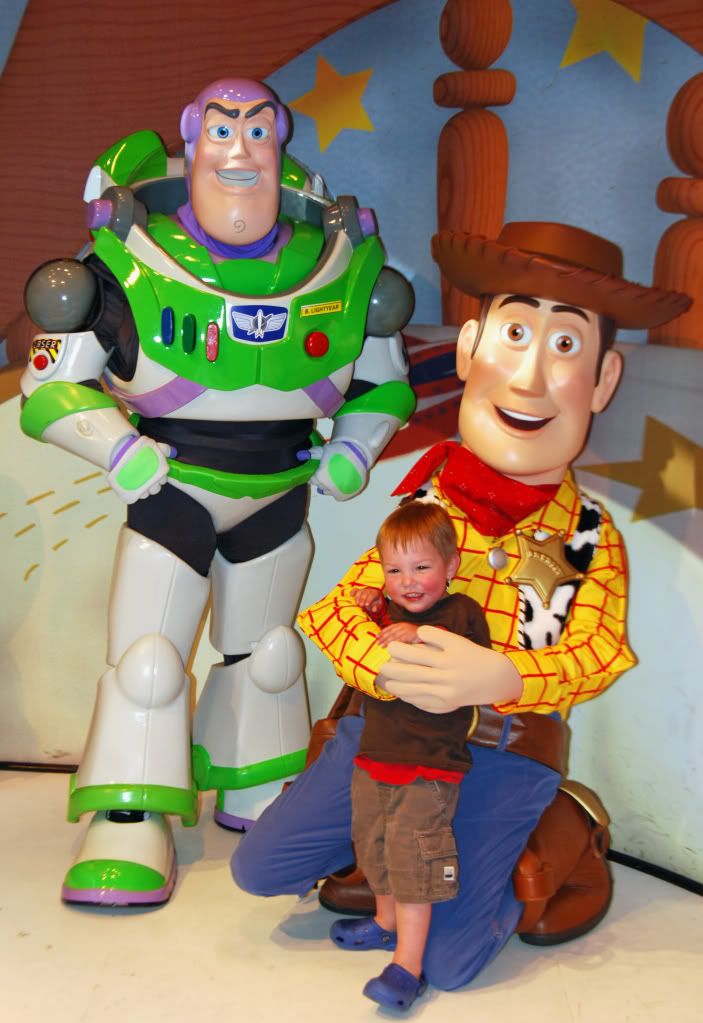 4. Tom Sawyer Island. Of all the places, rides, and attractions we went to and on, Tom Sawyer Island was by far the boys' favorite. They are currently obsessed with Davy Crockett - and the Fess Parker movies their Grandpa gave them - and this was Davy Crockettland at its finest.
They ran around this place looking for Indians for over an hour.
They loved going down into the forts and running over the wooden bridges.
But, nothing.
Nothing we did the entire time at Disney World.
Was more fun for them.
Than shooting these guns. We had to literally pull them away. My husband has such vivid memories of shooting these same guns and running around Tom Sawyer Island when he was a boy.
I was overwhelmed with emotion watching all of this come to life for them. Yes. More blubbering on Tom Sawyer Island. What can I say?
3. Meeting Lightning McQueen and Mater. My boys absolutely LOVE the movie, "Cars". And, when we told them we were heading over to meet Lightning McQueen and Mater, their excitement was off the charts.

We waited in another line, and then finally it was their turn.
I don't think they believed it could possibly be the *real* Lightning McQueen and Mater until they actually touched them.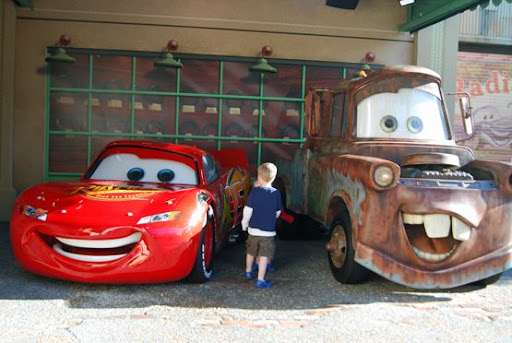 And, they never wanted to let go. Blubber.
2. The pool. Jason swears that if you take kids to the Hampton Inn down the street for vacation, that as long as there's a pool, kids will have a blast. And, there is definitely something to be said for that. Many of my fondest childhood vacation memories are of me and my siblings splashing in the pool.

Our boys had never seen or been to pools like these. Our resort had three different types of pools, and the boys pool-hopped all week long.
There is nothing my boys love to do in the pool more than be thrown by their Dad.
As soon as they pop out of the water, they shout, "AGAIN!"
They had snacks by the pool.
Drinks by the pool.
They played with toys by the pool.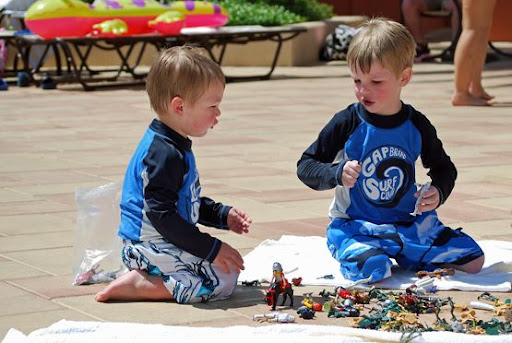 They relaxed.
Kicked back.
And, just got to be refreshed and be themselves - with no lines or waiting, no schedule or map.
They just soaked up the sunshine with no inhibitions at all.
1. They had no expectations. What my husband and I will remember most about this trip - the overarching theme that ran through our entire Disney vacation with Jack and Max - was that they had no expectations at all. The only thing they knew about Disney World was that they would see Cinderella's castle - because that's what they see at the beginning of Disney movies.

While we were on the monorail to Magic Kingdom on the very first day, they saw Cinderella's castle from their window. We got off of the train, and Jack said, "Thank you, Dad. I loved Disney World." He thought it was over. He thought that was it. He had seen the castle. He had ridden the coolest train ever. It was time to go home.

My husband knelt down beside him and said, "Ah, buddy. This is just the beginning. We get to go in there!"

And, these are the pictures of them right outside the park - just before we went in.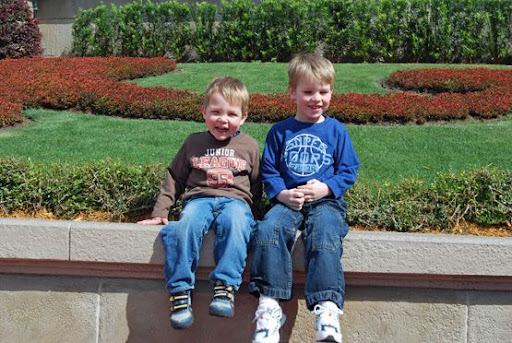 These were just snippets - the moments that we won't ever forget. But, as Jason and I recall and relive our first Disney vacation with Jack and Max, what we will remember more than anything was the joy and overwhelming emotion and pride we felt as their parents - and, getting to watch this magical place unfold before their eyes.

We had the time of our lives with them!