See this adorable, sweet little dog?
Well, it's not ours.

Nor are we getting a dog. Though, after seeing Jack and Rocky together, I can see why many of you thought we might be adding a dog to our family.

We're not. At least not for quite some time.

What we are getting is ice cream. About once a week this summer.

Here they are - our two little boys getting more and more excited by the minute.
They heard the music getting louder and louder.
And, even the baby couldn't stop staring down the street.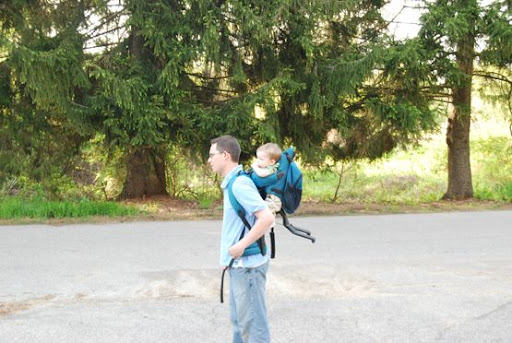 Several of you guessed it correctly - The ice cream truck. Or as my sister MB wrote, "The Ripoff Truck" - because that's what my Dad always called it.
We told the boys they could pick out whatever they wanted. And, they both picked out the same thing - Ice Cream Sandwiches. (I couldn't believe it - I mean, as a kid, my sibs and I normally could only choose the cheapest things on there - LIKE THE ICE CREAM SANDWICH! And, we told the boys they could get whatever they wanted - like the super huge mongo chocolate chip cookie ice cream thingy or the Spiderman popsicle or the strawberry or chocolate eclair pops.

Nope. Ice Cream Sandwiches. Which we have in our freezer in the garage.
But, you know what? No ice cream sandwich they'd ever had was as special as this one.
Cause this one came from the ice cream truck.

Jack took his and bolted. I think he was afraid we'd get all parental on him and tell him he could only have half or try to tell him how to eat it. We do that sometimes - which is so totally lame. I don't blame him for flying the coop and hiding out with his treasure on the back deck.
So, I followed Max up the driveway.
This kid enjoyed every single bite.
Then, he stopped. And, finished the entire thing about halfway up the driveway. I think the simultaneous walking and eating was too much work and interfering with his enjoyment of it.

Man, I love this kid.
I've been reliving my childhood trips to the ice cream truck since seeing my boys experience it. When we'd go on vacation to Ocean City, MD, when I could choose anything I wanted on the ice cream truck, I always chose the strawberry eclair pop.

I still remember exactly what it tasted like. And, how good it felt to sit on the edge of a curb on a hot, summer day and enjoy an ice cream with my brothers and sisters.

So, I thought I'd ask you: What was your favorite treat from the ice cream truck?