*UPDATE*: The winner of yesterday's [You Pick The Title] contest was Keri. Her title of "You're not so bad yourself..." had both me and my hubby laughing out loud - imagining that kind of condesending tone coming from our baby cracked us up. Though, I must say, so many of them had us laughing, or me in tears.

Thanks, everyone, for playing along. I think I'll make this a regular contest here at Short Stop!
____________________________________________________

I've got another picture for you that has silenced me.

This is a picture I've been staring at for two days now, and I am so blubbery about it that I can't seem to find the right title for it.

This is our middle child - Max. And, our baby - Lincoln.

These two had a rough start.

"The baby" came along and took Max's spot as - "the baby".

Max thought that was rude. I don't blame him. My baby sister came along with these long legs that go on forever and turned me into a shrimp. I know how he feels.

But, something is happening. The wind is changing. Perhaps Mary Poppins is about to land on my front porch with her bag full of goodies and some free babysitting.

Or, maybe - just maybe - these two are becoming friends.

So, I'm letting y'all choose the title to this post/picture. Best, most creative, funniest, snarkiest, most touching - whichever one my hubby likes best - gets put up top. I can't possibly choose. I am handing off the dirty work to my head homey.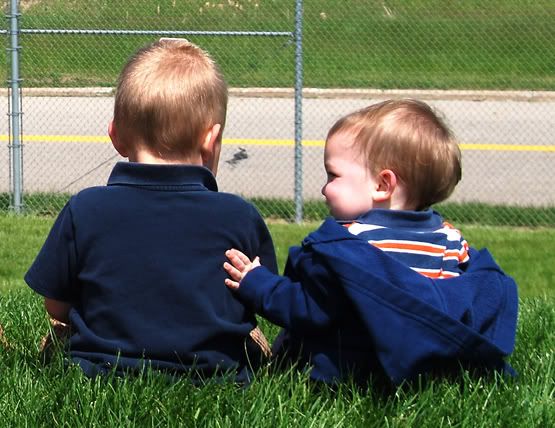 Happy Wed-but-it-feels-like-Tue-sday!