Because we live 12 hours away from our family - who would otherwise love to take our kiddos for an evening - we don't have many opportunities for date nights. Sure, we use a babysitter from time to time, but paying for a babysitter isn't always the best use of our money.

So, we have a lot of "Date Nights" at home.

My hubby and I love Mexican food - and if we were to go out on a date, I'd probably pick a Mexican restaurant over just about anywhere else.

And, I usually get to pick because my hubby is gracious like that. And, because he gets to go out on fancy schmancy dinners when he travels for work. I remind him of that way too often.

These nachos, which I call "Date Night Fajita Nachos", use similar ingredients to those you'd find in an order of chicken fajitas. But, instead of filling flour tortillas, tortilla chips are piled high with chicken, grilled onions, black beans, jalapenos, and cheese . They're so easy to make, and they're perfect for a picnic on the bed in front of a good movie.

Yes, we have picnics on our bed. I love them.

The secret to these nachos is the marinade for the chicken. Meet Lawry's Tequila Lime Marinade.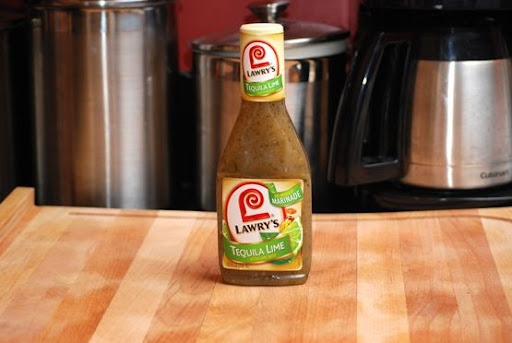 It's a 30 minute marinade - so you don't have to marinade the chicken all day or all night or any other such silliness. The tangy lime flavor it brings to the chicken is perfect for these fajita nachos.

For these nachos (full recipe below), I grill chicken breast that's taken a 30-minute bath in Lawry's Tequila Lime marinade. While the chicken is grilling, I also slice and grill a large onion on the back of my grill pan until it's brown and caramelized.
Once the chicken is finished, I thinly slice it.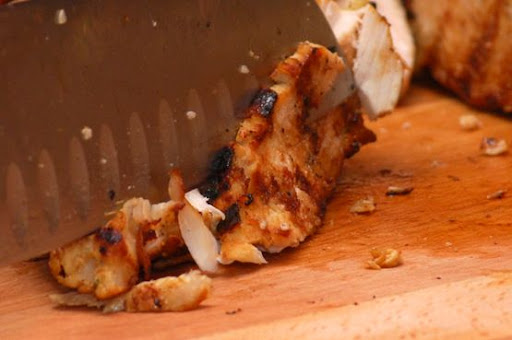 Then run my knife over it a few times to get just the right-sized pieces.
Then, I place tortilla chips in the bottom of a 9 x 13 dish.
I top the chips with the grilled, sliced chicken, onions, a can of drained black beans, chopped jalapeno, and Mexican blend cheese.
I stick the whole shebang under the broiler for about 7-8 minutes, and out come melty, gooey, deeeelicious nachos.
Yeah, man.
Serve them on individual plates and top them with salsa and sour cream.
Of course, you can make these your own - use beef instead of chicken, use refried beans, olives, tomatoes, grilled red and green peppers, and hit the entire thing with some freshly chopped cilantro.

Enjoy!

"Date Night" Fajita Nachos

1 pound boneless, skinless chicken breast, sliced
1/2 bottle Lawry's Tequila Lime Marinade
1 large onion, sliced
1 (15-ounce) can black beans, drained
1 jalapeno, chopped (or 2 tablespoons chopped, canned)
8 ounces Mexican blend cheese
1 bag tortilla chips
salsa
sour cream

Marinade chicken breast and 1/2 bottle of marinade in gallon-sized bag for 30 minutes (or longer). Grill on outside grill or on grill pan until chicken is thoroughly cooked. Grill onions alongside chicken. Slice chicken into thin slices, and run knife over to make smaller pieces.

Preheat broiler. Place tortilla chips in a 9 x 13 baking dish. Top with chicken, onions, black beans, jalapeno, and cheese.

Broil for 7-8 minutes, or until cheese has completely melted.

Serve immediately on individual plates and top with sour cream and salsa, if desired.