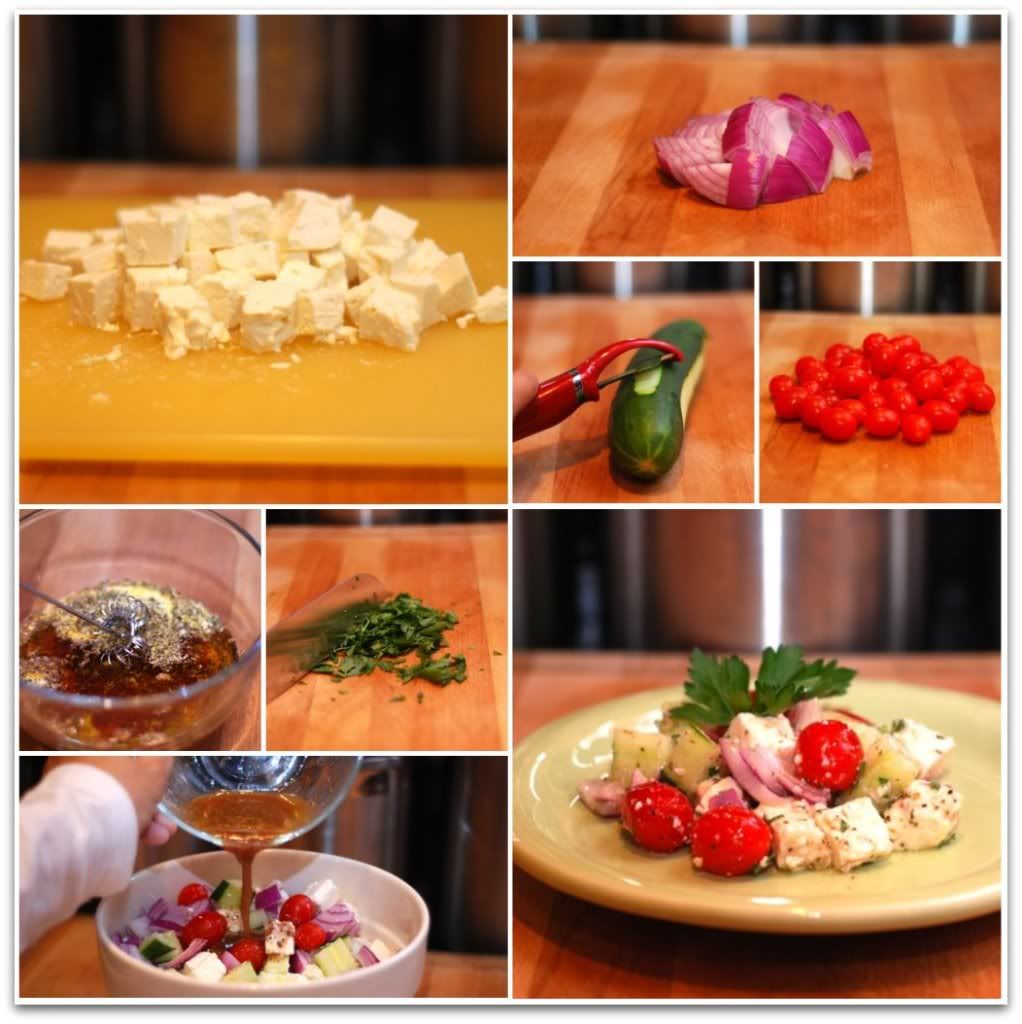 I'm not a big salad person, and neither is my hubby. So we don't have a lot of salad at home. We eat a lot of fresh vegetables - corn on the cob, green beans, broccoli. But, there are only a few salads that I make on a regular basis.

This salad is one of my favorites. And, I love making it.

This salad combines a simple Greek dressing with fresh vegetables and feta cheese. It is perfect alongside just about anything you pull off of the grill. It's crunchy and sweet and salty and tangy and all of those things together create a deliciously, wonderful, fresh salad.

A man from Greece that I met at the deli counter line (I will chat it up with anyone, anywhere) once told me that a love for feta cheese is an acquired taste - and, that there are a lot of people who don't like it. So, if you are one of those people, you can easily substitute fresh mozzarella for the feta in this recipe.

I love the colors in this one, so I took pictures as I made it this weekend. And, I like having photographs to illustrate kitchen tips when I want to share them - and I use a few little tricks in this recipe.

So, here is my favorite summer salad. Here we go (full recipe below).

First, slice and dice a large, red onion.
This is a chunky salad, so dice the onion into about 1/2-inch chunks.
This is about the right size. Toss the onion into a medium-sized mixing bowl.
I then use my potato peeler to peel some of the skin off of a cucumber.

Tip: I find too much cucumber peel to be a little too waxy for me. So, I always peel some of it off before I slice or dice cucumber. I suppose I'm a "wax off" kind of girl, Miyagi-son.
Then, slice it in half, and each half into three strips.
Then dice it into 1/2-inch chunks - adding it to the bowl.
Next, add some ripe, cherry tomatoes to the bowl. If some of them are larger than bite-sized, then I cut them in half before tossing them in - but, all of these were perfect.
Next, cut 8 ounces of feta cheese into 1/2-inch chunks.

Tip: I always cut feta cheese on a separate cutting board. It is such a soft cheese that I'd need to wash my cutting board before slicing anything else on it, and I am just too lazy and impatient for that.
Whenever I can, I buy feta cheese in large chunks directly from the deli counter at my grocery store. It's much cheaper than the prepackaged kind, and I can get exactly the amount I need.
After adding the feta cheese to the bowl, I give the whole thing a good toss. Everything should be the same size, about 1/2 inch, which makes this salad easy to eat and really pretty. I love pretty food.

For the dressing, combine oregano, lemon pepper, garlic powder, salt, and a pinch of sugar.
Add 1/4 cup red wine vinegar and 1/2 cup olive oil and whisk until combined.
I love, love, love my baby whisk. It comes in handy for so many kitcheny tasks.
Add the dressing to the mixing bowl.
And, combine with a spoon or spatula thingy. Hello, yellow friend. You make me happy. As do your multi-colored brothers and sisters.

Yes, I talk to my kitchen tools. They are my culinary plants, if you will. They are my pets. They are loyal and trustworthy.
Grab a hunk of flat leaf parsley.
And, finely chop it.
Add it into the bowl and combine until incorporated.
Serve on a salad plate or next to some ribs, steak, chicken, hamburgers, hot dogs, casserole - anything that needs a perfect, fresh summer salad.
I love this salad. It's so fresh and easy and I love making it all summer long.

This one is begging for experimenters. Add some cooked pasta, orzo, Kalamata olives, green and red pepper. Make it your own!

Enjoy!

Simple Greek Salad

1 large red onion, diced
1 cucumber, diced
1 pint cherry tomatoes
8 ounces feta cheese, diced
1 teaspoon oregano
1 teaspoon lemon pepper
1 teaspoon garlic powder
1/4 teaspoon salt
1 pinch sugar
1/4 cup red wine vinegar
1/2 cup olive oil

Combine diced vegetables and feta cheese in medium-sized mixing bowl. Set aside.

Combine oregano, lemon pepper, garlic powder, salt and sugar in small bowl. Add red wine vinegar and olive oil. Combine with a whisk until thoroughly combined. Pour dressing over vegetables and cheese and toss to combine. Refrigerate for one hour. Serve.