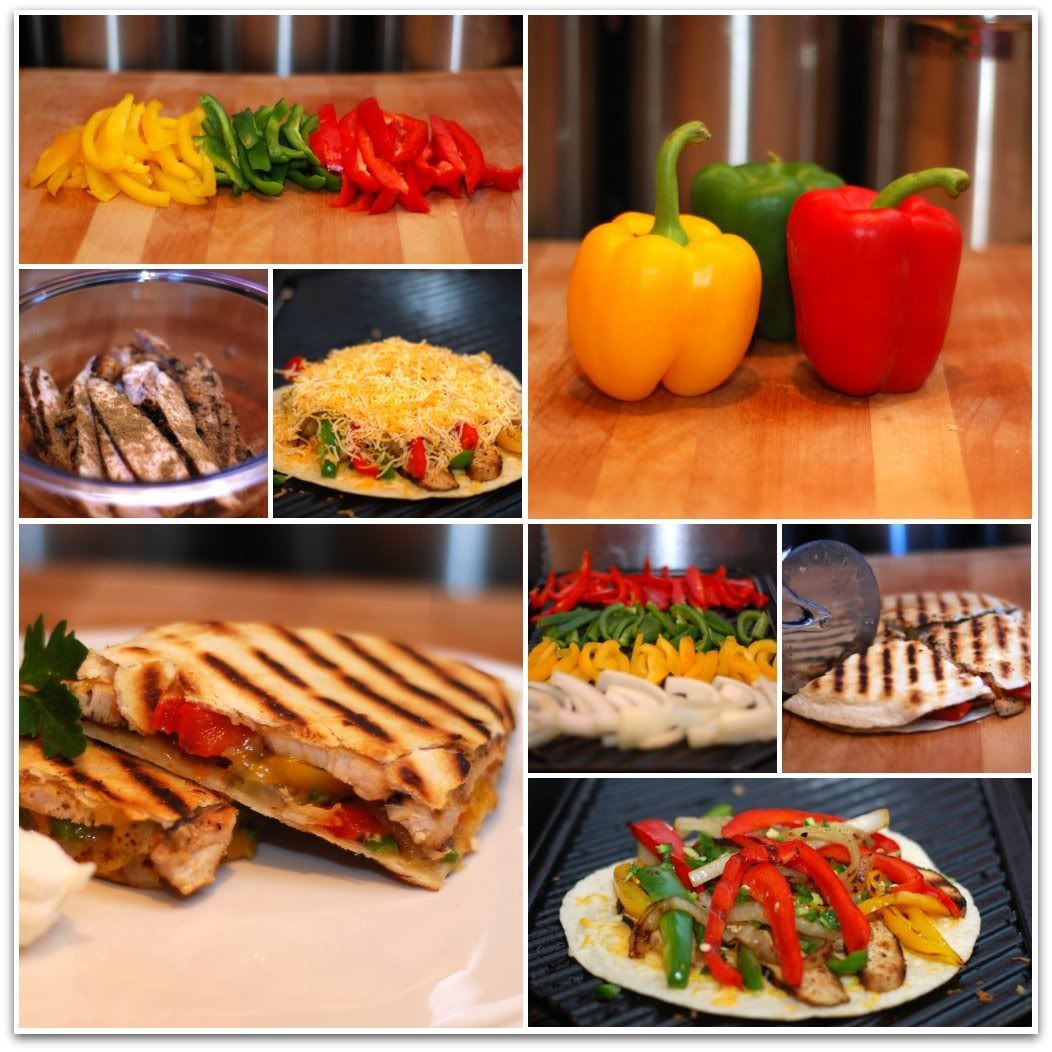 Since we grill chicken a few times a week in the summer, I'm always looking for new ways to use up the leftover chicken.

These Triple Pepper Overstuffed Chicken Quesadillas are a great way to make a full, satisfying dinner out of last night's leftover, grilled chicken. Tossing grilled, sliced chicken with a couple of tablespoons of cumin and some lemon juice will give it a great Mexican flair, and turn it into the perfect filling for quesadillas.
And, I love peppers. Hello, lovelies.
They're so colorful, and I love the subtle differences in flavor. Grilling up red, green, and yellow peppers along with some sliced onion, and combining them with the chicken creates a delicious and filling quesadilla.
This is man food. It's not wimpy, appetizer, please bring out the real food now quesadilla. One of these filled up my hubby who is usually scrounging around in the cereal cabinet about an hour after dinner.

See what I mean? Stuffed. Overstuffed. Pile this baby high!
Whoops. Cheese. Lots of cheese. That's better.
Enjoy!
Triple Pepper Overstuffed Chicken Quesadillas

2 grilled chicken breasts, sliced
2 tablespoons cumin
juice of 1/2 lemon (or 1 tablespoon)
1 red pepper, sliced
1 yellow pepper, sliced
1 green pepper, sliced
1 large onion, sliced
8 (8-inch) flour tortillas
16 ounces Mexican blend cheese
1 jalapeno, minced, optional
cooking spray

Slice chicken breast and place into a small bowl. Add cumin and lemon juice and set aside.

Preheat grill pan (or skillet) over medium heat. Spray with cooking spray and grill/saute peppers and onions for 8 minutes, or until tender. Remove from heat and set aside.

Respray grill pan with cooking spray. Place one flour tortilla onto grill pan. Top with a handful of cheese and spread to cover tortilla. Top with several slices of chicken, and generous amounts of peppers, onion, jalapeno (if desired), and additional cheese. Then top with another flour tortilla. Cook over medium heat for 4-5 minutes, then flip. Cook on remaining side for 4-5 additional minutes or until heated through and cheese is completely melted.

Serve with salsa, sour cream, guacamole. Whatever suits your fancy.