*UPDATE*: The winner of yesterday's [You Pick The Title] contest is Greg Rittler with "I'll bet I could jump that fence...." I loved it - so very boy and SO very Jack.

Thanks to all who played along! You came up with some GREAT titles!
____________________________________________________

We live in a town that has a mid-sized airport. It's not a huge, big city airport, but it's busy enough that we've got major airlines coming in and out.

Right near the airport is a viewing area. There are picnic tables and perfect, up-close views of planes taking off and landing.

Since the airport is only about 15 minutes from our house, I take the boys about once a week. Sometimes we take Happy Meals and have a picnic, and sometimes we go to pass the hours of 3-5pm which are the longest two hours in the history of Motherhood. We sit and watch the planes land and take off. Over and over and over and over.

When I took this photo of Jack, my four-year old, I sat there and tried to imagine what he might be thinking. I got all tied up in emotional knots.

So, I thought we'd play another round of [You Pick The Title] with this photo. Best, most creative, funniest, snarkiest, most touching one gets put up top.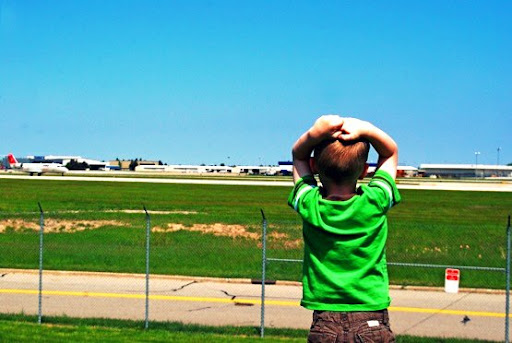 You can enter as many titles as you'd like. I'll announce the winner later tonight!

Happy Tuesday!