One of the things I have come to truly love and appreciate about Jason's family is their passion for American history.

One rainy morning that turned into a hot, hot, hot and sunny day during our vacation in Vermont, the whole family loaded up in our cars and rode a ferry to Fort Ticonderoga.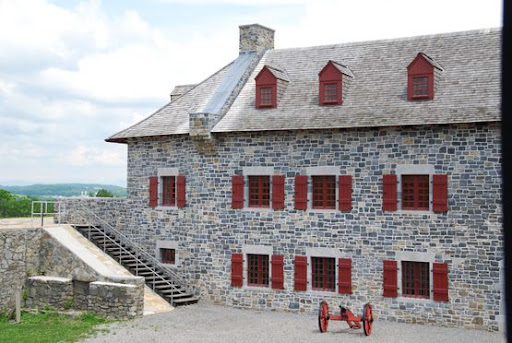 Located on the south end of Lake Champlain in upstate New York (just about 1 1/2 hours from where we were in Vermont), Fort Ticonderoga is an 18th century fort built by the French during the French and Indian War, but also served as a fort for the Continental Army during the American Revolutionary War.
Having little boys who love guns and cannons and soldiers, this fort was a dream come true for them.

Shortly after we arrived, we saw a Fife and Drum Corp. The boys both shouted, "Look, it's the soldiers!" I must say, these are the nicest group of soldiers I've ever seen.
Then, we saw a Musket demonstration.
Jack. He sat on a cannon and absolutely loved watching this part.
The presentation concluded with the firing of a cannon. Holy smokes, that thing was loud.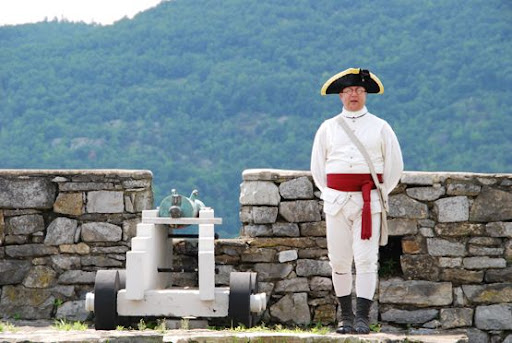 Jason was in his glory. When I watch him at places like this, I see him reliving his childhood experiences while sharing new ones with our boys and instilling in them the same passion for history that he has.
Max, who screamed bloody murder last year when he heard a gun shot at a demonstration in Jamestown, Virginia, wanted to "shoot the cammons" all day long.

He's making the cannon sounds while playing with it. His look says it all! Man, I love this kid.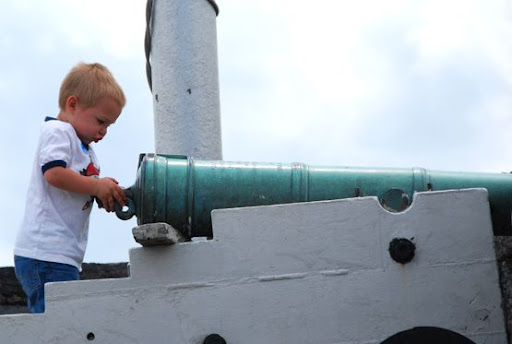 After touring the fort, we took a short walk down to the Kings Gardens.
The flowers are breathtaking.
Inside the Kings Gardens is a Children's Garden. This garden is one of the most precious things I've ever seen. It is full of various types of flowers, and each patch of flowers have a different letter representing them atop a stake in the ground.
We took pictures of each of the boys next to the first letter of their name. I love these photos.
Inside the Children's Garden is also a bird fountain. It provided perfect relief from the heat and the boys splashed and played until they were soaked.
I was all like, "Don't get Momma wet. Momma's wearing white. Momma needs to stay dry." They obliged and we had a ball!
We were exhausted when we left at the end of the day. But, I love that kind of tired. It sleepily whispers, "Now, that was an awesome day.