One of our favorite places that we visited while in Vermont was The Vermont Country Store. We slipped away one morning - just our little family of five - and headed a few miles out of town to find this little place.

It is full of Vermont goodness - pottery, cheese, maple syrup, fudge, clothing - it is a quaint and delightful store full of just about everything you could want or need while on vacation there.
And, there was candy. Lots and lots and lots of candy. So, we let each of the boys fill a small paper bag full of the different varieties of candy.
Their eyes lit up the moment they spotted those colorful bins and I was transported right back to my childhood. I knew exactly how they felt. I remember staring at those same bins of candy as a little girl and wanting to hide away with a big bucketful and not come out until it was all gone.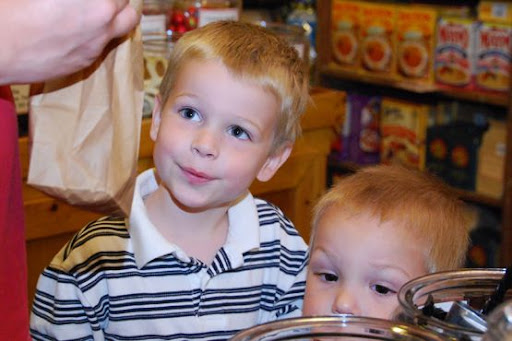 Right next to the store was a covered bridge. So, we sat under the bridge and enjoyed the shade, one another, and our candy.

We don't get the boys candy very often, so watching them savor and enjoy every bite of this special, summertime treat brought us so much joy.
Since I'm usually the one behind the camera, I'm not in many of our photographs. I'm working on letting go of my self-conciousness and allowing Jason to capture photos of me with the boys before time and my memory have both slipped away and I don't get to have them near me every day.
I love these boys. I love sharing days and vacations and covered bridges and candy with them.
And, I absolutely love being their Momma.