I'm not at home this week. I'm at my in-law's house back East enjoying a delicious week of vacationy goodness with my family.

Which means that after our 1600 mile trip to Vermont, we came home for 5 days, repacked the suitcases and car, and traveled another 700 miles back East.

PRAISE THE GOOD LORD JESUS for DVD players, Leapsters, and my headphones.

But, being here - soaking up this sweet, Maryland air - means that my computer and I are having all kinds of issues getting along. He's sitting in the corner all shunned and neglected while I eat snowballs, take up residence at Chick-fil-A, and visit with the friends and family that I love and miss so much.

I have lots of pictures and stories comin' when I get back. Not the least of which is Sprinkler Face. A whole lot more on that one - I promise you.

But, today, I just wanna show you one of the things I love most about Mom's house.

Sunday dinner.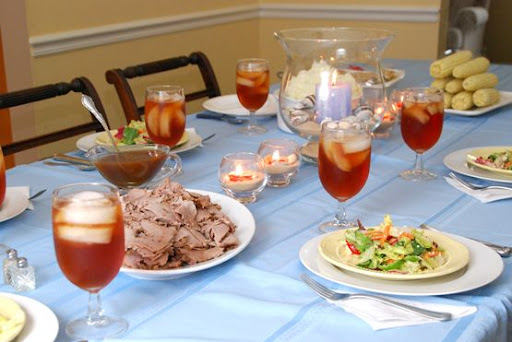 I might have married my husband for his Momma's Sunday dinners if I hadn't completely fallen in love with him before I ever went to a Sunday dinner at his Momma's.

Sunday dinners at Mom's tell of family and love and some of my most favorite memories. And, the food that graces this table is some of the best comfort food I've ever eaten.

Mom's Roast Beef. Best roast ever.
Mashed Potatoes and Gravy. This gravy. *Swoon*
Broccoli Casserole. Even my finicky kids will eat it.
Sweet, Maryland Corn.
Mom's Greek Salad. Fresh, crisp, delicious.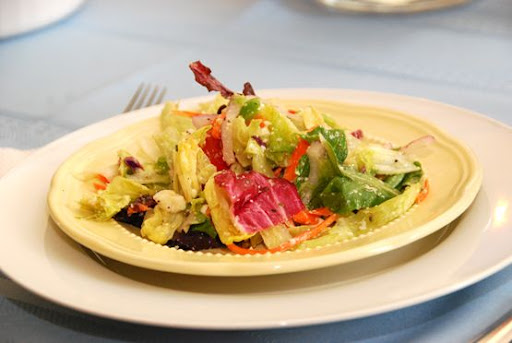 So, I'm gonna put this little computer back in the corner until I get home. He'll get over it. He always does.

But, first thing next week, when my computer and I are on better terms and I'm not gorging myself at Chick-fil-A once a day, I'll share all of these recipes with you.

Because these recipes are fall in love, gather 'round the table, good for your soul food. And, everyone should know how to make them.

They're just that good.