We went to Chicago this past weekend.

During our stay in the windy city, we took the boys to Navy Pier. I have more to share about our trip, but DAGGONE if I don't take so many pictures everywhere we go that I get totally overwhelmed by the whole lot of them and just sit and eat alternate bites of ice cream and peanut butter until I close my computer and take a nap.

But, one of the highlights of our trip for the boys this time was riding the humongous ferris wheel.

I am terrified of heights.

Let me repeat.

I AM ABSOLUTELY SO SCARED TO DEATH OF HEIGHTS that I am convinced impending death is awaiting me every time I'm faced with so much as a three-story elevator.

But, my husband wasn't gonna let my irrationality cause me to miss this experience with our boys. He bought me a ticket and scooted me into line.

So, as I stood in line, staring at this...

I began to thoroughly inspect every screw, bolt, and bar of that ferris wheel.

And, I prayed. Because my prayer life is never better than when I come face to face with my fear of heights.
But, as I stood in line staring up at that ferris wheel, the view from down below was so incredible that for a moment, I forgot about my impending doom.

Oh, that sky. That beautiful, Sunday afternoon sky.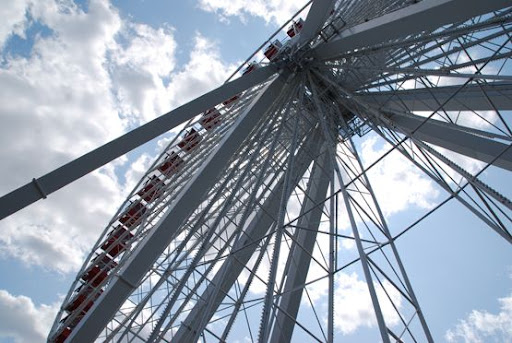 As the ferris wheel continued around, the sun would peek through the metal bars and create the most incredible streams of light.

It was such a beautiful contrast - that gorgeous sun and sky against the rigid, metal bars.
This view - right before we were about to get on - did make me want to throw up a little. Nice Thursday mornin' thought. I know.
But, then we hopped into our car - the car that I immediately laid hands on and prayed over - and we got to see Chicago like we've never seen it.

It was absolutely breathtaking.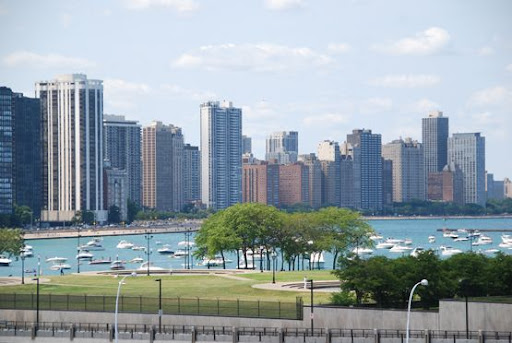 And, now, in spite of my terror and apprehension and fear of death by ferris wheel car, we have memories of an awesome ferris wheel ride high above the city we've come to love so much.

And, a post-ferris wheel family photo that in my mind will always be titled:

WE LIVED!