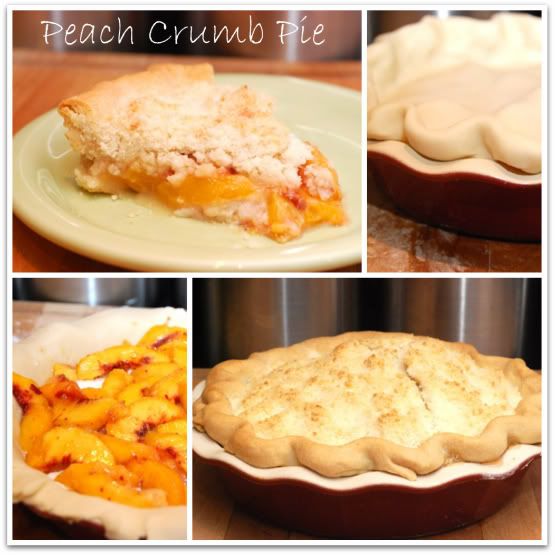 I'm finally going to teach you how to make perfect pie crust.

But, not until tomorrow.

Today, I'm giving you my recipe for Peach Crumb Pie. Because I want you to go out today and buy the ripest peaches you can find, and then tomorrow - when I post a picture by picture tutorial on how to make easy, perfect, flaky pie crust, you'll have everything you need to make this most delicious pie.

I have not tasted every peach pie in the world, so I am recklessly stating this without any basis other than what I know about this pie.

But.

This is the best peach pie in the world.
It's sinfully good. It's simple. It has a bottom crust and a top crust AND a crumb topping. There are no eggs or other fruits or anything unexpected in it. It's perfectly sweet and tastes exactly as God intended for peach pie to taste.

It will make you cry for your Momma.

So, here's my recipe for Peach Crumb Pie. It's so very good warm, with a scoop of vanilla ice cream or with a dollop of whipped cream. But, it really doesn't need a thing. It's perfect all by itself.

I hope you enjoy it as much as we do!

*If you want to make pie crust from scratch with me tomorrow, be sure you have shortening and butter on hand. You'll need them both!
Peach Crumb Pie

8 ripe peaches
1 cup sugar
1/4 cup flour
1/4 cup butter
1/4 teaspoon salt
1 double crust pie crust

Preheat oven to 350 degrees.

Peel, pit, and slice peaches and place in a medium bowl. (If peaches won't peel easily by hand or gently with a peeler, drop into boiling water for 1 minute to help loosen peel.) Set aside.

Combine sugar, flour, butter and salt in a food processor, or with pastry cutter or two knives until crumbly. Set aside.

Line a 10-inch pie plate with one pie crust, rolling out crust to hang over edge of pie plate. Place 1/3 of peaches on top of crust in bottom of pie plate. Top with 1/3 of crumb mixture. Repeat two more times, with remaining peaches and crumb mixture. Place top crust on top of pie and tuck under edges of bottom crust. Flute with two fingers and thumb to create fluted edge.

For crumb topping:

In food processor or with pastry blender or two knives, mix together:

4 tablespoons butter
1/2 cup sugar
3/4 cup flour
1 teaspoon salt

Place crumb topping on top of pie crust, spreading out evenly to the edges.

Bake pie for 45-50 minutes at 350 degrees or until topping begins to brown and crust is golden. Cool slightly and serve warm or cold.