Happy Friday, friends.

(Sometimes I feel like Bob Ross when I say that. It makes me happy. I heart Bob Ross.)

It's not only Friday, but here at the Short Stop household, it's PRAISE JESUS MY HUSBAND ONLY WORKS HALF DAYS ON FRIDAYS, and it's a holiday weekend to boot. I'm ready to soak up this last bit of summer Fridayness with my family.

(Sadly, the half day Fridays come to end this week. So long, summer.)

So, one last post of randomness before I close down my computer for the weekend...

1. You all love your books. Wow. I'm looking forward to re-reading all of your comments and choosing one of the books you recommended. This weekend, I'll head over to Barnes and Noble or some other booky establishment, buy the book, and dive in. As soon as I choose it, I'll stick it on my sidebar so you know what I'm reading. Thank you for giving me so many recommendations.

2. So, this weekend, I'm finally going to see Julie and Julia with my husband! I KNOW! Can you believe I haven't seen it yet? I'm excited - I haven't been to a movie alone with my husband since Lord of the Rings: Return of the King came out in 2003. I wish I was kidding.

3. If you want to laugh - I mean really, really laugh hard on this here Friday - go read this post by BooMama. I was in utter hysterics by the time I finished reading it. I love it when Christians can laugh at themselves.

4. Speaking of BooMama, she's hosting a DipTacular today. If you're looking for some new dip ideas, you'll only have to make one stop to find a whole plethora of them. I joined in and posted a link to one of my favorites - Vidalia Onion-Cheese Dip.
I love this recipe. And, I make it all fall and winter because my husband and friends love it, too - and, well - football season is upon us and that means it's the season of dips around here.

6. Oh, football season. We have missed you. Now that our Ravens are back on the field, guess what adorable awesomeness my boys will be donning here in about a week?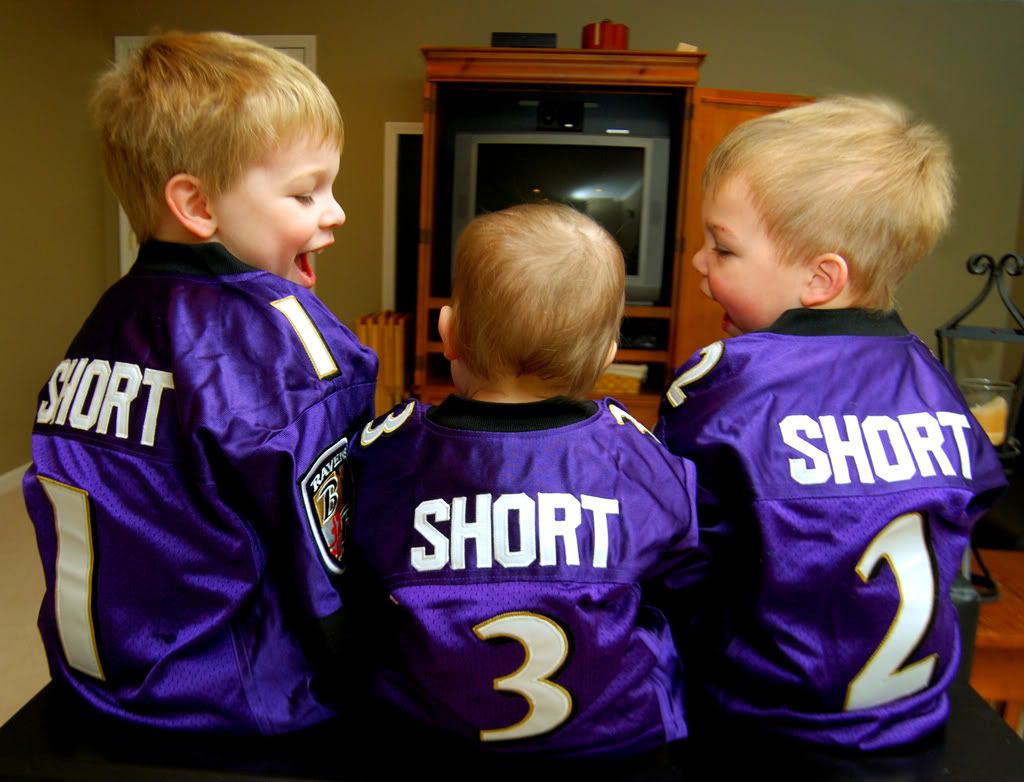 WOOT! GO RAVENS!

And, with that - I'm off to enjoy this last weekend of summer.

Have a great Labor Day weekend, everyone!