When we began setting up our homeschool room, I really wanted a gigantic bulletin board to line the back wall. I thought a large bulletin board would be the perfect place to display the boys' artwork, projects, and worksheets. And, a great way for them to show their Dad what they'd worked on each day.

But, large bulletin boards? They are expensive. Really expensive.

So, we decided to get creative. We had a piece of foam core insulation just sitting in our storage room - a 4' x 8' sheet of it. And, we decided that it would make a perfect, GIGANTIC bulletin board.

So, we went to Hobby Lobby, picked out some camo fabric (perfect for our boys!), and made a bulletin board that covers the entire back wall of our homeschool room.
And, even if we'd purchased the foam core, the whole project cost less than $20.

We had so much fun making this that I thought I'd share a step-by-step tutorial of how we made it - so that any of you can make one, too!

This is foam core. It's a type of insulation that you can purchase at any home improvement store. It costs about $10 for a 4' x 8' sheet.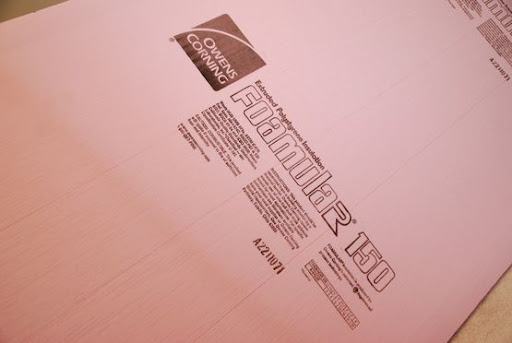 The sheet was slightly too wide for our wall. So my husband measured the appropriate width we needed and marked off where to cut.
Using a utility knife, he cut it down to the right size.
After cutting it down, I used a damp towel, and wiped it clean since it had been in our storage room and showed signs of storage-room living. (If you must know, I am wearing my Lincoln '08 t-shirt. I love Abe Lincoln.)
We laid the fabric out on the table, then set the foam core on top of it. Then lifting the edges up and over, we used duct tape to tape it to the back.

Fact: Men love duct tape. They are giddy over duct tape.
We made sure to neatly fold the corners over to create a clean edge, and secured them with duct tape as well.
We then taped all the way around all four sides of the foam core, gently pulling the fabric as we taped it down.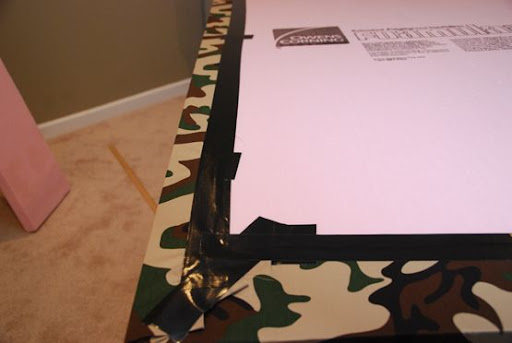 We then flipped over the bulletin board.
See how neatly the corners look from the front? Hooray!
Using 2-inch screws, we secured the bulletin board to the wall. (This bulletin board is very, very light, so you don't need anchors. It's very easy to attach to the wall.)
Here is our finished bulletin board displaying the boys' work during our first unit - Creation! It was the perfect place to display their work, and go over it each day!

Push pins work perfectly on it and hold everything securely!
And, here it is from my boys' vantage point. I love how big it seems to them. They love it - and love tacking their work to it everyday!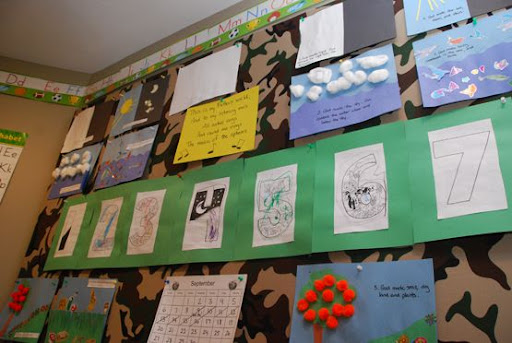 So, if you want to make a foam core bulletin board, here is what you need:

1 sheet of 4' x 8' foam core
3 yards of 55" fabric
1 roll of duct tape
8 screws

That's it! We had the foam core already, but all of that should cost less than $20!

There is so much you can do to customize your bulletin board.

-You can cut down the foam core to any size you'd like.
-You could make multiple bulletin boards of all different sizes and shapes.
-It would be great in a baby's nursery or child's room - to display pictures and special momentos.
-Use different types of fabric, and add ribbon or other embellishments.
-GIFTS! Buy one sheet, and cut it down to make several bulletin boards to give away to friends and family.

This was such a fun project for us, and I love the way it looks and functions in our homeschool room.

And, I promise to take pics of our finished homeschool room soon so you can see what it looks like all around.

Have a great Wednesday, everyone!

For more tips on Wednesdays, visit We Are That Family each week.