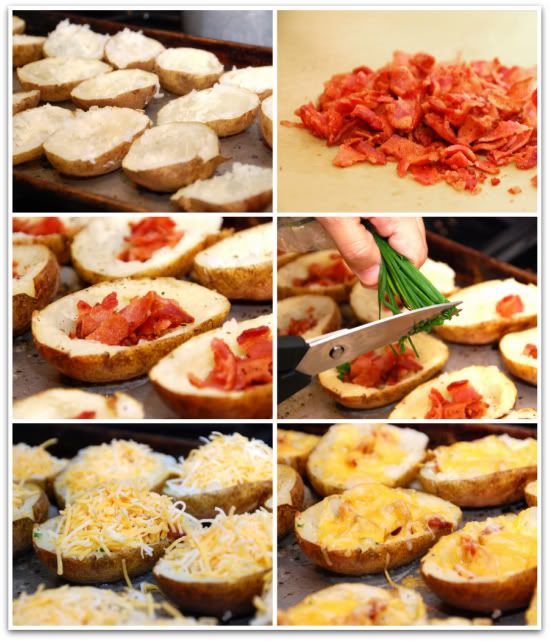 I love taters. Any kind of taters.

But, melty, cheesy, bacony, ooey, gooey, potato skins?

I'm helpless against them.

I had never made them myself, and quite frequently ordered them out when we'd hit the T.G.I. Friday's on late night, irresponsible, term paper avoiding, college binges. And, then shortly after Jason and I were married, a 10 pound bag of potatoes went on sale for - oh, I don't know, two smackers or somethin' -and I made them for his family one Sunday evening while we were glued to a football game.

And, now, I make them at home all the time. And, since these are so much better than the ones you order out, I never order them out anymore.

Why are these better, you ask?

1. There's lots of tater left in them. As it should be.

2. NO "bacon bits" in these suckers. Whole chunks, baby!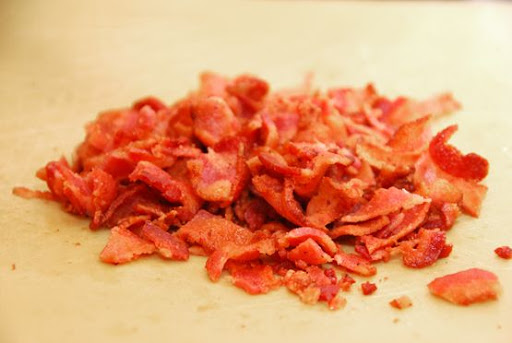 3. Cheese. Lots of glorious, wonderful cheese.
...which then melts down into lots of glorious, wonderful cheese.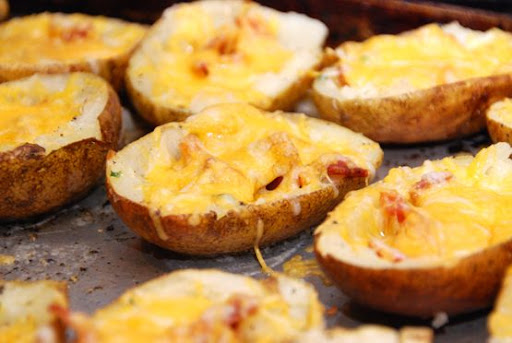 It's just the way potatoes are meant to be.

Cheesy.
Melty.
Bacony.
And, if you live in my house, peppery.

Lots of freshly ground black pepper.
Oh, SWEET MERCY!

Now, would you kindly pass the sour cream?

Enjoy, my friends!

SG's Potato Skins

3 pounds of baking potatoes
1 pound bacon
1 (8 ounce) package shredded Monterey Jack and Colby blend cheese
1 bunch chives
4 tablespoons butter, melted
2 teaspoons salt
2 teaspoons freshly ground pepper

Preheat oven to 425 degrees.

Wash and scrub 3 pounds of small/medium baking potatoes. Place on baking sheet and pierce each potato several times with a fork. Bake at 425 degrees for 1 hour.

Meanwhile, fry bacon in frying pan until crispy. Drain on a paper towel-lined plate. Transfer to cutting board and cut into medium-sized chunks. Set aside.

Once potatoes are finished, allow them to cool slightly. Then, cut potatoes in half and arrange back on baking sheet. Scoop out a small amount of the potato filling from each potato half and place in small bowl. Save filling for other use. (I use this filling to make Cheesy Mashed Potato Bake later in the week.)

Brush melted butter onto both sides of each potato half (including skin side) and sprinkle with salt and pepper. Bake in 425 degree oven for 8 minutes. Remove potato skins from oven.

Add bacon evenly to potato skins, and using a pair of kitchen scissors, cut chives over each potato skin. Add generous amounts of cheese on top of bacon and chives. Return the potato skins to the oven for 5 minutes - or until cheese has completely melted.

Add additional freshly ground pepper, if desired, and serve with sour cream.