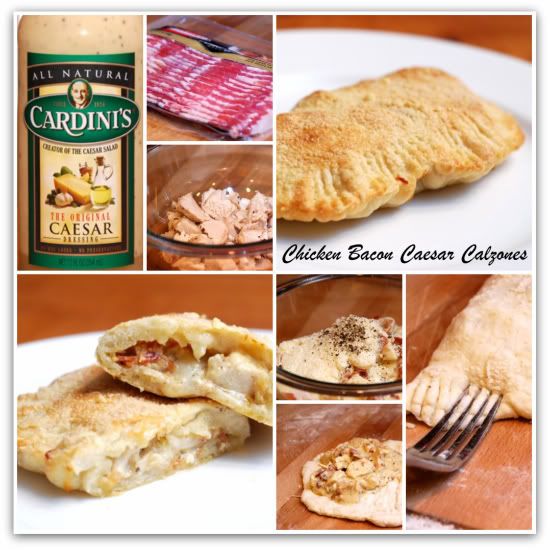 I have this quirky, foodie habit.

When I really enjoy something at a restaurant or other eatery, I'll sit and pick the dish apart to try and figure out how I can make it at home.

We have really limited the amount we're eating out - especially since our spending fast last March. We just don't want to spend our money on eating out - unless there's a special reason for it.

One of the places we regularly stop to eat a quick meal is Costco. We love Costco's pizza - and at $10 for an 18" pizza, it serves our family for two meals, and gives me a much needed break from cooking.

(Side note: My hunky husband is taking me out to eat this weekend. And, I'm taking my camera. Because I love the place where we're going and its deliciousness must be photographed.)

But, one of the other things I love to eat at Costco is a little thing they call a Chicken Bake.

Terrible name. (Chicken Bake? Pig roast? Duck hunt?) But, it's good, in spite of its name.

It is this long, round, pizza dough thingy filled with chicken, Caesar dressing, Parmesan cheese, and bacon.

One day, as I was sitting at Costco with one of my dear friends chowing down on a Chicken Bake, I looked at her and said, "I could totally make this at home."

So, last night, I made these Chicken Bacon Caesar Calzones - my version of Costco's Chicken Bake. And, everyone in my family loved them.

There are two things that make this calzone especially easy and good:

Cardini's Caesar Dressing. It's the best store-bought Caesar dressing on the market. (I also make a homemade Caesar dressing. You can find that recipe here.)
And, plenty of bacon. Chunks of bacon. Not bits. I like big chunks of bacon.
This recipe is so easy. All you have to do is roast some chicken breast, fry up some bacon, and toss them in a bowl with Parmesan cheese, Cardini's Caesar dressing, and some freshly ground pepper.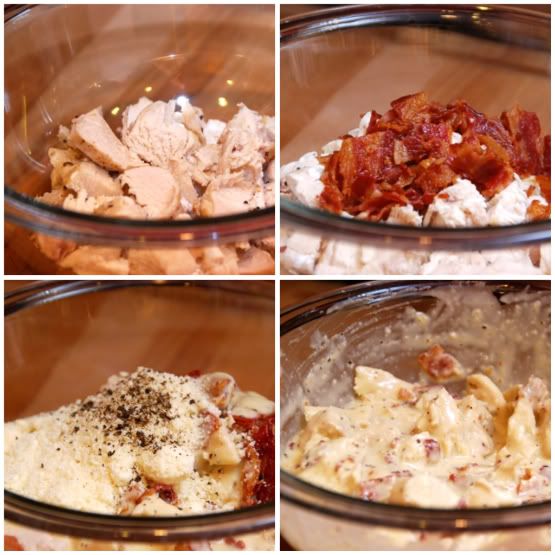 Then, roll out small rounds of pizza dough. (We purchase ready-to-go dough from our local pizzeria. That is such a time-saver and we get to enjoy our favorite kind of crust! )
Place the filling on one half of the dough.
After topping the filling with Mozzarella cheese, fold the dough over, and press the edges with a fork to seal.
Bake at 400 degrees for 20 minutes, brush the tops with melted butter, sprinkle with a bit of Parmesan cheese, then bake for 5 more minutes.

And, voila!
Cheesy, delicious, savory, wonderful Chicken Bacon Caesar Calzones!
These would be some great football eats this weekend!

Enjoy!

Chicken Bacon Caesar Calzones

Pizza dough for one large pizza
2 chicken breasts, roasted and chopped
8 slices of bacon, fried and crumbled
1 cup Cardini's Caesar dressing
1/3 cup Parmesan cheese, plus extra for top
4 ounces Mozzarella cheese
1 teaspoon freshly ground pepper
2 tablespoons butter, melted

Preheat oven to 400 degrees.

Combine chicken, crumbled bacon, dressing and Parmesan Cheese in a medium bowl. Set aside.

Cut pizza dough into four sections. Roll out into rounds on a floured surface.

Top 1/2 of one pizza round with filling. Top filling with 1/4 of Mozzarella cheese. Fold over dough to form half moon shape. Using a fork, press edges down to completely seal. Repeat process with remaining dough, cheese and filling. Place calzones onto a greased cookie sheet.

Bake at 400 degrees for 20 minutes. Remove calzones from oven and lightly brush with melted butter. Sprinkle with Parmesan cheese. Return to oven and bake for 5 additional minutes.

Serve immediately.

*Most local pizza places will sell you rounds of their pizza dough for a very small cost. Our local pizzeria sells it to us for $1.50 for one large ball of dough.

*This recipe makes 4 dinner-sized calzones - essentially a quarter of a pizza per calzone. Double or triple if making for a larger family/crowd. You could also make appetizer-sized mini calzones by chopping the chicken finer and rolling out smaller rounds of dough.