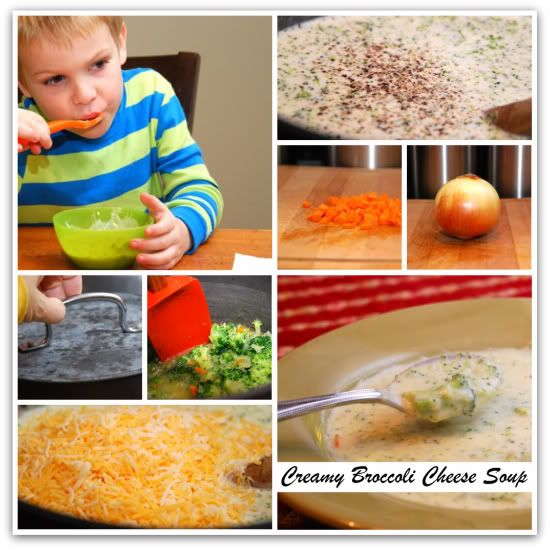 One of our favorite places to eat as a family is Panera Bread.

Because we love the bagels. And, because we love the Broccoli Cheese soup.
This soup tastes very much like the Broccoli Cheese soup at Panera. My husband thinks it's better. It's creamy, cheesy, and savory.

I have been making various versions of this recipe for many years. But, I have changed it and adapted it over time, and I don't think I can improve on it any further. So, I'm finally ready to share it.

I would say this soup is a cross between a Broccoli Cheese soup and a Cream of Broccoli soup. The cheese is not overpowering; hence the name: Creamy Broccoli Cheese Soup. You can add more cheese if you like, in fact, you can double it.
Mmmm. Cheese.
This recipe is very adaptable to your tastes. Add more spices, omit the carrots and onions - it's totally up to you! And, you can control how chunky or smooth you want the broccoli - break it up to your desired consistency.

*There is one thing you need to remember when making this recipe: Keep some chicken stock next to the pot. Cream soups can be tricky in that they can get too thick very quickly. They can be finicky like that. Adding a cup of chicken stock if the soup starts to get too thick will thin it out perfectly.

But, this recipe is easy. Very, very easy to make.

And, my kiddos love this soup! It's one of only two ways I can get them to eat broccoli - in this soup, and covered with homemade cheese sauce. (This was one of the days that we stayed in pajamas all day. That is the norm around here. We love staying in pajamas!)
So, grab your favorite soup pot, and a loaf of your favorite bread (or bake fresh, Homemade Beer Bread), and make this Creamy Broccoli Cheese Soup.

It's such a great fall dinner.

So warm. So comforting. And, so good!
Creamy Broccoli Cheese Soup

1 pound of fresh broccoli florets (you can also use frozen)
4 tablespoons butter
1 carrot, finely chopped
1/2 onion, finely chopped
6 cups chicken stock, divided (I use chicken bouillon and water)
1/2 cup flour or corn starch
3 cups half and half or whole milk
1/8 teaspoon garlic powder
1/2 teaspoon salt
1/2 teaspoon freshly ground pepper
8 ounces cheese, shredded (I prefer Monterey Jack and cheddar, but you can use any type of cheese or blend of cheeses you like)

Melt butter in a soup pot over medium heat. Add onions and carrots and saute for 5-6 minutes, or until onions and carrots are tender.

Add 2 cups of chicken stock to the pot and heat until boiling. Add broccoli and put lid on pot. Steam broccoli with the carrots and onions for 5-6 minutes in the chicken broth until the broccoli is tender. Using a spatula or spoon, break up broccoli into small pieces. Reduce heat to low.

Add remaining chicken stock. Mix flour and half and half in a small bowl or measuring cup with a whisk until smooth. Add half and half/flour mixture to the pot. Add garlic powder, salt, and pepper. Continue cooking over low heat until soup thickens - about 5-6 minutes.

Add cheese, handfuls at a time, and stir constantly over low heat until smooth and creamy - about 10 minutes. If soup becomes too thick, add additional chicken stock.
Serve immediately. (This recipe makes 8 generous servings. This feeds my family for two nights.)

Enjoy!

*You can add more cheese to this soup if you like a cheesier soup. Just increase the amount of chicken stock as needed.

*Also, this recipe can be made gluten free by using corn starch instead of flour as the thickener.