A big dinner favorite at our house is Fondue Night!

I love preparing it because it's so simple, yet such a satisfying, and fun meal. And, everyone in our family loves it. We love the experience. And, we love the taste.

I start off by making a loaf of Homemade Beer Bread. Sometimes I make it earlier in the day, and sometimes I make it an hour before dinner. Beer bread is great with fondue because it is sturdy enough to hold up to dipping.

Mmmm. Homemade Beer Bread.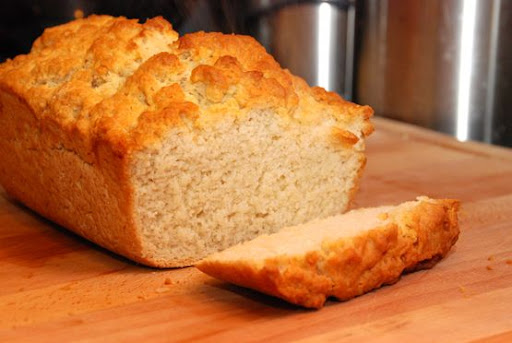 Then, I cut it into cubes.
Next, I make Cheese Fondue. I love this recipe - the beer base adds great flavor to the cheese and the garlic powder is just the right touch of flavor. But, you could use white wine or chicken stock if you prefer. The recipe is below.

(I love this recipe as well because it stays ooey and gooey even if it's not on the heat. More on that in a minute.)
I cook one pound of Kielbasa or smoked sausage on our outdoor grill or indoor grill pan. After it cools slightly, I cut it into small chunks.
Lastly, I cut apples into slices.
All of that (besides the bread baking time) takes me less than 20 minutes. That makes this perfect for a weeknight meal!

I put everything in simple glass bowls. Easy!
If you have a fondue pot, you could transfer the cheese fondue to the fondue pot and put a low heat under it. But, this cheese fondue will stay soft for over a half hour even without heat under it. And, on a weeknight, I just leave the cheese right in the pot I cooked it in. It makes for easy clean up and I'm all about easy cleanup!

(On a weekend, if my husband and I are having this for an "at home" date night, I pull out the fondue pot. And, use fancy dishes. I'm about romance on nights like that - not easy cleanup!)

And, then we begin dipping.

Yup.
Mmm hmm.
Oh, man.
And, one of the BEST things about this meal is that my kids love it as much as we do. It feels upscale and Melting Pot-ish to my husband and me. And, it feels like McDonald's fries and ketchup to my kids.

They love this meal.
These (sausage, bread, apples) are the "dippers" we like - but you could use french bread, grilled chicken, steak, vegetables - that's totally up to you and what you like!

SO, next time you need an easy, fun weeknight meal idea, try a Fondue Night.

It's fun for the whole family!

Cheese Fondue

1 cup beer, white wine, or chicken stock
1 1/2 cups cheese, shredded (I like a combo of cheddar and Monterey jack)
3 tablespoons butter
3 tablespoons flour
1 teaspoon salt
1/2 teaspoon garlic powder

Melt butter in small saucepan on medium high heat. Add flour, salt, and garlic powder and stir with a whisk until it forms a thick paste. Add beer, wine or chicken stock. Heat until just boiling. Turn down heat to low, and add cheese, a bit at a time, stirring constantly until melted and creamy. Turn off heat.

*If desired, transfer cheese sauce to a fondue pot.

Serve with bread, sausage, and apples - or the "dippers" of your choice!

*This cheese recipe serves about 4. Double or triple depending on the size of your family or how hungry you are!