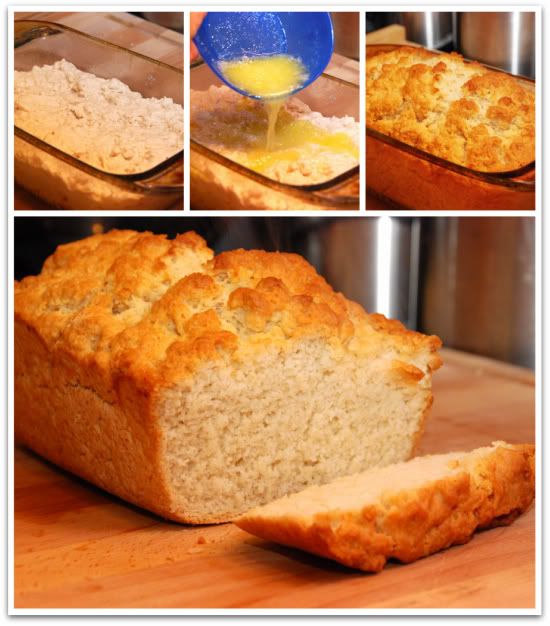 Homemade Bread.

I think baking homemade bread is one of those things that just about every Mom and friend I know would love to do.

But, the time.

The energy.

The intimidating yeast.

The rising.

The punching down.

The rising, again.

All while raising littles and keeping them clothed and fed and educated and entertained. And, in a house that looks like something other than a pig sty.

And, all while hoping and praying that this dough that's been so cared for and loved turns into bread - and not a cement block. Because who wants to rise, punch, rise, bake - only to be terribly disappointed with what comes out of the oven?

Bread baking - yeast bread baking - though rewarding and wonderful is just not one of those things that most Moms (and busy friends) I know are able to do on a regular basis. Yes, I have friends who do it. Every week. On baking day.

I have never been able to do that. Baking day in my house would be the day that my children would tear every single article of clothing out of their drawers and closets, and every tissue out of every tissue box in the house.

And, then attempt to burn it all in a yeast-dissolving, dough-rising, punching-down, rising-again protest ritual.

So, what's a bread-loving Momma to do?

I bake beer bread.

There is this company - that starts with Tastefully and ends in Simple - that sells the most wonderful beer bread mix. And, all you have to do is add a bottle of beer (or soda) to the mix, bake it, and out comes a killer loaf of bread.

I love it, and buy it from time to time. But, it's expensive at over $5.00 per pack of mix that makes one loaf. And, because it's sold at a home party, it's not readily available to most of us all of the time.

So, I set out on a quest to create a recipe for beer bread that tastes the same, if not better, than Tastefully Simple's Beer Bread.

And, I did it.

After several attempts over the last year or so, this combination of 6 simple ingredients will yield the most delicious loaf of beer bread - and if baked next to a loaf of Tastefully Simple's Beer Bread, I don't think you'd be able to tell the difference.

My husband and children are crazy about this bread. Yes, even my children. They snack on bites of this bread all day long. This bread doesn't taste like a bottle of beer - it tastes nutty and has a wonderful depth of flavor. And, because the butter is baked on top of the bread, it tastes delicious plain. (No sticky fingers!)
So, why is this bread so easy and most other breads so laborious?

The beer in this recipe does all the work for you.

No rising.

No punching down.

No rising, again.

Just mix all of the ingredients together in a bowl, and bake. And, it comes out perfectly. Every. Single. Time.
Oh, how I love this bread.

The crispy, crunchy, buttery top. The soft, warm middle.

So, if you love beer bread, or if you just want to have a delicious loaf of easy-to-bake bread any night of the week, try this recipe.

Just don't try making a grilled cheese with it - unless you want to gain 10 pounds. Because this bread makes the most insanely good grilled cheese sandwiches you've ever had - and you'll crave them noon and night.

Here's to beer bread. And, the littles who will have to burn in protest another day.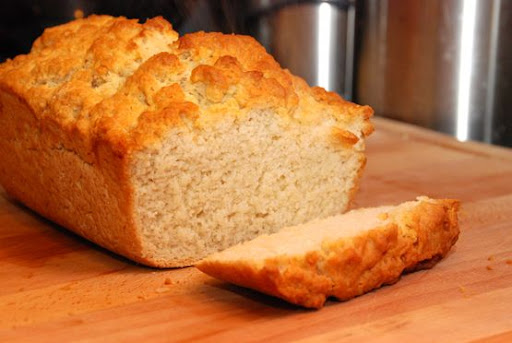 Homemade Beer Bread

3 cups flour
1/3 cup sugar
1 tablespoon baking powder
1/2 teaspoon salt
1 (12-ounce) bottle beer
3 tablespoons butter, melted

Preheat oven to 350 degrees. Spray a 5" x 9" loaf pan with cooking spray. Set aside.

Sift flour, sugar, baking powder and salt together in a large bowl. Add beer and mix until combined (Dough will be sticky). Place dough into loaf pan. Pour melted butter over top of loaf.

Bake at 350 degrees, uncovered, for 50-60 minutes, or until top is golden brown and toothpick comes out clean from center.

Serve warm or cold.

*If desired, you can substitute a 12-ounce can of soda for the beer in this recipe.

For more tips on Wednesdays, visit We Are That Family each week.