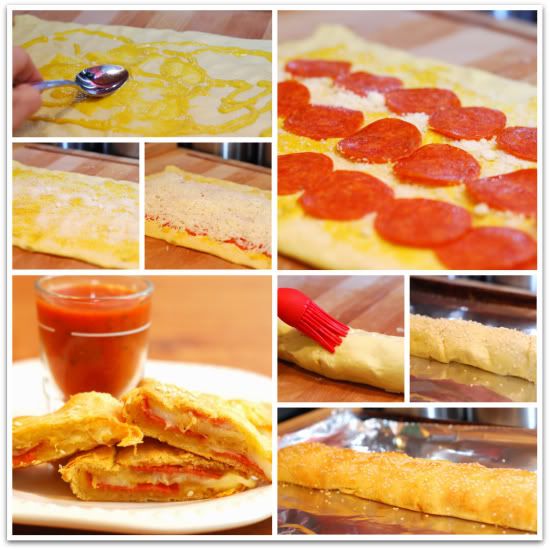 I love appetizers.

Which is why one of my favorite restaurants in this town is a tapas place.

*Note: When speaking of your favorite restaurant and it is a tapas place, be sure to pronounce "TA-PAS" very sloooooowly and clearly. Because if you're a fast talker like I am, the person/people you are talking to about your favorite "TA-PAS" place will blankly stare back at you because they will assume you are referring to the local strip joint. Be warned.

Let's move on, shall we?

SO, when football season rolls around, I start making my favorite appetizers on Sundays while we're glued to the games.

Or in my husband's case, glued to the TV and his computer screen containing his fantasy football stats.

Please raise your hand if you can relate to this. Anyone?

This appetizer recipe is one of my favorites. I love crescent roll dough. And, I love pepperoni. This recipe was born out of my love for those two things.

Oh, and cheese. I LOVE CHEESE! Especially when it oozes out of crescent roll dough. Filled with pepperoni.
And, of course, dipped in a shot glass full of marinara sauce. Ever wonder what to do with those shot glasses you got for your wedding?

If not, shame on you. (Jello shooters, anyone?)

If so, use 'em as dunking glasses. So cute. So perfect in size.
So, this Sunday, while your husband obsesses over whether or not he should've started Tom Brady or Joe Flacco - like my husband does every week - try these.

They'll help ease his pain when he benches his highest scorer of the week.

Pepperoni Stromboli

1 can crescent roll dough
2 tablespoons mustard
1/4 cup Parmesan cheese
1 package pepperoni
4 ounces shredded mozzarella
2 tablespoons butter, melted
2 tablespoons sesame seeds
2 cups marinara sauce

Preheat oven to 375 degrees. Roll out crescent roll dough onto a cutting board and press seams together to seal. Top with mustard and Parmesan cheese. Top with even layer of pepperoni. Top with mozzarella cheese.

Roll up from longest side and press to seal together. Brush with melted butter and top with sesame seeds.

Bake at 375 degrees for 15 minutes, or until top is golden.

Slice into strips and serve with marinara sauce.

In a shot glass. Of course.

*Change this one up to suit your taste. Use salami or grilled chicken, brown mustard or veggie cream cheese, cheddar or provolone - you can even use pizza dough instead of cresent roll dough. Make it to your liking!