There is no dessert I like better than fresh, warm, homemade chocolate chip cookies.

They are manna from heaven. One of God's greatest gifts to this planet.

But, the annoying thing about chocolate chip cookies is that you have them hot and fresh for about 20 minutes and the rest of the batch, the majority of the cookies, go into a cookie tin where they are no longer the warm, fresh treat that is so amazingly good.

So, here's what I do:

Every time I have a hankering for chocolate chip cookies, I make a double batch of Mom's Chocolate Chip Cookie dough. Then I only bake as many cookies as we'll eat immediately.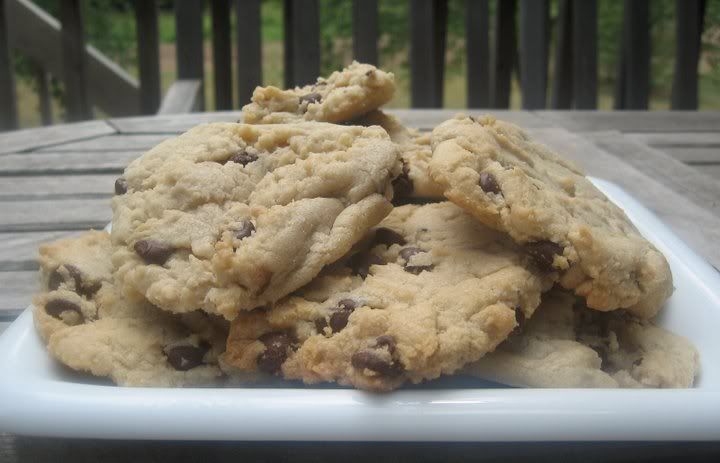 Then, I store the rest of the cookie dough in a gallon-sized bag in the refrigerator. Every day, until the cookie dough is gone, I bake a fresh, warm, ooey, gooey cookie sheet of chocolate chip cookies.

When we want them! After dinner, for a Saturday afternoon snack, when friends come over.

Mom's Chocolate Chip Cookies take 8 minutes to bake. It takes my oven 2 minutes to heat up to 375 degrees.

That's a fresh batch of cookies in 10 minutes! From start to finish.

No more old, dried-out cookies sitting in a cookie tin. No more microwaving them, hoping them soften up enough to really be as good as fresh, warm cookies.

1. Make cookie dough. And, try not to eat it all.
2. Bake what you'll eat immediately.
3. Save the rest in the fridge.

Hot, fresh chocolate chip cookies. When you want them!

*Cookie dough will last up to 2 weeks in the refrigerator - longer if you freeze it. If you don't think you'll eat all of the cookie dough in two weeks, you can freeze half of the dough in a freezer bag for up to a month, and keep half in the refrigerator. Warm cookies galore!

For more tips on Wednesdays, visit We Are That Family each week.