Take a look at these:
How could any chocolate cake not be made better with sweet, crunchy toffee bits?

This recipe is my "go-to" chocolate cake recipe. I used to always buy boxed chocolate cake mixes. But, I always have the ingredients on hand for this cake - and it's so much better than boxed cake.

Traditional Texas chocolate sheet cake has chopped nuts in the frosting. But, the more I cook and bake and get feedback from you (my faithful readers and friends and family!), the more I realize that a lot of people just don't like nuts in their baked goods.

But, because this cake is so fudgy and soft, it needs a little crunch. It wants a little crunch.

So, I make a simple chocolate butter frosting, and add a bag of toffee bits.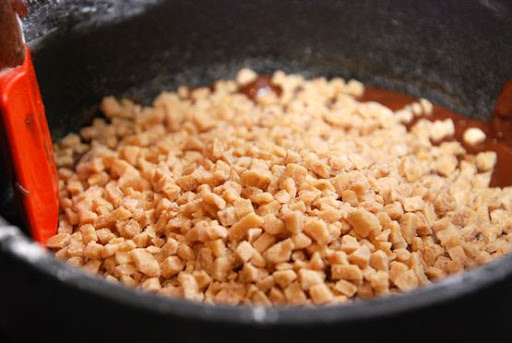 And, the result? A delicious, chocolate cake with a crunchy, buttery chocolate frosting.

AND, NO NUTS!!
This recipe makes two cakes! One for you and your family, and one for a friend. I use disposable, foil pans like these: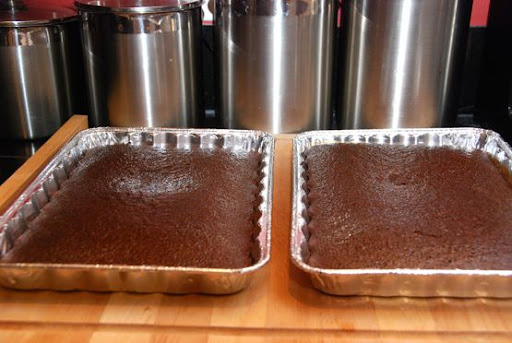 And, I get to take a cake to one of my friends, or a new Momma, or a family that needs some home-baked love.

If you want to make one large cake in a jelly roll pan, you can. But, because this cake is so rich, one small pan is enough for even my chocolate-loving family.

How about baking these cakes and taking some chocolate, homemade love to one of your friends this week?

What a great way to surprise and bless someone else while still loving on your family, too!

Enjoy!
Texas Chocolate Sheet Cake with Chocolate Toffee Frosting

2 cups flour
2 cups sugar
1/2 teaspoon salt
1 teaspoon baking soda
2 eggs
1/2 cup milk
1 tablespoon vinegar
1 teaspoon vanilla
1 cup butter, melted
1/4 cup cocoa powder
1 cup water

Preheat oven to 350 degrees.

Combine flour, sugar, salt and baking soda in a large bowl. In a small measuring cup or bowl, combine eggs, milk, vinegar, and vanilla. Set aside.

In a small bowl, mix butter, cocoa powder and water. Pour chocolate mixture over flour mixture. Stir to combine. Add egg/milk mixture and beat by hand until smooth.

Pour mixture into 2 (1/2 jelly roll or 8" x 8" or 9" x 9") baking pans or into one jelly roll pan. Bake at 350 degrees for 20 minutes (25 minutes for 8" x 8" or 9" x 9" pans - or until toothpick inserted into center comes out clean).

While cakes are baking, make frosting.

Chocolate Toffee Frosting:

3/4 cup butter (1 1/2 sticks)
1/4 cup milk
1/4 cup cocoa powder
1 teaspoon vanilla
3 1/2 cups powdered sugar
1 bag Heath toffee bits

Melt butter, milk, and cocoa powder in a small saucepan on stove over low heat just until mixture comes to a boil. Remove from heat. Add vanilla. Stir to combine. Add powdered sugar and mix until smooth. Add toffee bits and stir to combine.

Spoon frosting over warm cakes. Spread until smooth.

Serve cakes warm or room temperature.