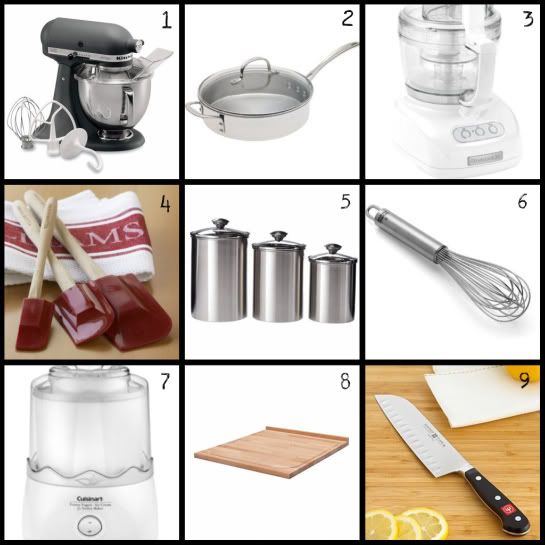 With the holidays approaching and gift-giving on our minds, I thought this would be a great time to share some of my favorite kitchen tools with you. I'm always looking for gift ideas for friends and family - and since the kitchen is where I spend a lot of my time, I thought I'd share some of my favorites with you today.

I own and use each and every one of these kitchen tools.

Every one of these tools would make a GREAT gift! Each of them would also make a great addition to your kitchen! I use every single one of these things on a regular basis - some every day, some once a week, and some (like my ice cream maker), maybe once a month.

But, each one of these tools is invaluable to me as I learn and experiment and expand my cooking skills. And, I would recommend all of them to a novice cook or a seasoned one.

So, here are 9 kitchen tools that I love! (In no particular order. They're like children - I could never choose favorites.)
1. Kitchenaid Stand Mixer. Cakes, cookies, pizza dough, mashed potatoes. I use my mixer several times a week. If you've never owned one, you will fall in love with it once you have one.
2. Calphalon Stainless 3-Quart Sauté Pan. This is my go-to pan. I can fry bacon, make spaghetti sauce, scramble eggs, make soup, make chicken pot pie filling, or steam veggies in this pan. It is an all-purpose pan - I think I could get by with just this one pan if I had to.
3. Kitchenaid 12-cup Food Processor. I love my food processor with a deep passion. It is the key to success for my pie crust, and I use it for dips, soups, and chopping. (Grating a block of cheese takes 2 seconds!)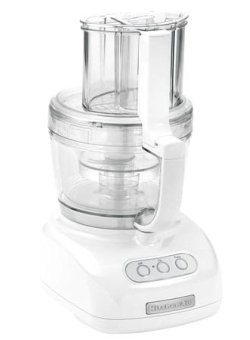 4. Spoonulas. I have many of these, and in multiple colors. I use several of them every day for everything from stirring to scraping bowls to spreading icing. Williams-Sonoma makes the best ones - they're more expensive than others, but absolutely worth the price. (They'll go on sale after Christmas for $2-3 a piece.)
5. Canister Set. Having easy access to flour and sugar makes homemade baking so much easier. And, if you have the main ingredients at your fingertips, you're more likely to bake!
6. Mini Whisk. This little tool is always in my dishwasher because I use it every day. I use it for making hot chocolate in the morning, for cheese sauce, to whisk eggs. Perfect little tool.
7. Cuisinart Ice Cream Maker. We only make ice cream about once a month. But, there is nothing like homemade ice cream. And, with this ice cream maker, you can have fresh ice cream in 30 minutes. This cookbook has THE BEST ice cream recipes!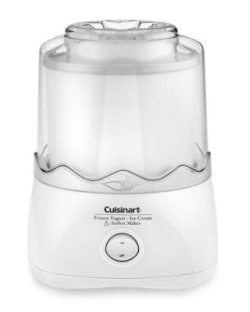 8. Large Cutting Board. This is the cutting board I use every single day, and you see it in almost all of my recipe photos. It's large enough that I can chop several things at once, scoot them to the side, and still keep chopping. It's $10 at IKEA - YES, $10! - and the BEST cutting board I've ever owned. (Buy this one for yourself - you need this for $10!)
9. Wüsthof Santoku. If I could only have one knife in my kitchen, this is the one I would choose. It cuts through a potato like it's softened butter. This is, hands down, the best knife I have ever owned. If you were to buy only one thing on this list to make cooking easier for you, this is the item I would recommend above all the others.
Those are just 9 of my favorites.

What kitchen tools do you love? I'd love to hear what you use and what works for you!

*To try out some of the recipes I've created using these tools, visit the Recipe Section of my blog. Or, click on a category under "Recipe Box" on my sidebar.