I hope you all had a wonderful Thanksgiving!

Ours was full. As were our bellies! We spent the week lounging with family, eating, visiting with friends, outlet shopping, eating, playing games, playing outside, eating, and laughing.

And, eating at Chick-fil-A.

(cue Hallelujah Chorus)

It was all simply delightful.

Well, except for the evening that the baby got car sick after a day of outlet shopping and a visit to Cracker Barrel and threw up three times the amount that he'd eaten all over himself and into his carseat and we stopped at a podunk pizza joint on the side of the road and tried to clean it all up with our 3 remaining baby wipes.

His clothes, my jacket, and a whole lot of other stuff went into a big garbage bag in the trunk and we just gagged the rest of the way home.

I told my Facebook friends. They had all been there. I found great comfort in that.

Now, how to segue into talking about the delicious food we ate on Thanksgiving...

(long pause.)

(biting lower lip.)

(squinting eyes.)

How about we just move on and pretend I never wrote about the barfing, ok?

Ok.

SO.

My mother-in-law made such a beautiful, incredibly delicious meal that had love written on every dish.

She created a simple, beautiful tablescape. I love how she doesn't overdo it. It was simple and elegant and perfect.

Sandra Lee - eat your heart out.

I love these plates. I love these napkins. I love these napkin rings. I love this flatware.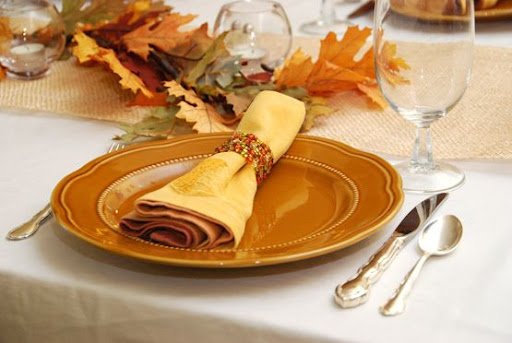 I love that it's simple. I love that it's clean and neat and ready for food. Not all "please don't mess with my place setting" snobby. But, not everyday white paper napkins, either.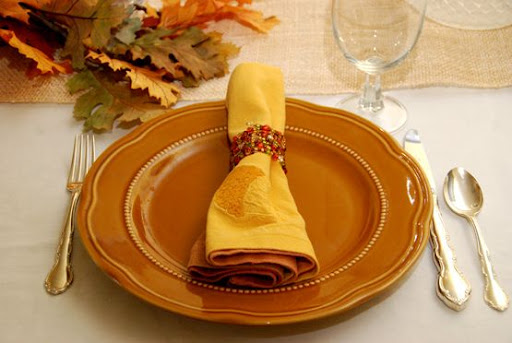 The table and place settings were beautiful. But, at Mom's house, it is all about the food!

Here is what we ate:


Cran-Raisin and Walnut Salad with Cranberry Vinaigrette. The most beautiful salad and the perfect start to the meal.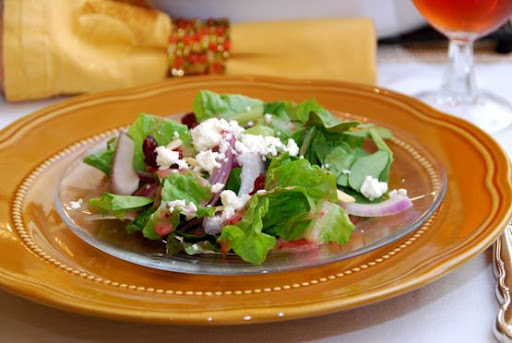 Cranberry Jello Mold. Beautiful, delicious cranberry sauce dish.

Turkey, of course. White and dark meat. I stick with the white meat. I ate the dark meat as a kid. I have no idea why I switched.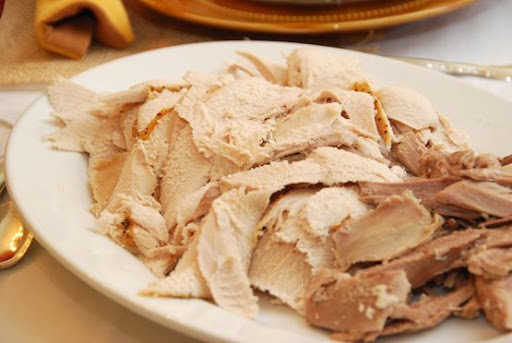 The Mount Fuji of mashed potatoes. (I made these because I am the designated potato masher at every family gathering. I could have served them in two bowls, but I love a huge mountain of them.)

Gravy. I used to cover my turkey in Worcestershire sauce. Until I had Mom's gravy. It's killer.

Mom's sweet potato casserole.

Corn Pudding. I am still drooling over this green baking dish. I love it.

Harvest Stuffing. Mom taught me how to make it this year. I will never make any other stuffing, again. Ever.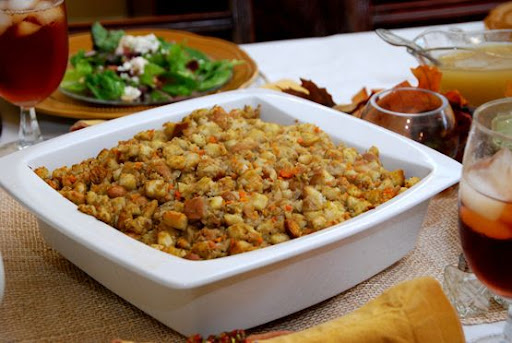 And no meal at Mom's house, Thanksgiving or otherwise, is ever complete without sweet tea.

We had pumpkin pie, too. But, by the time we pulled those out, I was in a tryptophan coma on the sofa and lifting my camera up to my eyeballs would have required physical therapy.

It was a wonderful day. It was worth traveling 12 hours, each way. And, as much as I loved every dish of our Thanksgiving meal, there was something, someone at the table more precious, more dear to us, more beautiful than all of the food combined.

Our Gram.
Just three months ago, she was in ICU on full life support and we were racing back home with the hope that we'd make it in time to say goodbye to her.

This Thanksgiving, she sat at the end of our table with her husband that she loves so much, our Pappy - laughing, telling stories, and joyfully testifying to God's goodness and mercy.

What a bounty of goodness we enjoyed this Thanksgiving.

Our hearts are full.