Once a month, I get to make a dessert to send with my sweet husband into work. Sometimes, I plan ahead, and make something that requires - well, planning ahead.

Other times, like last night, I have to work with what I have.

But, whether making something for my husband's work buddies, or inviting friends over last minute, this recipe for Hot Milk Cakes with Chocolate Glaze is my go-to dessert.

Why this recipe?

1. It's just incredibly good. The cake is so bouncy and happy.
2. I can make it into mini-cupcakes, cupcakes, a bundt cake, a 9 X 13" cake, two stacked rounds or mini-bundt cakes. This is the most flexible cake recipe ever.
3. I always, ALWAYS, have these ingredients in my fridge and pantry.

The batter in this recipe requires only 7 ingredients:

Flour
Baking Powder
Sugar
Eggs
Milk
Butter
Vanilla

All things that most of us have, most of the time.

Last night, I made these into mini-cupcakes.

I always use my mini-scoop.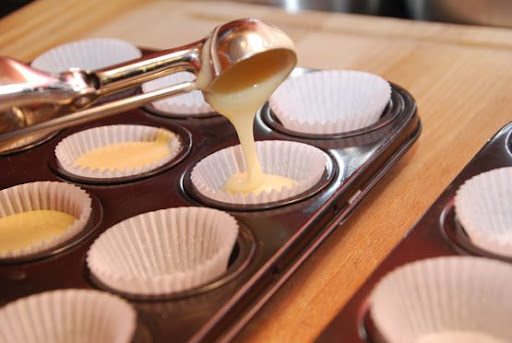 That ensures that all of my mini-cupcakes are exactly the same size when they bake.
To make the Chocolate Glaze for the tops, I combine chocolate chips and butter in a small glass bowl and microwave them, adding some corn syrup at the end to create a shiny, beautiful glaze.
It should look just like this when ready to spread.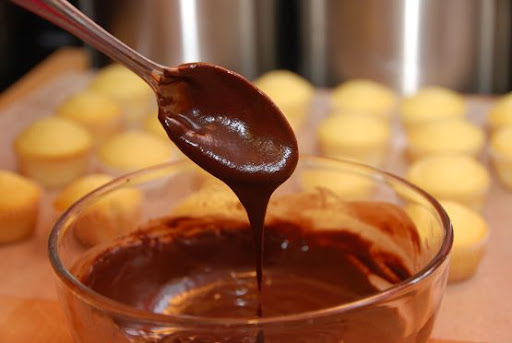 Then, I just spread the glaze over the tops.
They are perfect and ready to eat just like this. (My husband thinks they look like they're wearing berets. Beret cupcakes. I love that.)
But, I mean, how cute is this?
Or these? I can't stand the cuteness.
I can't help myself. I love to play with my food. You can decorate these however you'd like:

Sprinkles.
Crushed Butterfinger bars. (Oh, help!)
Crushed Peppermint Candies. (Christmas?)
White chocolate instead of semi-sweet.

Simple cake. Simple Glaze.

And, they're mouth-watering and delicious!

I love this recipe. I hope you do, too.

Hot Milk Cakes with Chocolate Glaze

2 cups flour
2 teaspoons baking powder
2 cups sugar
4 eggs
1 cup milk
2 sticks butter
1 1/2 teaspoons vanilla

1 1/2 cup semi-sweet chocolate chips
6 tablespoons butter
3 tablespoon corn syrup

Preheat oven to 375 degrees.

Sift together flour and baking powder. Set aside. Cream together sugar and eggs. In a small pan, heat together milk and butter until butter is melted. Add flour mixture to egg mixture and beat well. Then add hot milk with butter mixture. Beat until smooth. Add vanilla and mix until combined.

Line mini-muffin pans with liners (or grease with cooking spray or butter). Using a mini-cookie scoop, fill each liner with batter. Bake at 375 degrees for 10 minutes. Top with Chocolate Glaze.

For the Chocolate Glaze:

Combine chocolate chips and butter in microwave safe bowl. Microwave in 30 second increments, stirring in between, until chocolate is melted. When melted, add corn syrup and microwave for 15 seconds. Stir and add to top of cake(s).

*If making a bundt cake, grease bundt pan and add batter. Bake for approximately 45 minutes or until top of cake bounces back when lightly pressed. Let cake cook for 10-15 minutes before removing from pan.

*If making individual mini cakes (like these), preheat oven to 350 degrees. Bake for 25 minutes or until cakes bounce back when lightly pressed.

*If making a 9" x 13" cake, grease pan and bake for 35-40 minutes, or until a toothpick inserted in the center comes out clean.

*If making regular cupcakes, line with paper liners and bake for 20 minutes, or until toothpick comes out clean.