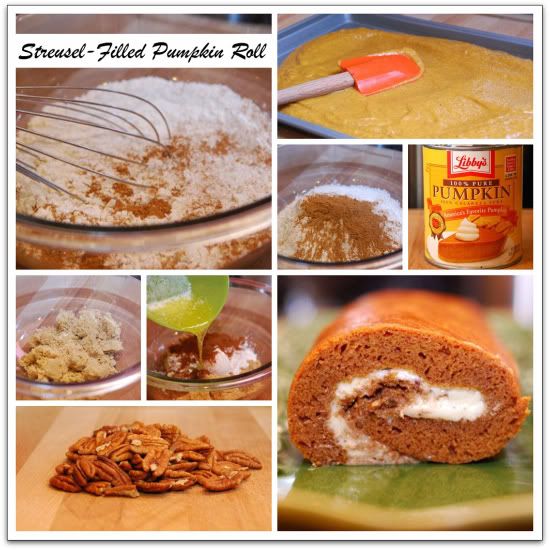 If you need to take a dessert to a holiday get-together this year, I have the perfect thing for you.

This Streusel-Filled Pumpkin Roll.

Why take this one?

It's pumpkin. (Very holiday-like).
It's outrageously good.
The nuts are optional. It's great either way.
It's breakfast. Or dessert.
You don't have to bake, transport, or fuss with a pie. And, if the host or hostess has already made a pumpkin pie, you are not stealing his/her thunder.

And, most importantly, if you are traveling, you can make this, freeze it, and pull it out of the freezer before you leave for your trip. By the time you get to your destination, it will be defrosted and ready to serve.

I love that about this one.

I came up with this recipe because I love pumpkin rolls - but I wanted something that was more than just a cream cheese frosting and pumpkin cake. I wanted something with more pizazz. The streusel filling, paired with traditional cream cheese frosting, adds just the right upscale, and unique, touch.

For my first few years of marriage, I was intimidated by a "roll" dessert.

What if the cake breaks in half? What pan do I use? I know mine won't turn out.

Well, my friends, this one will turn out. This cake is spongy and forgiving, that it will roll right up for you.

I snapped photos and included a short tutorial of the "roll-up" process so that I could show you how I do it, if you've never made one before.

The full recipe is below if you just want to get on with the recipe. For those who like the picture help, here's how you make this mouth-watering Streusel-Filled Pumpkin Roll.

Combine flour, sugar, salt, baking powder, pumpkin pie spice, canned pumpkin puree, eggs, and vanilla in a medium bowl and beat until smooth. Spread into a greased 9" x 13" jelly roll pan or baking pan and bake for 15 minutes. (A glass 9" x 13" works great.)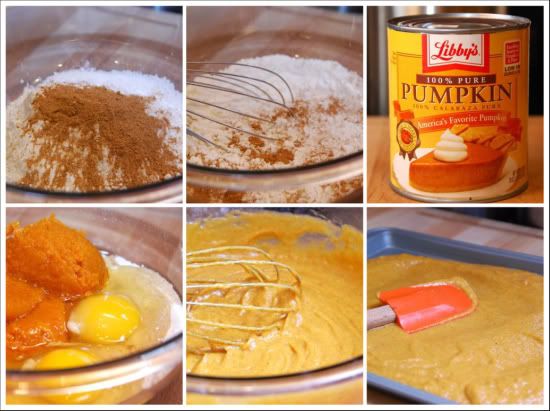 While the cake is baking, make the streusel filling. Combine brown sugar, flour, cinnamon, and melted butter. Stop there if you don't like nuts.
If you like nuts, like I do, add 1/2 cup of chopped pecans to the mixture.
In a separate bowl, beat cream cheese, vanilla, and powdered sugar to make the cream cheese frosting. Set aside and DO NOT start eating. It will be hard to stop.
Once the cake is finished, here is how to make the roll.

Lay out a kitchen towel on the counter or cutting board.
Lay a wet washcloth or smaller towel on top of the kitchen towel. This will dampen it, but not make it too wet. Remove the washcloth.
Flip the hot cake out onto the damp kitchen towel.
From the long side, begin rolling up the cake inside the kitchen towel. (I did it with a camera in one hand. I must be crazy.)
You've essentially made a pumpkin cake tootsie roll. Let it sit for 20 minutes.
After 20 minutes, unroll the towel. The cake will want to curl back up. That's just what you want.
Spread the cream cheese frosting on top.
Then, top with the streusel topping.
Roll the cake back up again. This time, without the towel. Frosting and streusel may ooze out from the sides. Just grab a spoon and have a snack.
If your cake starts to break a bit, no worries.
Wrap the cake roll tightly with plastic wrap. This will help the cake come back together in the places where it's cracked. Put the cake in the refrigerator for at least 30 minutes. (You can now freeze the cake, if needed. Just wrap foil around it as well, and stick it in the freezer. It will keep for a month.)
Remove the roll from the refrigerator and slice off the edges. I eat them immediately. I can't help myself.
You have now made a beautiful, streusel-filled pumpkin roll.
I sometimes top it with powdered sugar when I'm ready to serve it (which works great at hiding any small remaining cracks). It looks like snow - so festive. You can slice it ahead of time, or just set a knife next to it and let your guests slice a piece for themselves.
And, there you have it. An beautiful, delicious dessert that is sure to be a hit at your next holiday gathering.

Since I've never been a big pumpkin pie fan, I love it when there are other pumpkin things I enjoy on the holiday dessert table. This one fits the bill perfectly!

Enjoy!

Streusel-Filled Pumpkin Roll

3/4 cup flour
1 cup sugar
1/2 teaspoon salt
1 teaspoon baking soda
2 teaspoons pumpkin pie spice
1 cup pumpkin puree
3 eggs
1 teaspoon vanilla

Streusel

1/2 cup brown sugar
2 tablespoons flour
2 teaspoons ground cinnamon
1/2 tablespoons butter, melted
1/2 chopped pecans, optional

Cream Cheese Frosting:

1 (8-ounce) block cream cheese, softened
1/4 cup butter, softened
2 cups powdered sugar
1 teaspoon vanilla extract

Preheat oven to 375 degrees.

In a medium bowl, combine flour, sugar, salt, baking soda, pumpkin pie spice, pumpkin puree, eggs, and vanilla. Stir until smooth.

Pour into a greased 9" x 13" jelly roll pan or baking dish. Bake at 375 degrees for 15 minutes.

While the cake is baking, make the streusel. Combine brown sugar, flour, cinnamon, butter, and pecans (if desired). Set aside.

Lay a kitchen towel on a cutting board or counter. Lay a wet washcloth or smaller towel on top. Remove washcloth, and flip cake out onto damp kitchen towel. Roll up cake and allow to cool for 30 minutes.

While the cake is cooling, make the frosting. Beat cream cheese, butter, powdered sugar and vanilla extract with a mixer until smooth.

Once the cake has cooled, unroll it and spread on icing. Top with streusel. Roll back up again (without towel), and wrap tightly with plastic wrap. Refrigerate for at least 30 minutes.

Top with powdered sugar, if desired, and serve.

*Keep cake refrigerated.

*This cake can be frozen for up to a month.