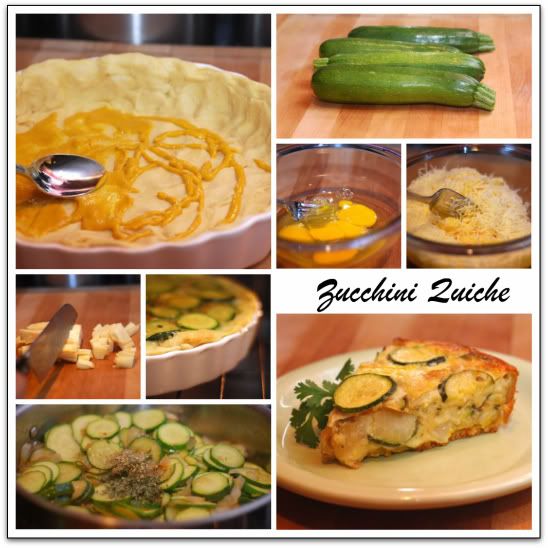 Confession: I never liked zucchini as a child. Teenager. Adult. College student. Workaholic. Newlywed. Newbie chef. Chocolate-lover.

I don't know. It just seemed kind of vegetable-y. Like too vegetable-y for me.

And, then I had this quiche. And, I'm forever in love with zucchini.

Grilled.
Sautéed.
Roasted.

It's funny how you can begin to like something you've never liked by having it in just one good, tasty recipe.

This Zucchini Quiche is a family recipe. My mother-in-law taught me how to make this many moons ago, and I make it all the time for my little family. We eat it with a salad for dinner. Or, we'll have it as a side dish with chicken or a roast.

The secret to this one is the easy crescent roll dough crust and the small layer of mustard on top. You can use Dijon or Grey Poupon to take it up a notch if you'd like.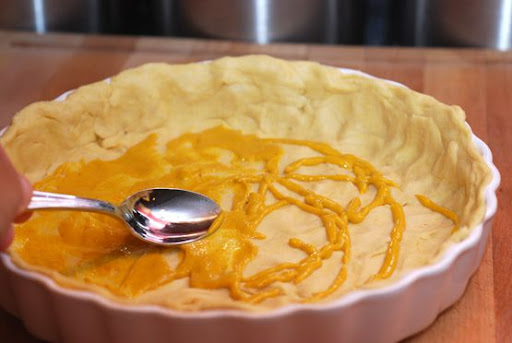 Also, this quiche uses Muenster cheese. I love Muenster cheese. I just buy 1/4 pound or so at the deli counter and cut it into chunks.
But, I also use mozzarella. The combination of Muenster and Mozz: Killer.
I do one little, but important, trick with this one.

This is how the filling looks when it goes onto the crust and has been smoothed over.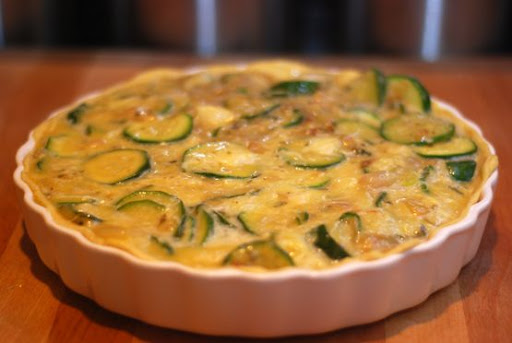 It would look fine, I suppose. But, I take the time to evenly rearrange some of the sliced zucchini on top into a nice, neat layer. This just makes it pretty.
One other important note about this one. You bake it for 10 minutes- UNCOVERED. The crust just starts to brown a bit.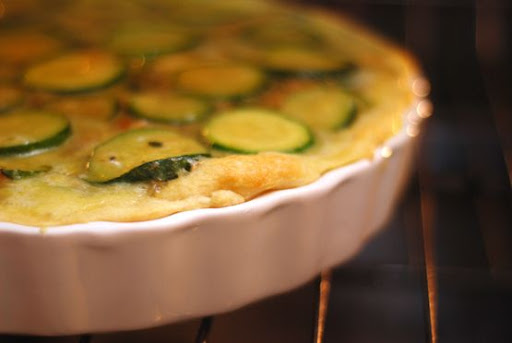 Then, you COVER it with foil for the last 10 minutes or so. This will prevent the crust from becoming too brown and will give it a perfect, golden brown crust.


Oh, man. Come to Momma.
It's such a beautiful quiche. Truly. It makes such an impressive presentation. I've said it before, but I simply love pretty food like this.
And, I love meat. Beef. Especially beef. But, it's nice to have a meatless meal once in a while.

Inexpensive.
Filling.
But, light.

And, you can splurge on some Fudge Spoon Pie or Molten Chocolate Lava Cakes for dessert since you're not stuffed to the gills from dinner.

Try this one. Change it up. Make it your own. This really is just a method - meant to be played with and changed to however you like it. And, if you must add meat, there's always bacon.

Yes. Forever and ever.

There's always bacon.

Enjoy!

Zucchini Quiche

1 tube refrigerated crescent rolls
3 tablespoons yellow mustard
1/3 cup butter
1 large onion, chopped
3 cups zucchini, thinly sliced (about 4 or 5)
1 teaspoon oregano
1/2 cup chopped fresh parsley (2 tablespoons dried)
1/2 teaspoon salt
1/2 teaspoon freshly ground pepper
4 eggs
4 ounces Muenster cheese (from deli section), chopped
8 ounces shredded mozzarella cheese

Preheat oven to 375 degrees. Spread crescent roll dough into bottom and sides of quiche pan (or 9" pie plate) to form crust. Spread mustard evenly over crust. Set aside.

Melt butter in medium sauté pan. Add onion and zucchini and sauté for 10 minutes. Add oregano, parsley, salt and pepper and stir to combine.

Combine eggs and cheeses in a large bowl. Add zucchini mixture to eggs and cheese, and stir to combine. Pour into prepared crust and spread evenly. Rearrange zucchini slices on top into even layer.

Bake for 8-10 minutes. Cover with foil and bake for another 10 minutes or until center is cooked. Let sit, covered, for 10 minutes before serving slicing and serving.

*If you don't like zucchini and don't want to be converted, you can make this with just sautéed onions, or you can substitute steamed broccoli for the zucchini. (Just toss it in before you combine everything.)