Well, y'all. This countdown just wouldn't be complete without Mom's Chocolate Chip Cookies.

I have shared this recipe before, but it is worth posting, again. I can't tell you how many people came to me after trying this recipe and told me it's the best one they've ever made.

I have made many, many different kinds of chocolate chip cookies - ones with oatmeal, coffee grounds, nuts, M&Ms, butterscotch chips - you name it, I've tried it. But, I have yet to find another chocolate chip cookie recipe that even comes close to this one.

And, since they remind me of Mom - my mother-in-law - whom I love so very much, they carry such special meaning every time I bake them.

If you only make one batch of cookies on this countdown, bake these! I promise - you will love them!

Our lesson: The wisemen traveled very far to see baby Jesus. We travel a long way to see Grandma, too - but, we are so excited to go to Grandma's house, the trip doesn't seem so long.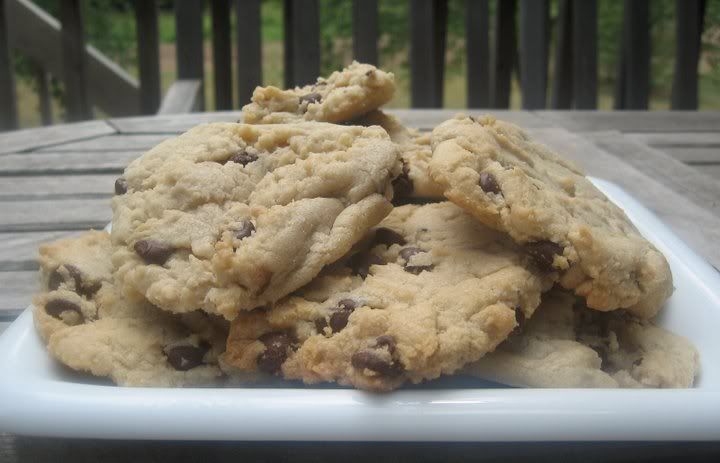 Mom's Chocolate Chip Cookies
a double batch...

1 1/3 cup butter
1 1/3 cup shortening
2 cups sugar
2 cups brown sugar
4 eggs
4 teaspoons vanilla
6 1/2 cups flour
2 teaspoons baking soda
2 teaspoons salt
1 (12 ounce) bag chocolate chips

Preheat oven to 375 degrees.

Cream butter and shortening and two sugars together. Add eggs and vanilla. Beat until combined. Add flour, 2 cups at a time. Add baking soda and salt with last 2 cups. Stir in chocolate chips.

Drop by large tablespoons (or ice cream scoop) onto ungreased cookie sheets.

Bake at 375 degrees for 8 minutes. Cookies will seem underdone when first removed, but will set as they cool!

*You can double the amount of chocolate chips in this recipe if you'd like. I just prefer fewer chips than most in my chocolate chip cookies!