When I was a child, we would spend weeks at a time at my Grandma's house in Southern West Virginia. She lived on a big, beautiful farm, and we would run in the fields and play hide-and-seek in the barn.

And, we would go and visit Aunt Bo, my Grandma's sister.

All of Aunt Bo's furniture was covered in custom-made thick plastic. I suppose she may have put it on there knowing that we, my brothers and sisters and I, were coming over to reek havoc on her white carpet and pristine furniture, but nevertheless, it squeaked when we sat down on it. And, we thought it was funny.

Sitting on an end table in Aunt Bo's living room was always a bowl of peanut brittle. I have never forgotten how it tasted - nor will I ever forget the kindness my Aunt Bo always showed to her rowdy group of great-nieces and nephews.

I had a chance to see her last week, as we traveled down South for my Grandma's funeral. I sat on the floor listening to her tell stories and finally asked her what I've been wondering for years:

Me: Aunt Bo, do you still make peanut brittle?
Aunt Bo: Oh, Sarah Grace, I haven't made it in years.
Me: Do you still have the recipe?
Aunt Bo: Why, of course. You make it in the microwave.

And that, my friends, surprised me. The fact that Aunt Bo giggled and mumbled something about electronics when I mentioned the word "email" did not.

So, today, I'm sharing with you Aunt Bo's Peanut Brittle. It is the easiest recipe I've made so far on this Christmas Cookie Countdown, and it is wonderful. Just like my Aunt Bo.

Gift idea: Place pieces of peanut brittle into wax paper-lined, small, cookie tins (I saw them for $1 at the dollar store). Give to extended family and friends that you see over the holidays.

Our lesson: When we are kind to others, like Jesus wants us to be, it makes them feel special.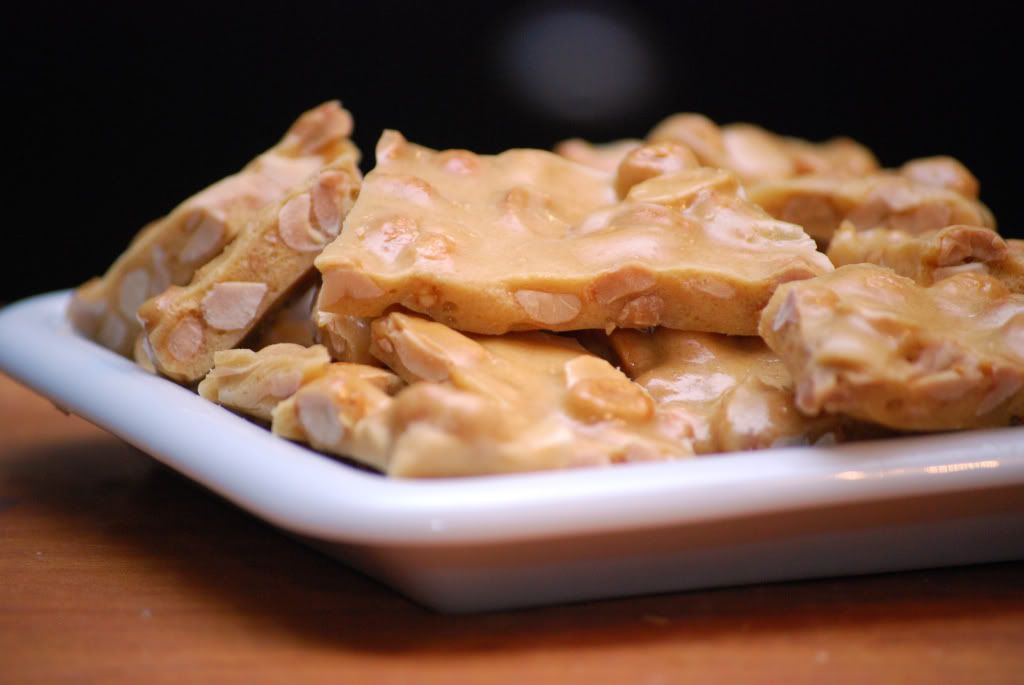 Aunt Bo's Peanut Brittle
a family recipe...

1/2 cup light corn syrup
1 cup sugar
1 cup dry roasted peanuts
1 teaspoon butter
1 teaspoon vanilla
1 teaspoon baking soda

Mix syrup and sugar in medium bowl. Microwave 4 minutes on high. Add peanuts. Cook 3minutes on high. Add butter and vanilla. Cook 2 minutes on high.

Add baking soda. Stir slowly and immediately pour onto a cookie sheet lined with buttered foil. (Be sure to move it onto the foil immediately. It starts to harden right away.)

Cool. Break into pieces.

Note: Microwave temperatures vary. Check often while cooking to prevent burning.