Snow.

We've got so much of it here that most of us adults are downright cranky at the sight of it falling from the sky.

But my little boys - they absolutely love it! They start jumping up and down every time they see a few snowflakes beginning to fall. They're excitement is contagious. Truly. I've yet to become a grump about the snow because of the joy it is bringing my children.

So today - as the snow fell outside the window - we made Coconut Macaroons. And, because the Momma in this house loves her some chocolate, we dipped some of them in chocolate, too. I love the platter filled with both kinds - some for the chocolate lovers, and some for those who'd prefer 'em plain.

Our lesson: We are SO thankful for snow, snow, and MORE snow!

*As my husband takes his first bite of the day's cookie, he has been consistently sharing with me his slightly cynical version of that day's lesson.

Today's lesson a la Jason: "If you get stranded on Gilligan's island, you can still make cookies." Spit. Out. My. Coffee.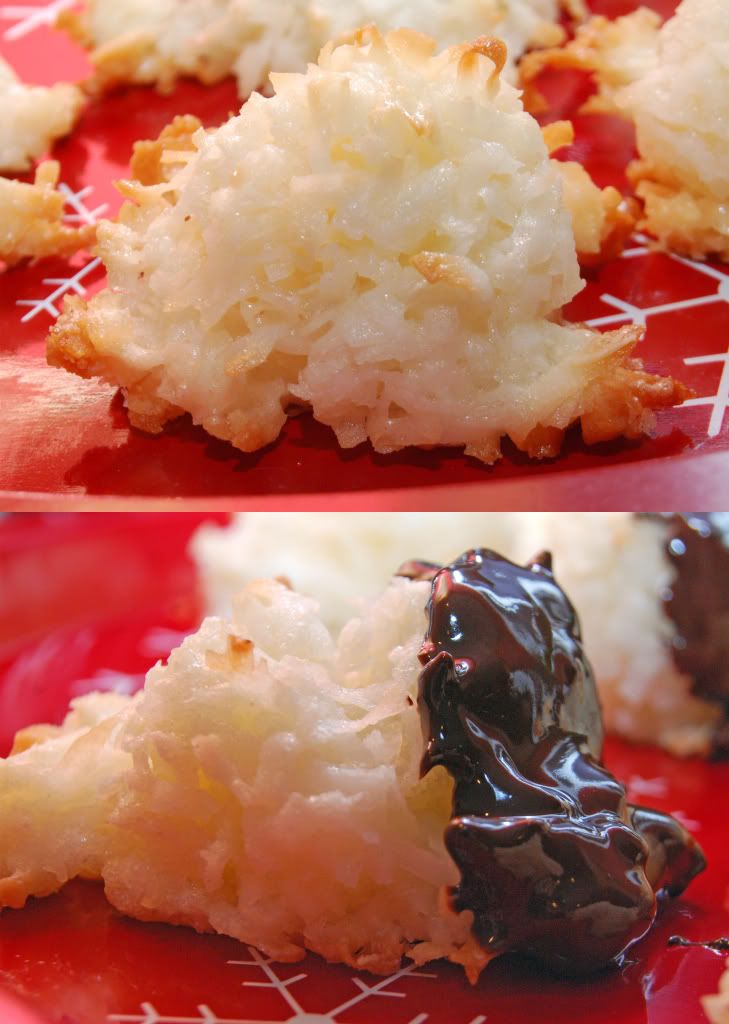 Coconut Macaroons
recipe from Kraftfoods.com...

1 pkg. (14 oz.) Baker's Angel Flake Coconut
2/3 cup sugar
6 Tbsp. flour
1/4 tsp. salt
4 egg whites, lightly beaten
1 teaspoons almond extract
8 squares (8 ounces) semi-sweet chocolate, optional

Preheat oven to 325 degrees. Combine coconut, sugar, flour and salt. Add egg whites and extract; mix well. Drop by tablespoonfuls, 2 inches apart, onto greased and floured baking sheets.

Bake 20 min. or until edges are golden brown. Transfer to wire racks or waxed paper. Cool.

Chocolate-Dipped Macaroons: Melt chocolate in microwave for 30 seconds. Dip cookies halfway into chocolate. Let stand until chocolate is firm.