I love my Pouchee. I love, love, love it!

And, when I was thinking about what I wanted to give away to you all during this most festive month, it was the first thing I thought of.

I have had mine for over a year now, and I still use it everyday, I still love it, and I still tell people about it ALL THE TIME!

I have successfully and unintentionally "sold" it to all of my favorite Target check-out girls. They all love it, too! (The fact that I have "favorite" Target check-out girls is another disturbing issue altogether.)

I wrote all about it here, but let me give you the short version:

The Pouchee is a small (7.5" x 5") purse organizer/wallet/cell phone holder thingy that holds all of the "important" stuff in your purse. There are pockets for credit cards, a cell phone (even a pocket big enough for a Blackberry - for my fellow Crackberry friends), sunglasses, keys, lipstick, etc. Inside are dividers that you can use to separate coupons, a checkbook, change purse, old receipts - anything you want to keep easily accessible.
If you decide to change purses periodically, grab your Pouchee and move it on over. Done.

One of the things I LOVE most about it is that I can leave my purse - which often doubles as a diaper bag - in the nursery at church or with a friend or babysitter and pull out my Pouchee to take with me. All of my important items are with me, and all of the baby stuff is with them. With the cute little rings at the top, it looks like a small purse.

So, today - you can win a brand, spankin' new Pouchee! A khaki one - goes with everything, neutral, perfect!
Ooooh, I love it. So will you - and if you already have one, it would make a GREAT Christmas gift!

Here's how to win:

1. Think of your favorite childhood Christmas memory.
2. Share it in the comments.
3. Pass the tissues.
You can win up to *THREE ADDITIONAL* entries by doing any or all of the following:

1. Post a link to this giveaway on your Facebook page.
2. Post a link to this giveaway on Twitter.
3. Add this Christmas Cookie Exchange button to the sidebar of your blog. Just copy and paste the code below to add the button to your sidebar! (Let's get the word out, girls!)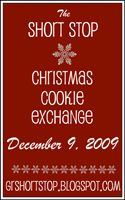 *Leave an additional comment for each one of the things you do so that your extra entries are counted when I do the "drawing".

That's FOUR chances to win!

I'll leave this giveaway open until this Friday, December 4th at 9pm EST. And, I'll let the good ol' random thingy choose a winner that night. I'll announce the winner then.

I'm looking forward to reading your Christmas memories!

*Comments are now closed.

*Disclosure: This Pouchee was provided to me by Pouchee.com as a give away for you. I did not receive a Pouchee to review or keep for myself, nor did I receive any financial compensation for telling y'all how much I love it!