*Winners have been announced here.
As my husband and I planned out how we'd celebrate Advent with our boys this year, we decided to incorporate one of our favorite books:

The Jesus Storybook Bible.

Our children love this book, but we'd set it aside for the last few months, choosing to read other books at bedtime.

Starting on December 3rd, we opened the Jesus Storybook Bible and started at the beginning; reading our boys one story from The Jesus Storybook Bible each night at bedtime. By following this "schedule", on Christmas Eve, we will open to "The Light of the Whole World" - the story of the Shepherds from Luke 2.

And, on Christmas morning, we will read "The King of All Kings" - the story of the three Wise Men. And, the last of the Christmas stories in the book.

Here is a video/reading of the first Christmas story in the Jesus Storybook Bible, "He's Here". I love this one!


Reading one story from the Jesus Storybook Bible each night this month has been a wonderful way for us to look forward to Jesus' coming. From the very beginning of creation, Every Word Whispers His Name. That simple message is what I love most about this book.

Every story in the Bible points to Jesus.

Our Hero. Our Rescuer.

As we spend the month anticipating Christmas Day, this simple message is what my husband and I want to focus on with our boys.

We have owned and loved this book since it came out over two years ago, but, I love what Zondervan has done with the Deluxe Edition: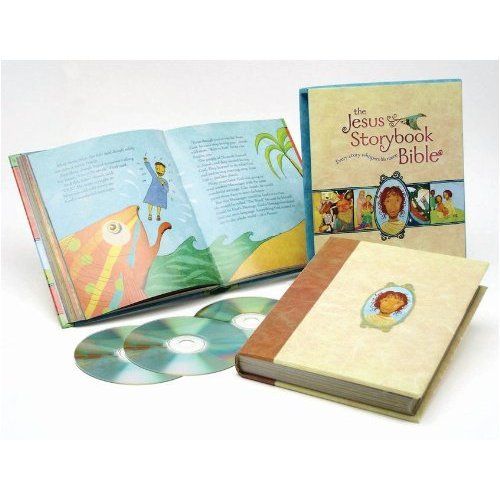 1. A bookmark. Can I just tell you how much I LOVE that it has a bookmark?

2. An audio version. We can now listen to these precious stories in the car, or during lunch, or before naptime. And, as the boys begin to read, they will be able to read along with the narrator. I love that.

3. A beautiful slipcase. We just took it on a weekend trip to Great Wolf Lodge and having the slipcase kept everything together.

Today, in honor of our celebration of Advent, I am giving away 10 copies of the Jesus Storybook Bible Deluxe Edition.

To be entered to win, just answer this question:

What is on top of your Christmas tree?

That's it.

Leave a comment with your answer. I'll leave this giveaway open until Wednesday, December 9th at 9pm EST. I'll let the random thingy to choose the 10 winners and post the winners that night on Thurs., Dec. 1oth at 8pm-ish.

If you already own this precious book, it would make a wonderful Christmas gift, as you already know! If you're one of the winners, you can have this book shipped to anyone you'd like. It will arrive before Christmas.

I hope you all are having a wonderful, meaningful Christmas season.

*To read my interview with Sally Lloyd-Jones, the author of The Jesus Storybook Bible and Jago, the illustrator, click here.

*Disclosure: I was provided 10 copies of the Jesus Storybook Bible Deluxe Edition by the good folks at ZonderKidz as a giveaway for you. I did not receive any financial or other compensation for sharing my love of this book with you.
For more fun on Wednesdays, visit We Are That Family each week.