Welcome to The Short Stop Christmas Cookie Exchange!

It's all about cookies today.

Not my cookies. Your cookies!

I've been looking forward to this for weeks - so excited to host a way for you all to share your favorite cookie recipes with one another.

Just about everyone I know makes at least one delicious cookie: a family recipe, an online discovery, an old classic, a new twist on a favorite. And, this is your chance to share the recipes you love and to collect some new, tried and true recipes from others as well!

Here's how to participate:

- Post a link on the form below. Under "Title", post your name and the name of your cookie recipe. (I included an example for you, but more specific instructions can be found here.)

- You can post up to three recipes!

- You can link to your blog, online recipe sites (Allrecipes.com, Betty Crocker, Food Network, etc.), or you can post your recipe(s) in the comments - if there is not a link available online and you don't have a blog.

- Please be sure to leave a link for YOUR POST'S SPECIFIC URL, NOT THE GENERAL URL OF YOUR BLOG. (This will make it so much easier for folks to find your specific recipe if they're visiting next week or next May.)

- Take a cookie tour! Visit the blogs that have posted a recipe, and leave them a comment when you do. Taking time to leave a comment is so encouraging and means so much to bloggers.

- Everyone who shares a recipe will be entered to win one of TWENTY copies of The Gift of the Christmas Cookie.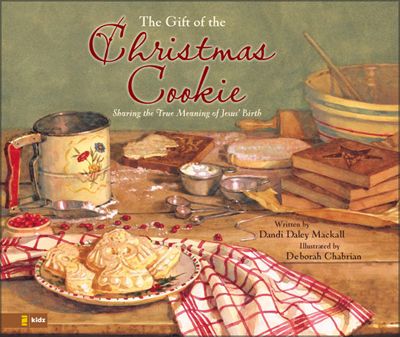 The Gift of the Christmas Cookie is a story of Jack, a heartbroken boy who helps his mother bake special Christmas cookies and learns about how people long ago used Christmas cookies to tell others the story of Jesus' birth.

I love this book. I was incredibly moved by it the first time I read it when my husband handed it to me last December, and I love it even more today. I love its simple and profound message. It brings me to tears each time I read it, and it perfectly captures what I want to teach our boys as we share God's love through the cookies we bake together each year. (You can read an excerpt of the story here.)

And, it is the perfect gift to share with you all for sharing your Christmas cookie recipes here today!

*The Cookie Exchange links will be open indefinitely and you'll be able to add recipes throughout the season. But, only recipes posted by 5pm on Friday, December 11th will be entered for the giveaway!

**Winners have been contacted!**

Thank you all for participating!

Merry Christmas, everyone!
*Disclosure: I was provided 20 copies of The Gift of the Christmas Cookie by the good folks at ZonderKidz as a giveaway for The Short Stop Christmas Cookie Exchange 2009 participants.