I love to make a good steak at home.

And, this is my go-to recipe for preparing steak. It's essentially only the cut of steak I've found on sale or chosen for the meal, and TWO ingredients. So, I can throw this together for a weeknight dinner, when company's coming, or use a really good cut of meat for a special occasion.

I love this recipe because it works so well on any kind of steak:

Sirloin.
New York Strip.
Filet.
Ribeye.

Any type of steak will taste absolutely delicious if prepared this way.

As I mentioned, this recipe is really only two ingredients: McCormick's Montreal Steak Seasoning and brown sugar. The combination of the peppery, spicy flavor of Montreal Steak Seasoning and the sweetness of brown sugar creates the most delicious glaze on the outside of the steak. The two flavors blend together into this crispy, spicy, sweet coating that sizzles into perfection as the steaks are cooking.

Here's how I make these steaks. Because they're my favorite, I used ribeyes for this demonstration.

Sprinkle one side of steaks with a liberal amount of brown sugar. (Depending on the size of the steak, up to three tablespoons on each side). Pat brown sugar into steaks.
Sprinkle Montreal Steak Seasoning on top of brown sugar. (Again, depending on the size of the steak, you'll use more or less than I used here - about one teaspoon.) Then, sprinkle with salt and pepper.
Flip the steaks over, and repeat the same process on the other side.
See how the brown sugar begins to melt into the steak? Oh man, that's goodness beginning to happen right there.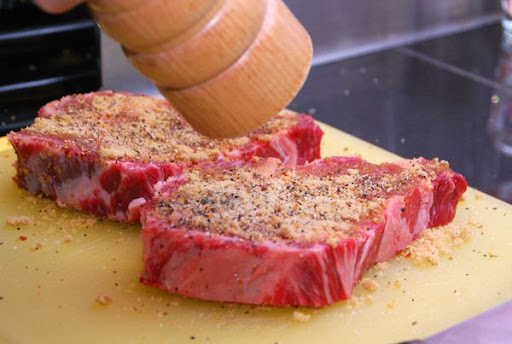 You can then prepare the steaks however you like.

Grill them outside.
Grill them on a grill pan.
Broil them.

The only method that really doesn't work is pan frying. That's because all of the sugar will be directly on the heat, and that will cause all of the coating to burn.

I grilled these on our indoor grill pan that sits on our stovetop. These took about 6-8 minutes on each side.

Crispy, sweet, spicy coating.
Tender and medium well (my preference) on the inside.
This would be a great New Year's Eve dinner if you're not heading out on the town.

I hope you all enjoy this one as much as we do!

Sweet and Spicy Steak

4 steaks
Approximately 1 1/2 cups brown sugar
McCormick's Montreal Steak Seasoning
salt
pepper

Coat outsides of steaks with brown sugar and top with steak seasoning. Sprinkle with salt and pepper.

Grill or broil until you reach desired doneness.

Meal Recommendation: Sweet and Spicy Steak, Cran-Raisin and Walnut Salad with Cranberry Vinaigrette, Brie-Stuffed Twice Baked Potatoes or Cheesy Mashed Potato Bake, Steamed Broccoli.

Dessert: Molten Chocolate Lava Cakes.