It's only three days away: The Short Stop Christmas Cookie Exchange!

I am SO excited to see what cookie recipes you all make and love.

Here are a few questions and answers that I hope will encourage many (okay, ALL!) of you to participate on Wednesday.

1. What kinds of recipes can I link to? Does it have to be "my" original recipe?

You can share any cookie or candy recipe. It does not have to be "your" (or your family's) recipe, nor does it need to have a picture with it. It can be a new recipe, a recipe from your archives, or a link to a recipe you've found online that you love. It can be from sites like Allrecipes.com, Betty Crocker, Barefoot Contessa, etc.. Many recipes that are in cookbooks are available online, and can be easily found by a simple Google search.

2. How can I share a recipe?

I'll have a MckLinky set up for you to enter a link to your cookie recipe(s). If you've never participated in a blog carnival before, it's so easy! You'll see a form like this at the bottom of the Christmas Cookie Exchange Post: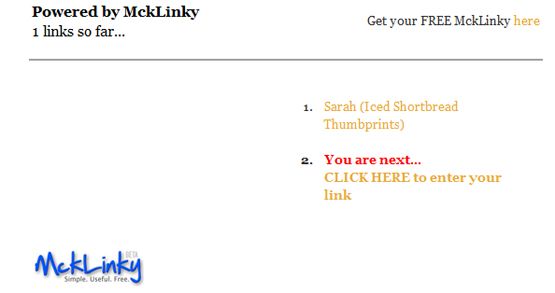 Under "Title", you'll enter your name and the name of your cookie in parentheses. Then, you'll add the link to your cookie recipe.
The link to your cookie will now appear on the list (displayed as your name and type of cookie). It's that easy.

3. Can I enter more than one recipe?

YES! You may enter up to three recipes.

4. What if my recipe isn't available online and I don't have a blog?

You have two choices:

-You can type up your recipe in Microsoft Word, and upload it to Scribd.com. Quickly set up an account (it's easy!), and upload your recipe. As soon as you upload your document, the link at the top of the page links directly to your recipe. Post that link to the MckLinky list (along with your name and type of cookie).

OR

-You can post your recipe in the comments section. (It won't be on the link list, but we'll still be able to see and try your recipe!)

If you want to share our Cookie Exchange with others, you can add the button to your sidebar. Here it is: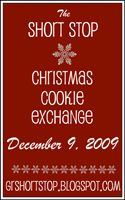 And, because I love y'all, I have a little surprise for you.

Everyone who participates in the Cookie Exchange will be entered to win a giveway.

Okay, that's not entirely true.

I HAVE TWENTY GIVEAWAYS! Twenty of you who participate will win something absolutely precious and meaningful that is the perfect giveaway to go along with our Cookie Exchange. I know you will love it as much as I do.

I'll post all about the giveaway(s) on Wednesday when I kick off the Christmas Cookie Exchange.

So, think about what recipe you might want to post! And, bring a link to your recipe with you on Wednesday so you can share it with all of us!