I promised you last week that I'd share this incredibly delicious ice cream dessert that my sister whipped up when my family spent some time with her and her family over Christmas.

I've got it all ready to share with you today.

I don't know what to tell you about this - except MAKE IT! Just try it. Even though it's 10 degrees outside, you will LOVE this dessert. It's the perfect combination of sweet and salty. My sister used mint chocolate chip ice cream - which is one of my all-time favorites and I loved it. When I came home and made it myself, I used coffee ice cream. It was SO good.

But, if you make this, it's YOUR dessert. You use whatever flavor you like!

Here's how to make it.

Buy a big ol' bag of pretzels.
Using a spoon, spatula, rolling pin or food processor, crush the pretzels. You should have about 4-5 cups of crushed pretzels.
Add 1/3 cup of sugar.
And, one cup (2 sticks) of melted butter.
Stir together to combine. (Do not eat. You won't be able to stop.)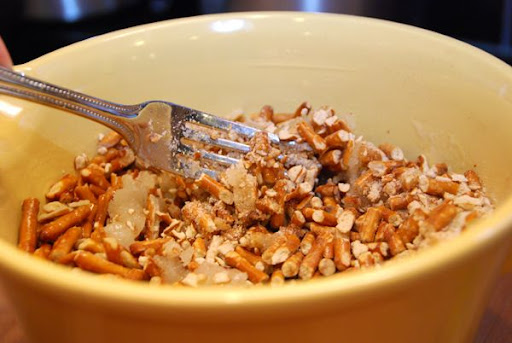 Spray a 9 x 13 baking dish with cooking spray.
Pour one half of the pretzel mixture into the bottom of the pan. Spread evenly to coat bottom of pan and bake at 350 for 10 minutes. Cool.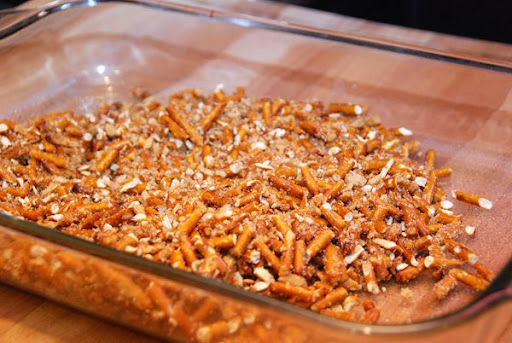 Next, you'll need a box of Edy's Dibs. Formerly known as Bon-Bons. (I chose vanilla - but, there are about 5 different flavors to choose from.)
Pour the Dibs over the cooled pretzel crust.
Arrange in an even layer.
Next comes the ice cream. My choice: Breyer's Coffee. I love coffee ice cream and Breyer's is my favorite.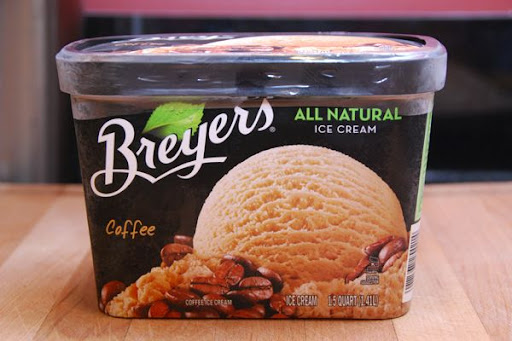 Using an ice cream scoop, top the Dibs with scoops of ice cream.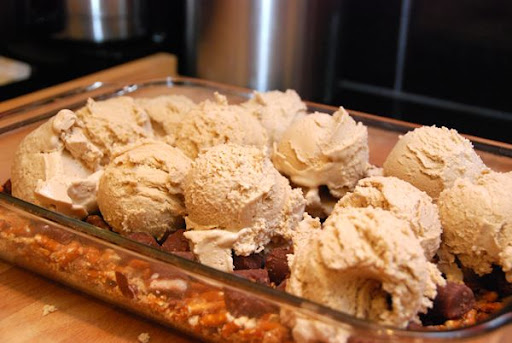 Using a spatula or spoon, spread the ice cream evenly over the Dibs. (You want to be sure the ice cream is slightly softened so it will spread easily.)
Pour the remaining pretzel mixture on top.
And, spread evenly.
Next, you'll need a jar of hot fudge - whatever brand you like. (Mrs. Richardson's is my fave.)
Top the pretzels with hot fudge. The whole container of it.
I let my boys at the hot fudge jar when I was finished. It's the way life should be when you're little.
Oh, help. I could take a running leap right into this and never come out. But, first, put it in the freezer for an hour or so. It'll firm up and combine into the BEST Pretzel Ice Cream Pie you've ever had.
Cut into squares when you're ready to serve it.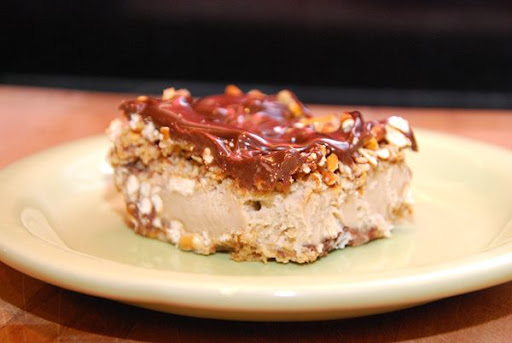 I love this dessert.

I love my sister for making it for me and my family and for sharing her delicious recipe. It's SO good and I know you'll love it.

But, remember - this is your dessert. Change it up, use whatever flavors of ice cream and Dibs you like - shoot, even use caramel instead of hot fudge if that makes you happy.

Just make this one. It's out of this world.

Pretzel Ice Cream Pie

1 large bag pretzels (about 5 cups crushed)
1/3 cup sugar
1 cup (2 sticks) butter
1 box Edy's Dibs
1 gallon coffee ice cream
1 jar hot fudge
cooking spray

Preheat oven to 350 degrees. Take ice cream out of freezer to soften.

Crush pretzels with food processor (or spoon or rolling pin). Add sugar and butter and stir to combine. Press one half of pretzel mixture into bottom of 9" x 13" baking dish. Bake at 350 degrees for 10 minutes. Cool.

Top pretzel crust with Edy's Dibs. Top with ice cream. Spread ice cream into even layer. Top with remaining pretzels and finish off with hot fudge. Freeze for one hour.

ENJOY!