Can you tell I've missed my kitchen? Back to back recipes when I hadn't posted one in weeks.

I loved our Christmas vacation, but I couldn't wait to get back into my kitchen and start cooking, again. It's so calming for me and I love creating dishes that make my husband happy and my kids smile.

This recipe is one I've worked on and tweaked over the last few years. I love puff pastry. Well, I mean, really - what is there NOT to love about puff pastry?

Layer upon layer of pastry dough and butter that puffs up into an airy, flaky somethin' somethin' that will make your eyes roll back into your head with its goodness?

The heavens opened up and sang the day someone thought of puff pastry.

This is a great weeknight dinner recipe. It's very, very easy, but almost entirely homemade. I have never tried to make puff pastry from scratch - mostly because it's so easy to buy frozen and it turns out perfect every time you use it.

For these Sherried Chicken and Broccoli Shells, puff pastry shells are filled to overflowing with a creamy chicken and broccoli sauce. At the end, you douse the sauce with sherry - and it gives it just the right touch to take it from ordinary to absolutely divine.

Here's how to make it.

Prepare the puff pastry shells according to package directions. (If you've never bought puff pastry shells, you can find them in the freezer section near the frozen pie crusts. They bake for 20 minutes right from frozen.)


Roast some chicken breast or sauté it in a pan. Either method works great for this recipe. You could also use a store-bought rotisserie chicken and just shred the meat. How easy is that?

I sautéed cubes of chicken breast for about 10 minutes until cooked through. Remove the chicken and set aside. (I am still trying to get over my fear of posting raw chicken on this here blog. I'm workin' on it.)

Once the chicken is prepared and set aside, add 3 tablespoons of butter to a sauté pan and add chopped carrots, celery, and onion.
Sauté for 10 minutes, or until vegetables are soft.
Next, add one head of broccoli florets (cut into small pieces), and coat with vegetables. Cook for 3 minutes.
Sprinkle 1/2 cup of flour over vegetables.
Stir flour into vegetables until they're coated with flour. Cook for one minute. (This is what will thicken the sauce in a minute.)
This is what the vegetables should look like once the flour has cooked through a bit.
Add 2 cups of chicken stock and 2 cups of half and half to the vegetables. Oh, half and half, how I love you.
Stir to combine.
Add a bay leaf.
And 1/2 teaspoon each of marjoram and thyme, and cook until broccoli is tender.
Add the roasted or sautéed chicken into the pan and stir to combine.
And, now for the best part. Add 1/2 cup of sherry. Or more. I always have a heavy hand when it comes to sherry. I just LOVE the flavor. (This part is optional. If you don't want to add it, you don't have to. Just add a little more chicken stock.)
Cook for 5 minutes more until the sauce combines and thickens into creamy deliciousness.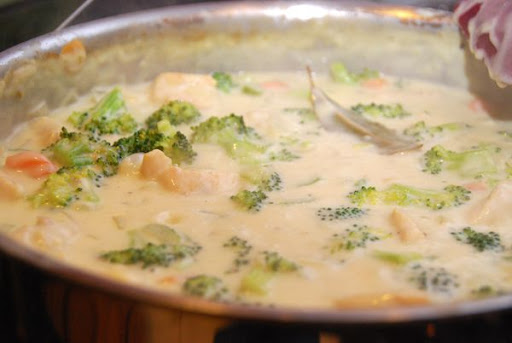 When ready to serve, remove the tops from the puff pastry shells. (They pop right off.) Place two puff pastry shells on a plate.
Ladle sauce into and over shells. Be generous. Very, very generous.
Lastly, place tops on the shells. They're like little hats.

And, with that, you have Sherried Chicken and Broccoli Shells. A delicious, creamy, savory dinner that your whole family will love.
Enjoy!

Sherried Chicken and Broccoli Shells

4 boneless, skinless chicken breasts, roasted or sautéed and diced
2 (10 oz.) packages puff pastry shells
3 tablespoons butter
1 medium onion, chopped
2 carrots, chopped
2 ribs celery, chopped
1 bunch broccoli florets, cut into small pieces
1/2 cup flour
2 cups chicken stock
2 cups half-and-half
1 bay leaf
1/2 teaspoon marjoram
1/2 teaspoon thyme
1/2 cup sherry (or additional chicken stock)

Prepare puff pastry shells according to package directions.

While shells are baking, melt butter in large sauté pan. Add onions, carrots and celery. Cook for 10 minutes, or until onions are translucent. Add broccoli and cook an additional 3 minutes. Sprinkle flour over vegetables and cook for one minute. Add chicken stock, half-and-half, bay leaf, marjoram and thyme. Cook on low until sauce thickens and broccoli becomes tender.

Add chicken and sherry and cook an additional 5 minutes until chicken is warmed through and sauce is thick and creamy.

To serve, ladle sauce into and over baked puff pastry shells. Place tops on each shell.

*Note: This makes 12 shells - enough for six people to have two shells each. This recipe can easily be doubled or halved as needed.